Surely almost everyone dreams about a magic pill that makes them healthy, gorgeous and slim. Fortunately, such a pill exists. At least some folks believe so and, thus, they excitedly buy out food additives, dietary supplements, vitamins, and other stuff like that. In affiliate marketing, these products refer to the Nutra vertical.
Hopefully, you will be ready to run your nutra ad campaign once you finish reading our article about the vertical. If you are going to get started right now, just go to the part where we tell about the best nutra push ad networks and choose a traffic source that meets your requirements. So, let's move forward!
Nutra Vertical in Affiliate Marketing
Nutra is a general term that encompasses all types of nutritional supplements that promise transformation. Notably, nutra products are not the same as medicines, so prescriptions aren't required.
Health items give multiple advantages of weight loss, improvement of male power, better skin, whiter teeth and even increased brain activity. In addition to pills, they are sold as creams, teas and fitness equipment.
For clarity, let's name the most popular offers you can find in nutra affiliate networks.
Manufacturers of weight loss products claim that their supplements will help people lose weight easily. The idea of drinking green coffee and eating bitter oranges will change the body without exhausting physical efforts is incredibly appealing, of course.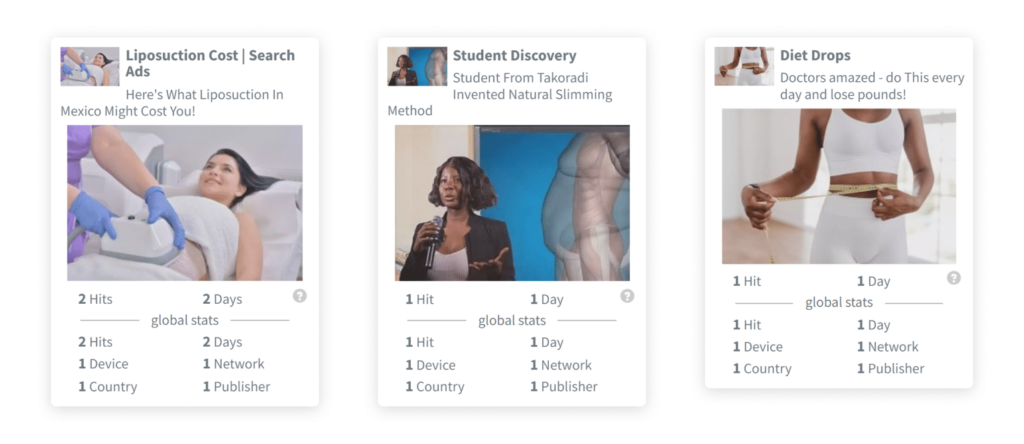 Most women strive to look their best by trying almost anything. Obviously, various beauty products covered by Nutra vertical haven't escaped their notice. Wrinkle and cellulite creams are particularly in demand.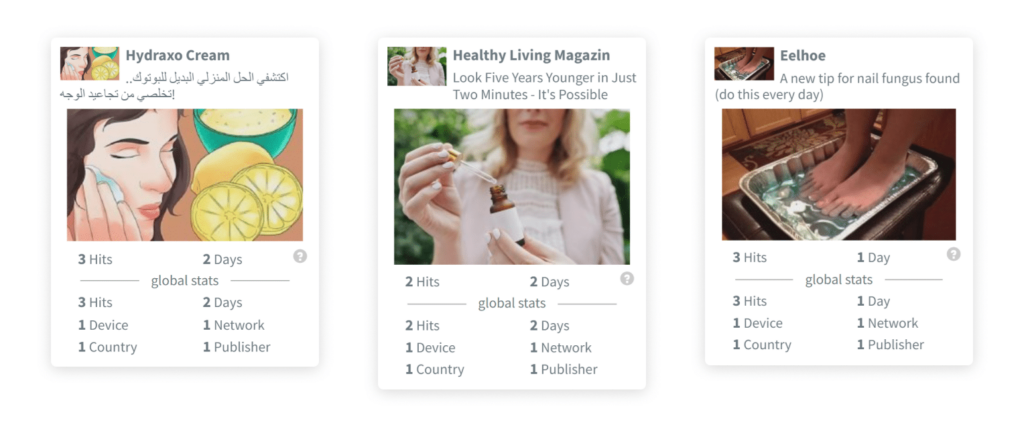 The following products are intended for people who enjoy a healthy lifestyle: exercise bands, jump rope, wearable fitness devices, posture correctors, expanders and weights.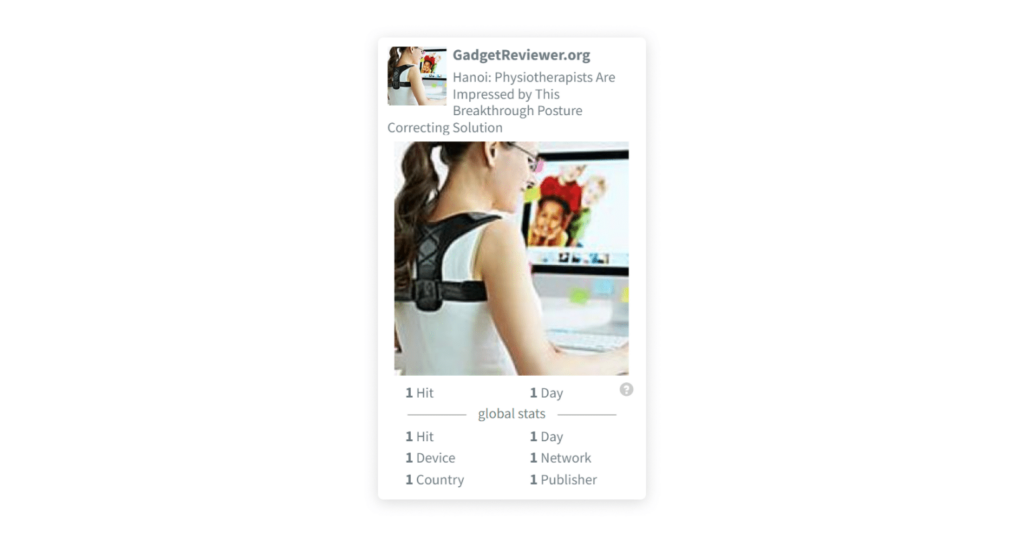 Medications for men's health
This is a very hot niche in affiliate marketing that includes potency pills and supplements for boosting sexual energy. Similar products aim to help men stay healthy and maintain a fulfilling sex life.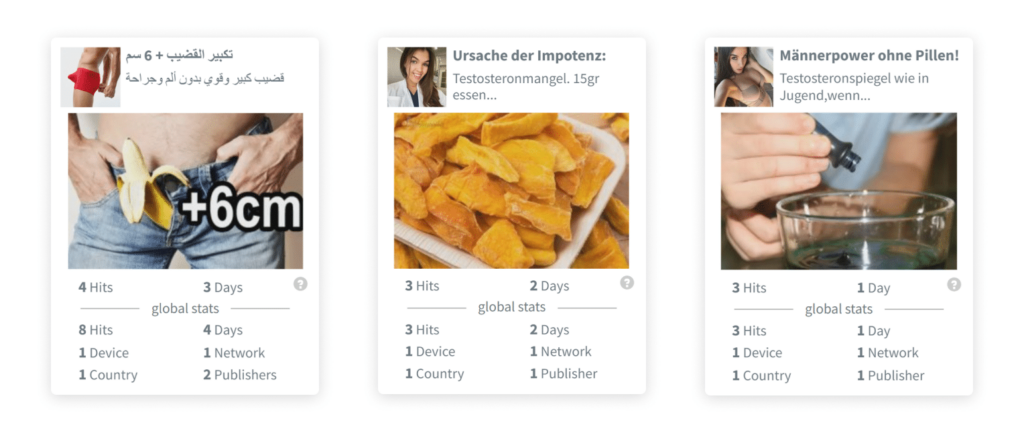 Good memory and the ability to stay focused for a long time makes people like a superhero in the digital age, especially when it comes to work or study. That's why brain-boosting supplements like B-vitamins, L-theanine and ginkgo biloba are so popular alongside hype weight loss products and cosmetics.
This refers to vitamins and medications to maintain health. The target audience is people suffering from diseases or those who are worried about their well-being.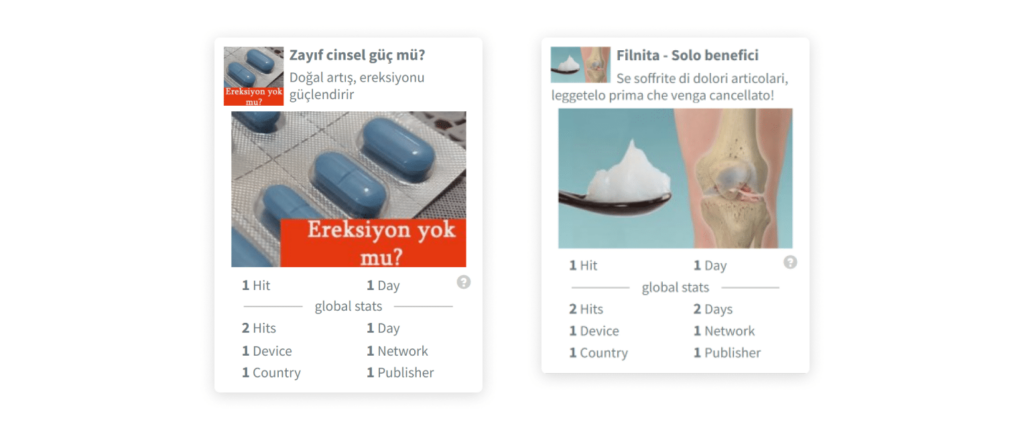 Nutra products are always all the rage, despite the crises or seasonality. Additionally, the lockdown becomes the driving force behind the explosive growth of the vertical. A global pandemic forces people to rethink their attitudes toward health and their lifestyle. Now, a lot of individuals have started caring about their health more than ever.
Health is at the core of everything people want.
That's why the Nutra vertical is booming every time
So far-sighted affiliate marketers flocked to Nutra as soon as the pandemic break out. You can also follow their steps to grab your piece of the pie. And although the competition is very high in this niche, we help you to stay ahead of the game.
Popular Channels for Promoting Nutra Offers and its Restrictions
The main thing you should consider before starting an ad campaign is traffic sources, or more precisely, its restrictions. Indeed, some nutra products are prohibited not only by particular traffic sources but also by country laws. The most controversial offers are weight loss products. Just keep it in mind.
Let's take a look at traffic sources for Nutra in detail.
Google Ads
You would tire of looking through the list of prohibited supplements by Google. Moreover, Google mentions the list is non-exhaustive.
Some nutra products are allowed to promote, provided that the advertiser has a certificate for Google and the target GEO is approved for ad display. To cut to the chase, many restrictions and prohibitions would suggest affiliates have nothing to do here.
Social Networks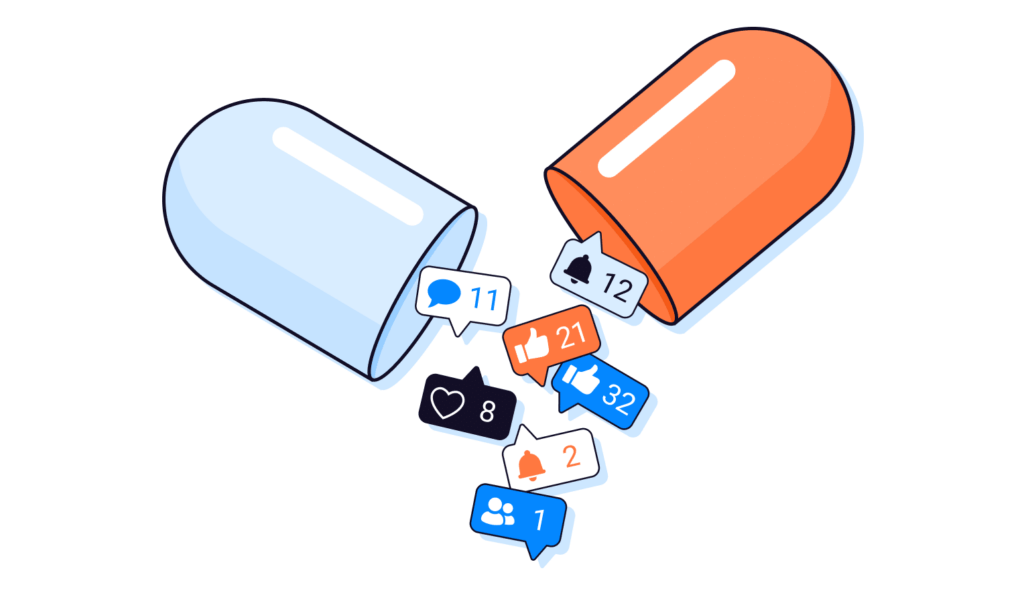 The target audience is specific enough for many Nutra offers. For example, if you were advertising potency pills, you would know that your audience is male, and you could even give their approximate age. This kind of data is available on social media, so the channel seems to be ideal for promoting nutra offers. Unfortunately, any ad campaign can be banned there, regardless of whether you follow the platform's rules.
Facebook and Instagram
Meta, covering Facebook and Instagram, is the only platform giving a clear rationale for nutra restrictions. According to the ad policy, the Meta platform is against the idea of a perfect appearance.
Despite the strict requirements, you can advertise your healthcare offers on Facebook or Instagram if you know how to do it. Not in vain had Meta shown examples of appropriate creatives.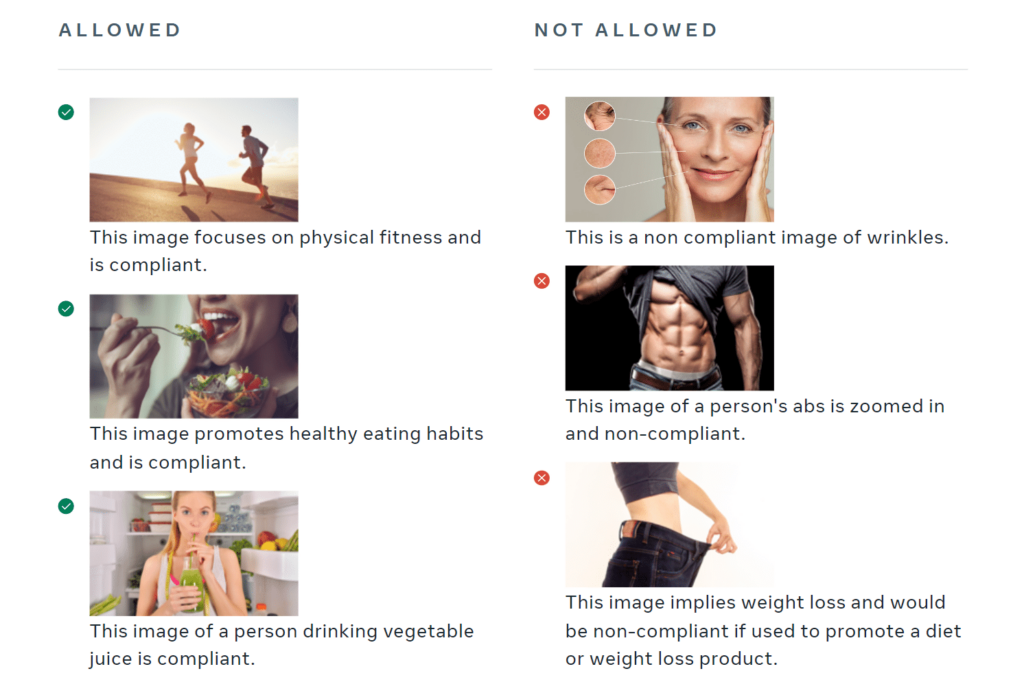 TikTok and Twitter
Although TikTok and Twitter use different terms for their Nutra restrictions, all of them stand for the same thing: health-related products designed to improve the state of the body, appearance or cognitive abilities aren't allowed.
How to Bypass Restrictions When Nutra Advertising
To get around restrictions on social media, you have two options:
Cloaking tools, account pharming and creating fake accounts – these tricks aren't ethical, but they serve as a viable alternative in extreme cases;
Soft methods – promoting your offers in thematic groups.
Soft methods work, especially if you know your target audience well, but they are time-consuming because the ads have to be sent as personal messages, either by yourself or by a bot. However, users may complain about spam anyway.
Then, what is the solution? Ad networks. They have fewer restrictions than alternative traffic channels, and nutra ad campaigns within networks are easy to launch as you needn't use cloaking and other tricks to avoid the ban.
Nutra Ad Networks as the Best Way to Advertise
Ad networks are real friends to affiliate marketers. The platforms connect users with publishers willing to serve ads. The scheme outlined below reflects the principle of ad networks.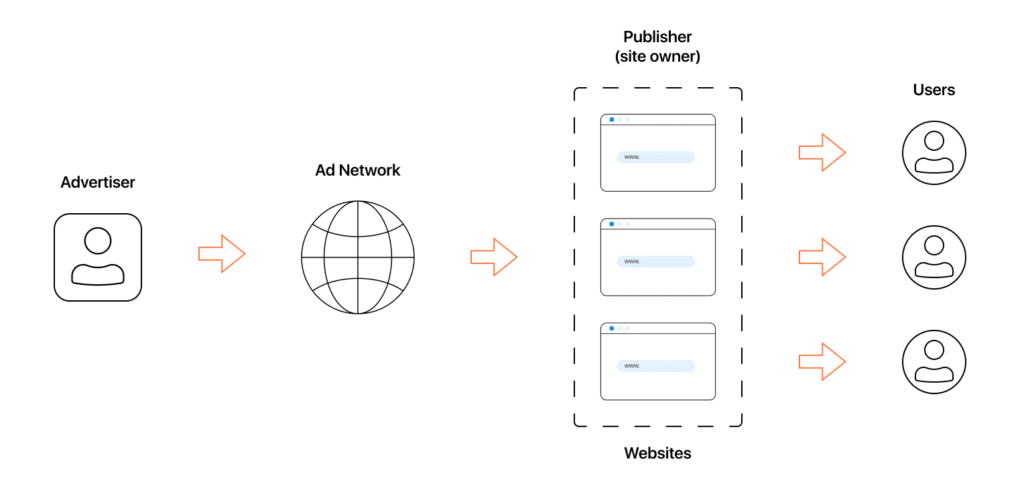 Beyond the traffic sources where advertisers can display their advertisements, ad networks deliver high-quality services that include numerous ad formats and targeting options, a system of traffic verification, and optimization tools.
Except for such essential advantages as an anti-fraud system or rule-based optimization for shifting campaign settings, advertisers would evaluate multiple ad formats:
push ads (including in-page, and calendar push);
popunder and clickunder;
native;
banner;
direct click.
Best Traffic Types in the Ad Networks
Further, we'll pick up the best formats for bringing high-quality nutra traffic.
Push and in-page push
The best format provided by ad networks is push ads. The main feature of this format is subscription-based technology. Simply put, users need to opt in for receiving push notifications.
Here you can glance at one of the samples of nutra push ads: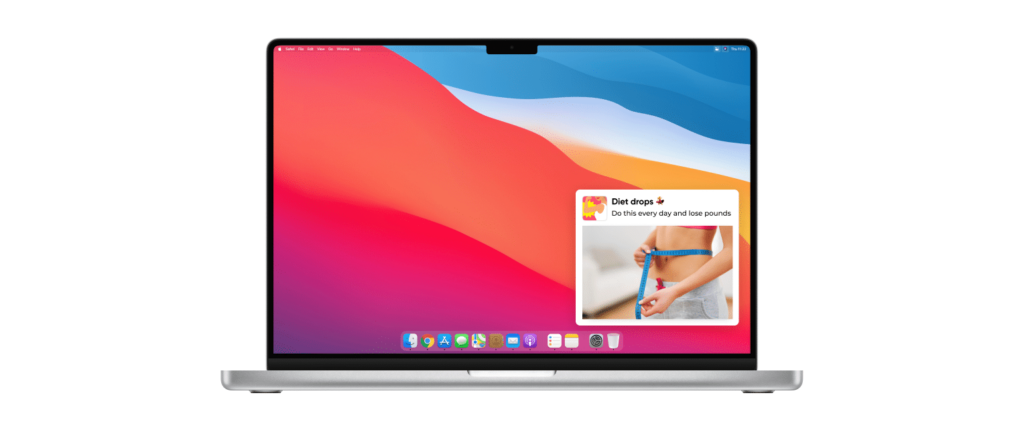 Clearly, push ads resemble personal messages, that's why they are highly engaging. Thanks to push technology, ads can be displayed on any device without an Internet connection, making them 100% visible.
In-page push ads is the closest counterpart of the push format. It makes up for the downsides of push notifications that don't cover the iOS audience. In-page push ads appear within a webpage and don't require subscribing.
The look of in-page of push ads: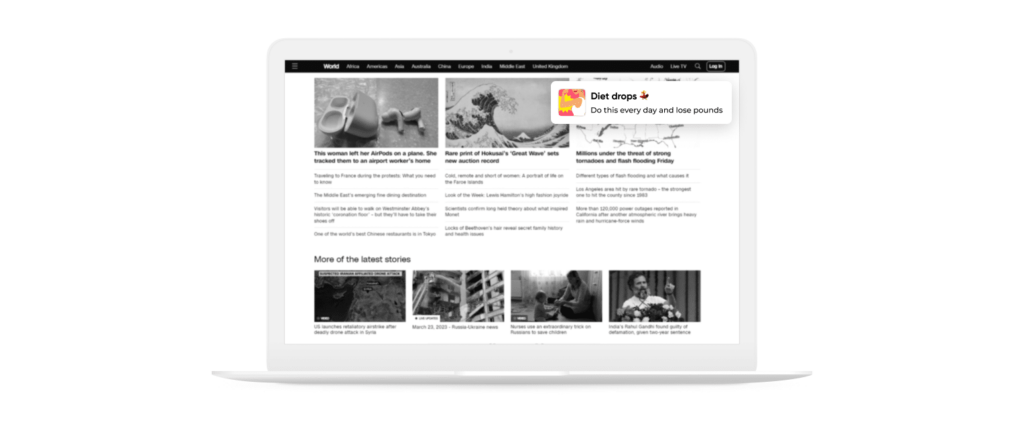 Pop ads
Pop-ups and popunders are also popular formats for advertising nutra offers, providing high-visibility and targeted delivery to users. However, these formats can sometimes be viewed as intrusive or annoying, leading to lower engagement. Due to their low cost and ease of implementation, both formats remain viable traffic sources. You needn't make creatives because user land right on the landing page bypassing the rest stages of the sale funnel.

To distinguish the formats, pay attention to places where the ads pop up. Popunder appears below the browser window, while popups are reversed.
Domain redirect ads
Domain redirect traffic is an ad format based on redirecting users from a parked domain to a landing page. In this case, the parked domain serves as a transfer point between users and the landing page. The traffic is generated when visitors type misspelled search queries. For instance, your potential buyers enter Amzon instead of Amazon in their browser's address line and find themselves on the offer page.
Since the ad is displayed without the user's click, this format is also known as zero-click traffic.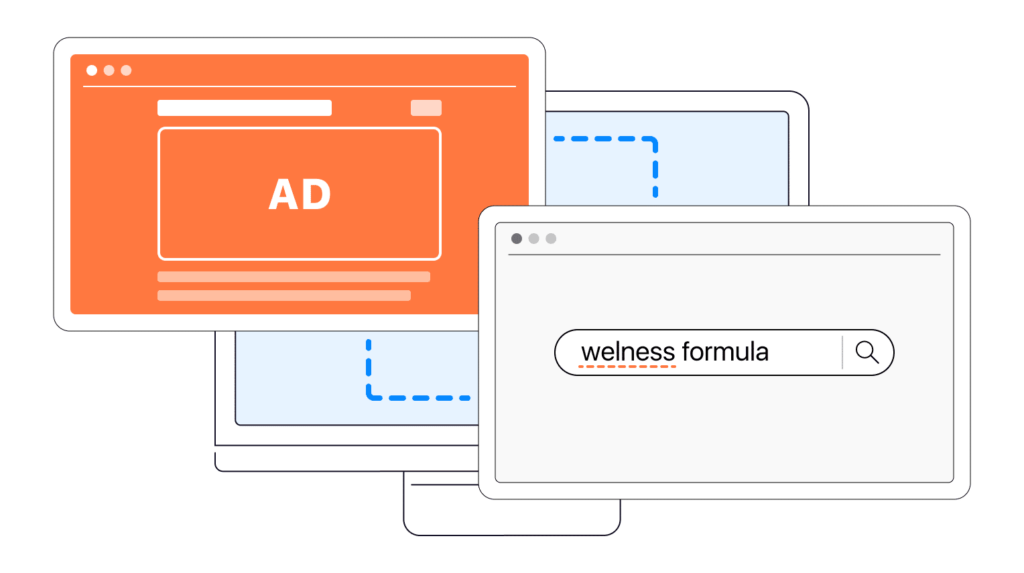 When users land on a parked domain, they wind up on an advertiser's offer page immediately. This means visitors are getting to be warmed-up leads without clicking anywhere – sounds amazing, right?
Top Nutra Ad Networks in 2023
We compiled the best nutra push ad networks by traffic quality, reputation and expertise in nutra advertising. You can choose an ad network that aligns with your advertising goals and provides the best chance of success for your nutra offers. To maximize your ROI, test multiple nutra push ad networks simultaneously and compare their performance.
1. Zeropark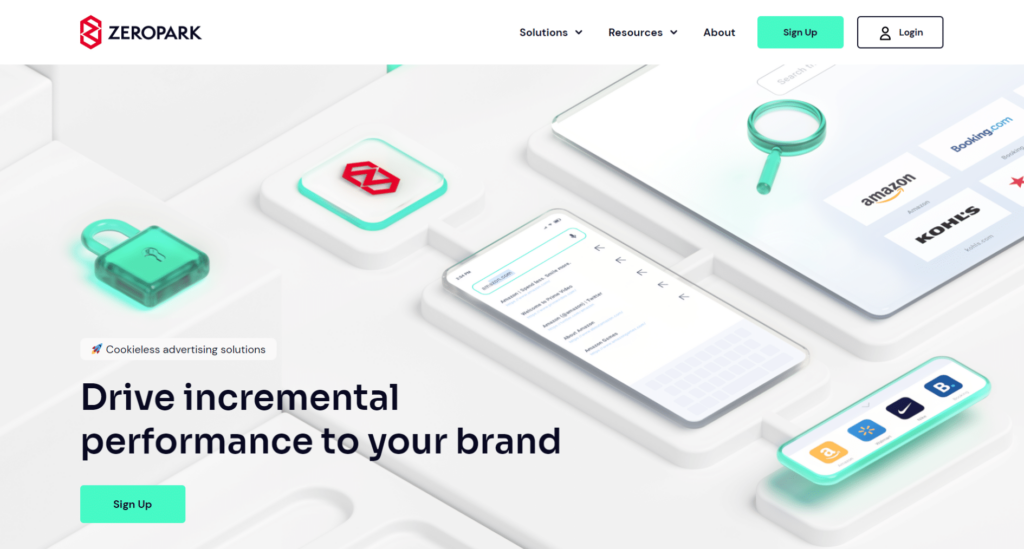 ZeroPark is a comprehensive advertising platform that offers advertising and monetization solutions to brands and businesses globally. Advertisers can test the platform and evaluate the ad inventory with the Demo Account prior to adding funds.
Popular ad formats on the platform include:
push ads;
in-page push;
popup;
deeplink ads;
domain redirect.
For Nutra offers, the best ad formats at ZeroPark are pops, direct click ads, push and in-page push ads. These formats capture users' attention and drive conversions.
ZeroPark provides a personal manager to clients who spend more than $2000 per month and have a conversion tracker installed. This allows advertisers to optimize their campaigns for maximum results. Features advertisers can apply to improve their ad campaigns are Rule-based Optimization and Custom Bids.
2. Mobidea Push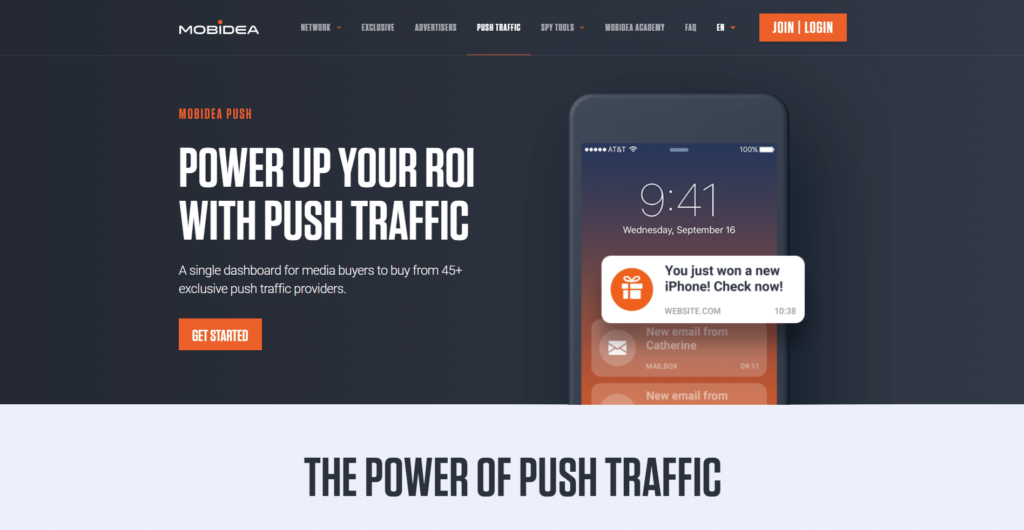 Mobidea Push is a great choice when advertising nutra products due to its unique features and optimization capabilities. The platform enables media buyers to purchase traffic from 45+ exclusive push providers. The pricing model for Nutra advertising on Exoclick is CPC, which allows advertisers to control their ad spend and ensure that they only pay for received clicks.
Ad formats offered by Exoclick include push and in-page push ads. Although Nutra offers are prohibited from running on Premium sources, nutra push traffic can be separated according to user freshness groups, which can help advertisers reach their target audience more effectively. To enhance campaign results, advertisers can make use of advanced optimization features: Auto-optimization by creativity and Automated rules.
3. RichAds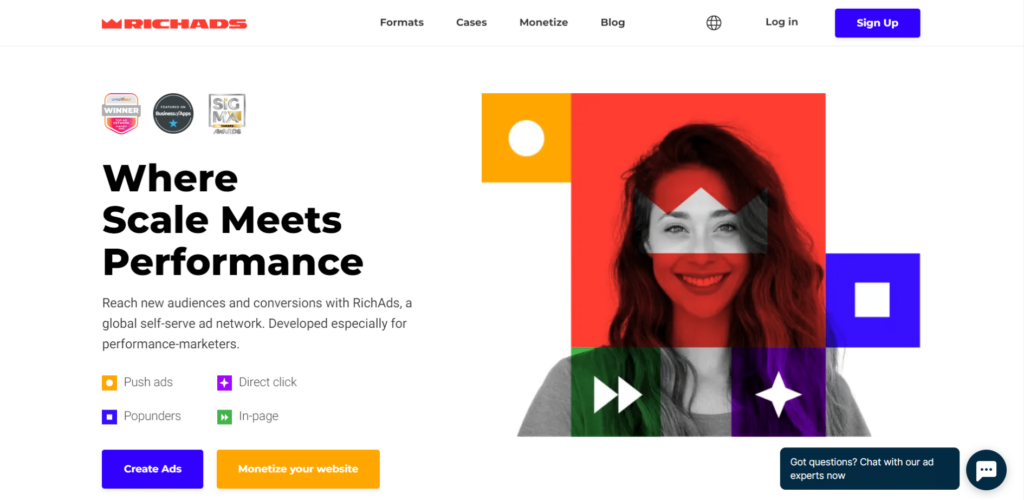 The high-quality traffic, global reach, and affordable pricing of RichAds make it an excellent choice for promoting Nutra offers. As a self-serve network, RichAds provides advertisers with complete control over their campaigns and a wide range of ad formats.
Ad formats at RichAds are:
push ads;
in-page;
calendar push;
popunders;
direct click.
To promote Nutra offers on the platform, advertisers should pay attention to in-page and native ad formats. The recommended deposit for Nutra offers on the platform is $150. The CPC starts from $0.003 for push campaigns and $0.001 for in-page push campaigns.
Besides multiple ad formats, RichAds offers advanced features like Automated rules, Target CPA, Optimizer, Performance Mode, and Microbidding to optimize ad campaigns. To achieve maximum results, specialists recommend launching nutra ad campaigns on Premium sources.
4. Exoclick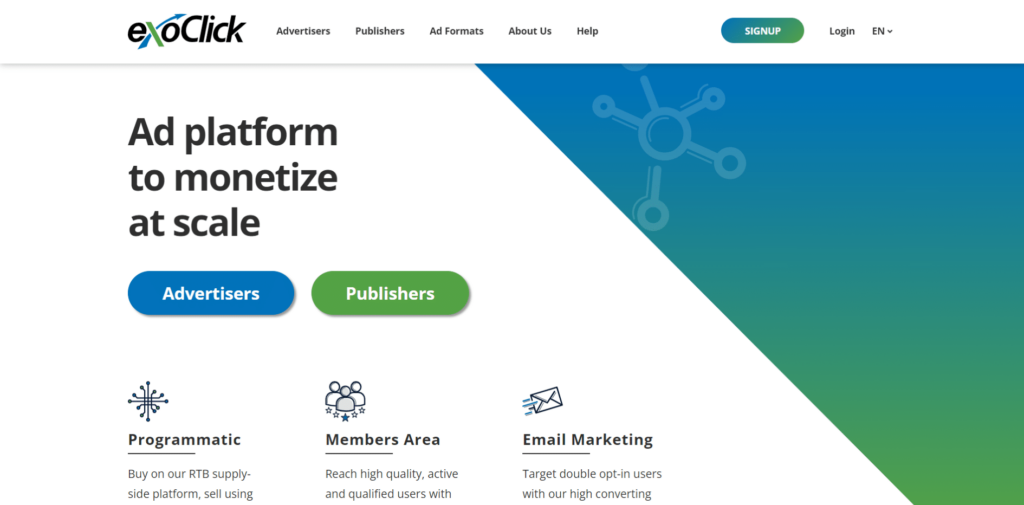 Exoclick is a powerful platform for advertisers to reach their target audience worldwide. The ad network provides plenty of options to promote their offers effectively.
The platform offers ad formats such as:
in-page;
push notification;
interstitial;
popunders;
native;
banners.
Nutra vertical perform exceptionally well with Exoclick. As an example, the ad network has a successful case study of promoting Nutra offers in Thailand on the banner and native traffic, making a $9736 profit.
The platform offers unlimited creatives, allowing advertisers to experiment with different approaches to find the most effective ads. Moreover, Automatic Variations Optimization and Automatic Landing Page Optimization features enable advertisers to define the best way of traffic distribution between landing pages and creatives.
5. MyBid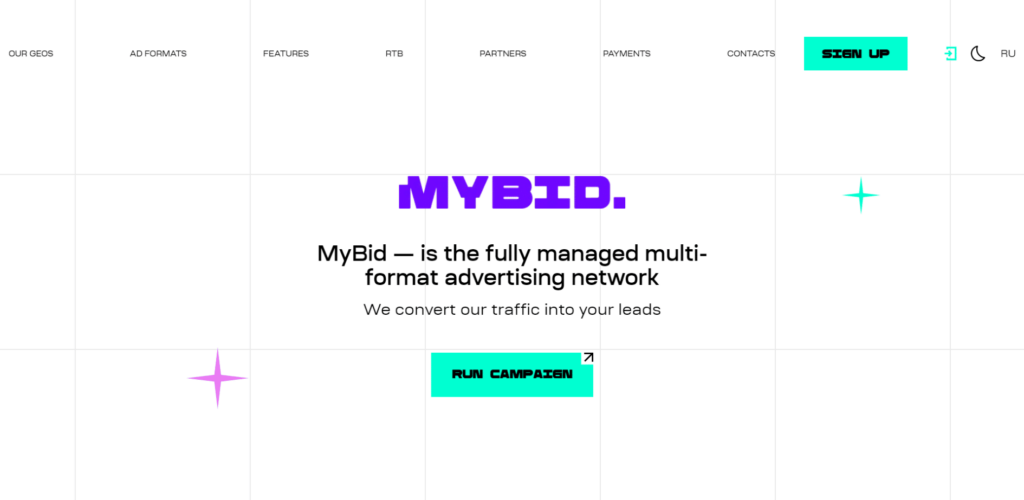 MyBid is a reliable ad network that provides a fully managed service for advertisers, in other words, the platform assists all advertisers personally, no matter how much the deposit is. And, likewise, the ad network can boast a considerable amount of adult traffic helping advertisers to make a great profit on adult-related nutra offers, namely, medications for men's health.
The ad network offers various ad formats, such as:
push ads;
in-page push;
popunder;
native;
banner;
Video;
Among all ad formats, in-page push format has proven to be the most effective for Nutra offers.
The ad network provides unlimited creatives for advertisers to use, and wide targeting options, including users' interests. Valuable optimization features the personal manager use to boost nutra ad campaigns are Automated rules, White- and Blacklists.
6. RollerAds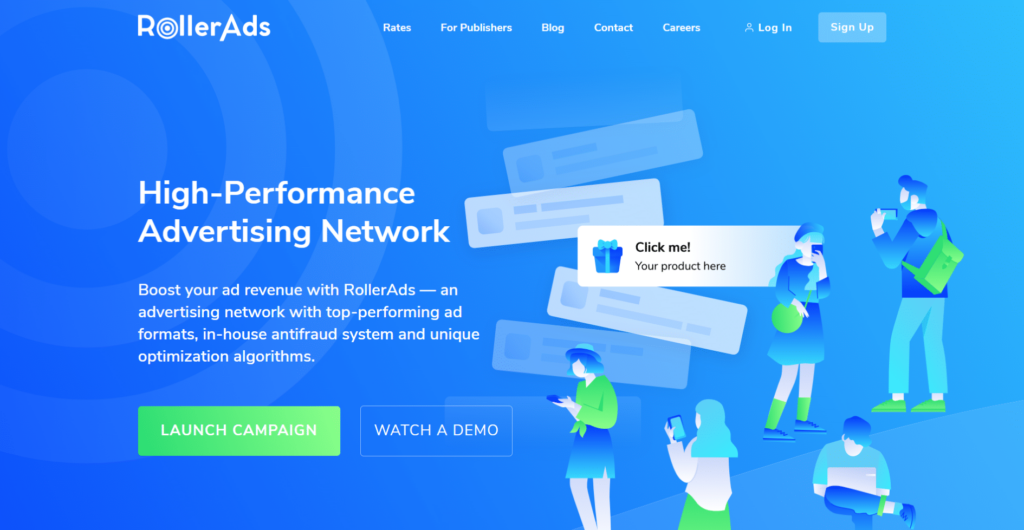 RollerAds offers an affordable advertising solution that caters to businesses of all sizes. It collaborates with over 10,000 direct publishers, allowing advertisers to reach a vast and diverse audience across various niches. Being an outstanding advertising network, RollerAds offers a range of high-performance ad formats: push and in-page push ads, and onclick, also known as popunder.
RollerAds also provides an accessible entry point for advertisers looking to get started with Nutra advertising – the minimum deposit is only $50 here. Alongside a deposit, the bids are incredibly low too. The minimum CPC starts from $0,001.
7. ClickAdilla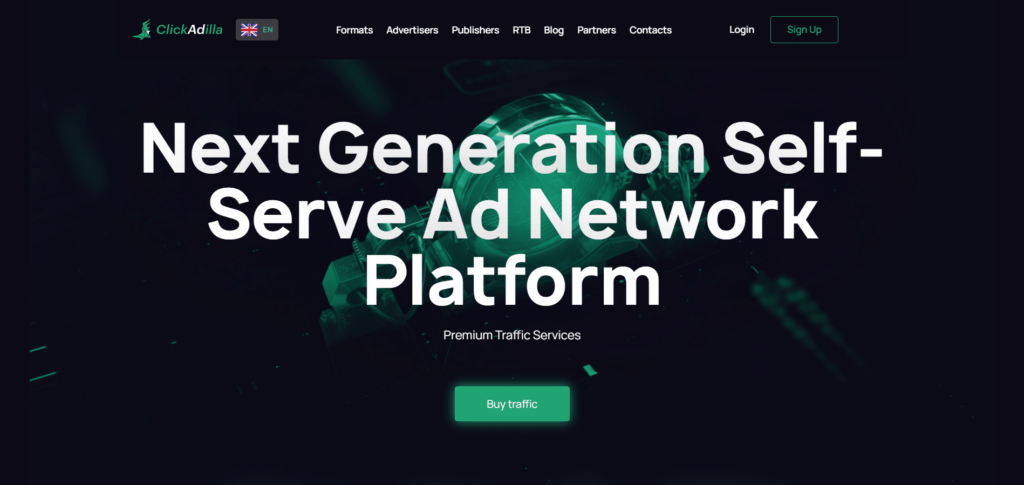 Clickadilla is an upcoming self-serve ad network platform that offers 13 ad formats, including push ads, popunder, native, interstitials, banners, gallery, and direct links. For Nutra offers, top-performing ad formats are push ads, in-page push, popunder, and native.
One of the standout features of Clickadilla is its Auto-optimization tool, which is powered by CPA Goal. The Clickadilla team advises advertisers to use this tool to take advantage of the platform's optimization capabilities. Also, the team honestly admits that women-targeted offers may not perform as well as sexual health products, athletic performance, and testosterone booster pills.
8. PropellerAds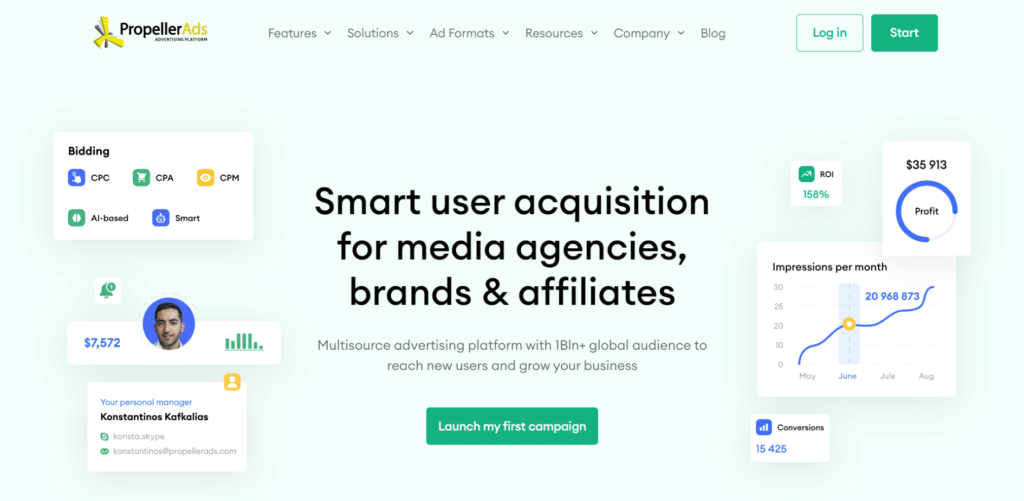 PropellerAds is a leading ad network that offers a multisource platform to a global audience. It is considered one of the best ad networks for advertising Nutra offers, even though nutra adult products are prohibited for advertising here.
Available ad formats are:
push ads;
in-Page Pus;
interstitial;
popunders
onclick (combines both popunders and direct click formats)
The ad network offers a wide array of targeting options, taking into consideration users' interests, gender, and age. This ensures that your ads are shown to the right audience, leading to better conversion rates. To get the best results with PropellerAds, use its optimization features: Target CPA, Automated rules and Smart Rotator. The latter allows advertisers to optimize creatives based on the bidding models.
9. TrafficStars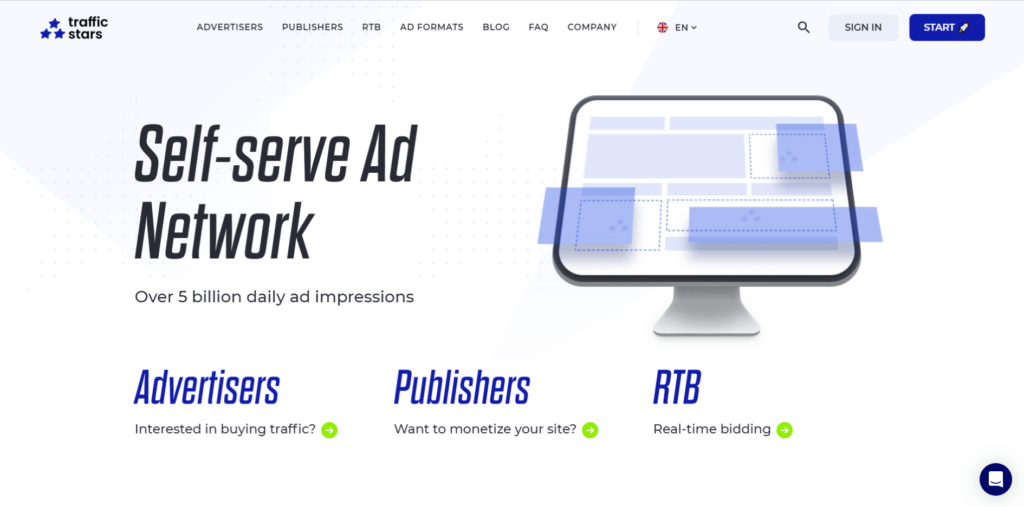 TrafficStars is a highly effective ad network offering trendy ad formats, such as push and in-page push ads, banners, native, popunders, video and others. The platforms see Nutra vertical as one of the promising directions for earning. If you need proof, the team recently published a real case of running an ad campaign resulting in $21 450 profit while ROI is 59.5%.
So, if you're looking for an ad network that provides a powerful, easy-to-use platform, excellent ad formats and advanced optimization features, TrafficStars is the ideal choice for testing.
10. Clickadu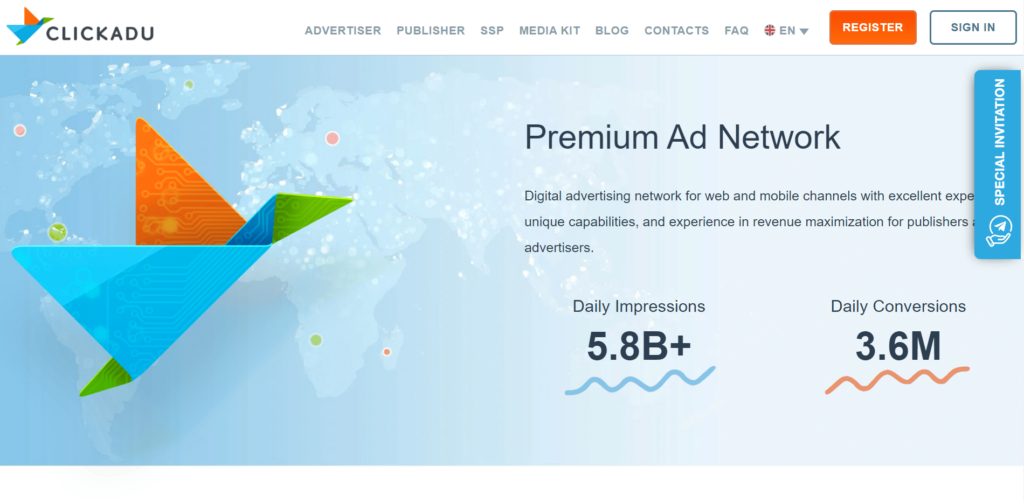 Clickadu is a fantastic ad network for advertising Nutra offers. This platform offers a variety of ad formats, including push formats, popunders, and video. Among them, push and in-page push ads are the most popular ad types. One of the most significant advantages of Clickadu is the high-quality bot-free traffic, that encompasses both mainstream and adult audiences.
If you're new to advertising Nutra offers, Clickadu is willing to offer various educational resources to help you get started, such as video tutorials, webinars, and a knowledge base. A dedicated customer support team is also available 24/7 to assist you with any questions or concerns you may have.
Comparison of Top Nutra Push Ad Networks
When it comes to advertising Nutra offers, it's crucial to find the right ad network that can effectively reach the targeted audience. Our comparison of nutra ad networks will give a glimpse into each traffic source we describe.
Ad Networks
Ad Impressions
Minimal deposit
Minimal CPC
Cost Models
Ad Formats
700 million+ clicks for push ads monthly
$200
$0.0013
CPC, CPV
Push ads
In-page Push
Popup
Deeplink ads
Injection Traffic ads
Search Marketplace ads
Domain Redirect
1 billion daily users
$50
$0.001
CPC
Push Ads
In-page Push
5 billion daily
$100
$0.003
CPC, CPM
Push Ads
In-page Push
Calendar push
Popunders
Direct click
12 billion daily
$200
$0.001
CPC, CPM
Push Ads
In-Page Push
Interstitial
5 billion+ daily
$100
$0.00003
CPC, CPM
Push ads
In-page Push
Popunder
Native
Banner
Video
2 billion daily
$50
$0.001
CPC, CPM, Smart CPM, Smart CPC
Push ads
In-page Push
Popunder (Onclick)
4,5 billion daily
$50
$0.001
CPC, CPM, Smart CPM, CPA
Push ads
Popunder
Native
Interstitials
Gallery
Direct Links
1 billion+ daily
$100
$0.005
CPM, CPC, CPA Goal, Smart CPM
Push Ads
In-page Push
Interstitial
Popunders
Onclick (Popunders&Direct Click)
5 billion+ monthly
$100
$0.001
CPM, CPC
Banners
Native Ads
Video Pre-Roll
Video IM slider
Video X Pre-Roll
Classic push
In-Page Push
Full-Page Interstitial
Popunders
Targeted clicks
5,8 billion daily
$100
$0.001
CPM, CPC, SmartCPM, SmartCPA
Banners
Push ads
In-page push ads
Popunders
Video pre-roll
Instant text message
SKIM
Conclusion
Well, there you have it! Nutra vertical is definitely one of the hottest niches in affiliate marketing now. There are tons of high-converting offers out there just waiting for you to promote them. However, a key to successful ad campaigns is choosing the right ad network. You should make sure you're working with a reputable nutra advertising platform providing a sufficient amount of traffic within the vertical.
By doing your research, testing out different nutra push ad networks, and continually optimizing your campaigns, you can become a Nutra marketing master pretty fast. So go out there and start making some serious cash!