Running sweepstakes offers is a win-win for affiliate marketers no matter what experience they have. Sweepstakes have become a popular choice for marketers due to their high conversion rates and low barriers to entry. And although the vertical comes with some challenges, it remains like a golden ticket for newbies.
In this post, we'll dive into the world of sweepstakes and explore why it's a great option even for those who are just starting as affiliate marketers. You will be familiar with not only the ins and outs of the vertical but also the best channels for its promotion: sweepstakes push ad networks.
If you are looking for matching sweepstakes ad networks for your offer right now, just move to the last section.
Sweepstakes Vertical Explained
Sweepstakes is a blanket word for offers giving a chance to win any gift such as gadgets, beauty products, travel vouchers, and other stuff in return for leaving personal data, signing up and even a symbolic payment.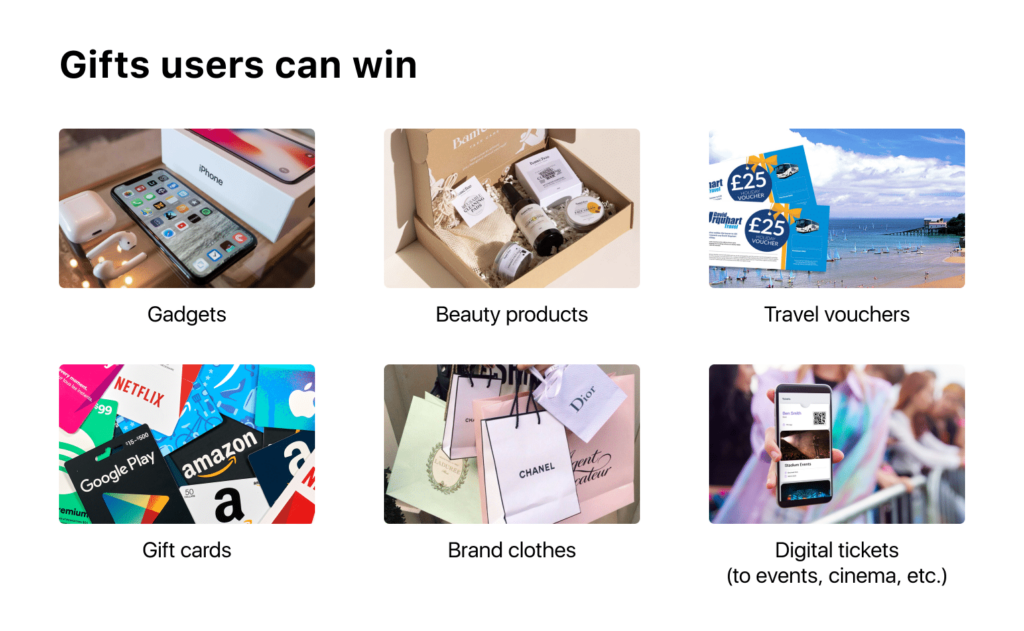 The winner of the lottery is defined by random, so all participants can count on a stroke of luck. In addition to creatives showing desired awards, advertisers can create pre-landers and use game mechanics to involve users. There can be a wheel-of-fortune, test or quiz.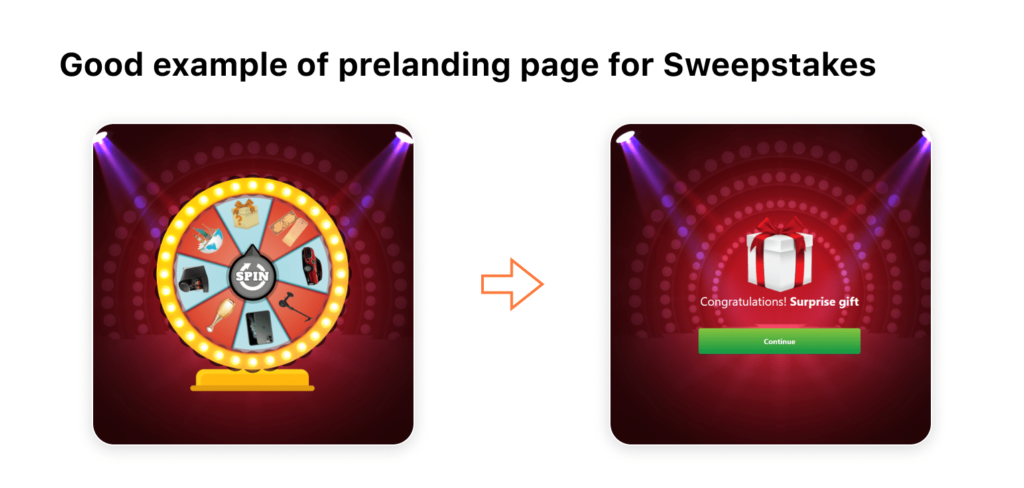 The chance to get something for free entice many users to share their contacts and other information.
At sweepstakes affiliate networks, offers fall into four categories based on required actions:
SOI (single opt-in). All users need to do for conversion is to fill in the registration form. Once it's done, they get the opportunity to take part in the prize draw. Generally, the requested information is the name, email and phone;
Double opt-in (DOI). Users should confirm the contact details via email, only then the conversion will be accepted;
Mobile subscriptions (or PIN Submit). Upon leaving phone numbers and confirming them, users become leads and while affiliates receive payouts;
Credit Card Submit (CC-Submit). Those who wish to become the owner of the prize need to pay for a subscription to a service. Conversion is considered complete after users submit their credit card info. Afterward, money will be written off automatically.
Users are more willing to leave their email addresses than payment details and phone numbers. Since affiliates have to make an effort to promote mobile subscriptions or CC-Submit offers, it's getting obvious why payouts for advertising these offers are much higher than SOI or DOI ones.
Sweepstakes Advertising Restrictions
Some countries curtail marketing activities toward sweepstakes offers, and there is a simple rationale for it: scammers can easily come by personal data in this way. For the same reason, Facebook prohibits payment-related promotions. And although the Meta platform allows hosting sweepstakes ads officially, numerous restrictions baffle us. How to promise AirPods or game consoles if promoting physical goods is prohibited, Facebook?
❝Strict regulations go only with Meta platforms, but as practice shows, sweepstakes promotions aren't welcomed on any social network❞
AllPushNetworks Team
Google Ads accounts can also be blocked because of sweepstakes advertising as the niche is on the verge of being illegal. An ad campaign can seem suspicious because there are a lot of sweepstakes ads misleading customers regarding their chances of winning. So, whatever your noble intentions are, your campaign may be rejected, and this fact must be taken into account.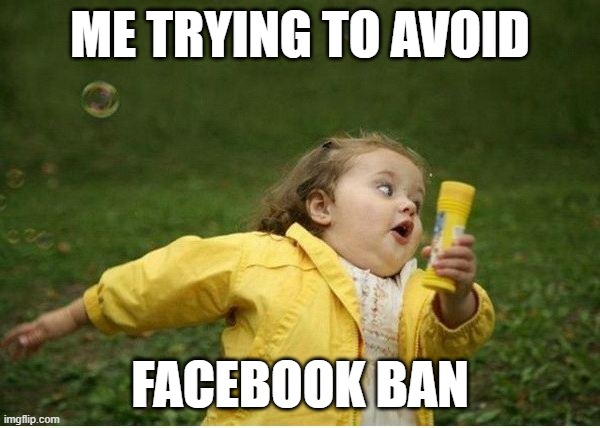 Besides GEO and traffic source restrictions, you can face issues linked to copyrights. Be careful about using the Apple brand name in your creatives in case you promise iPod or iPhone as prizes unless the company is your sponsor.
Best Traffic Sources for Sweepstake Offers
While sweepstakes are dual in nature, you have the chance to promote offers on many traffic sources, sometimes under certain conditions.
Facebook traffic
As the platform prohibits a lot when it comes to sweepstakes, you can start your campaign here provided the cloaking tools are used. Other ways to get around regulations are account pharming and creating fake profiles. Just as cloaking, similar tricks are not ethical methods of promoting, but many advertisers resort to them because of interest-based targeting and free access to personal data.
Email traffic
It's still an effective traffic source for sweepstakes advertising, but launching a newsletter is not enough to boost your campaign. You have to collect a top-quality mailing list and then segment received traffic. Driving email traffic requires making efforts, but it's surely worth trying.
Pop traffic
Pop traffic is cheap and can drive a large audience to a sweepstakes offer, increasing the chances of conversions and ultimately leading to higher profits for advertisers.
The ad format has the shortest sale funnel as users see the offer right on the popping-up window which opens under or over the content they are viewing. This means users can easily and quickly decide to either accept or dismiss the offer, without having to navigate through multiple pages or steps.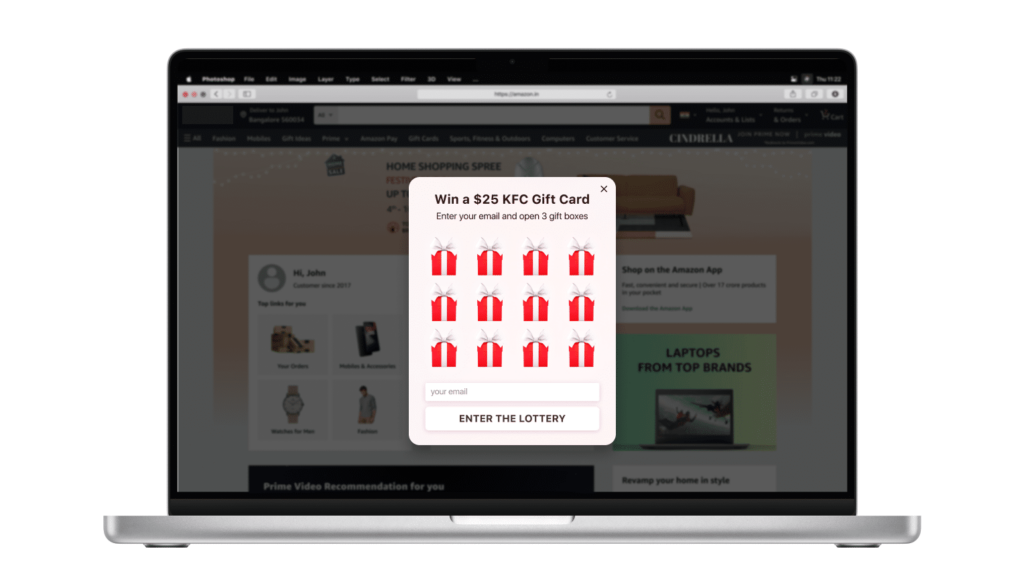 Additionally, the immediacy of the ad format can create a feeling of urgency to take action.
Push traffic
Push traffic is often more cost-effective than other types of audience collecting for advertising. This is because push notifications are delivered directly to users who have opted-in to receive them, which means that advertisers are not paying for wasted impressions.
The ads are hard to miss as they pop up on the screen regardless of internet connection. In addition, the gift-themed creativity further encourages users to click on it.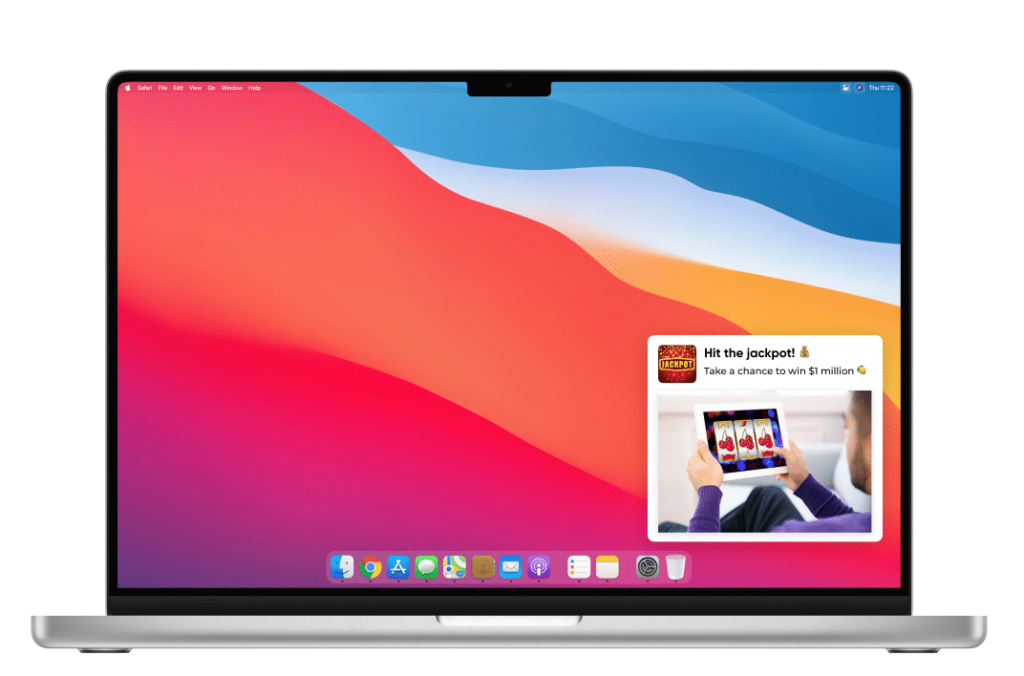 Overall, sweepstakes push traffic can be a great way to promote offers because it is highly engaging, targeted and cost-effective.
A similar format is an in-page push. Upon entering a website, in-page ads could appear at the corner of the screen. As opposed to their counterparts, they don't require a subscription, making them accessible to iOS users. Due to the high level of solvency of this audience, affiliates can earn a lot of money from this market.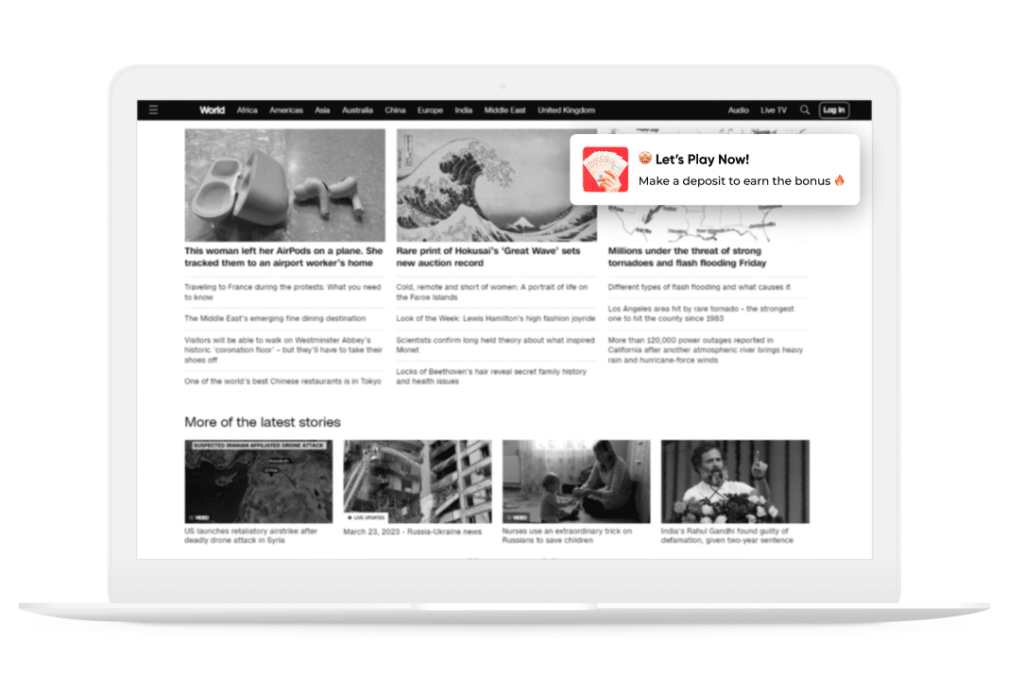 To summarize, push and pop formats are excellent for sweepstakes advertising since they can effectively capture a user's attention. Push notifications are instant and eye-catching, appearing directly on the user's screen. Pop-up ads, on the other hand, offer a more interactive experience for the user as they typically float in the center of the screen, interrupting the user's browsing experience and demanding attention.
The main reason why both formats are ideal for sweepstakes advertising is the lack of need to adhere to the policies of Google Ads or social media. To run pop and push ad campaigns, advertisers can appeal to ad networks – platforms that follow the interests of advertisers, allowing them to run their offers freely.
Ad Networks as the Optimal Way to Advertise Sweepstakes
Ad networks are platforms that act as mediators between advertisers and publishers who own traffic sources. The platforms meet the interests of advertisers in getting traffic and the need to monetize websites for publishers. As with other traffic channels, the sweepstakes push ad networks have an ad policy, but it usually places no restrictions on sweepstakes advertisements.
Aside from push and pop advertising, the ad inventory of the ad platforms can include various formats such as banner ads, native ads, video ads, interstitial ads, and more.
Below, we will review the perks of sweepstakes networks for advertisers in depth.
| The needs of advertisers | The solution from the ad networks |
| --- | --- |
| Getting a large amount of traffic | An ad network has a large pool of publishers, allowing advertisers to reach a wide audience of potential customers for their offers. |
| Looking for the most targeted audience | Sweepstakes offers can be promoted to users who are more likely to be interested in them as the ad networks have advanced targeting options. So, advertisers can reach specific audiences based on location, interests (not always), demographics, and behavior. |
| Making profit | Ad networks can be cost-effective because they mostly operate on a CPC or CPM model. As a result, advertisers only pay for actual clicks or impressions. |
| High campaign performance and saving resources at the same time | Having expertise in the field of digital advertising, ad networks can provide advertisers with guidance and advice on how to optimize their campaigns for better performance. This can help advertisers to save time and funds and to achieve better results. |
| Provided transparent statistics to analyze campaign results | Ad networks provide advertisers with detailed metrics and analytics that allow them to track the performance of their campaigns. As a result, advertisers can measure the ROI of their campaigns and make adjustments based on the data they collect. |
Overall, ad networks is a valuable source for promoting sweepstakes offers because they provide wide reach, advanced targeting capabilities, cost-effectiveness, measurable results, and expertise in digital advertising.
Top 10 Sweepstakes Ad Networks
Appeal to reputable ad networks in terms of running sweepstakes ad campaigns. Our team has compiled a list of the top traffic sources suitable for sweepstakes offers.
1. PropellerAds
PropellerAds guarantees affiliates, networks, brands, and agencies top-notch traffic. The ad network keeps up with social media platforms, offering the same extensive options: gender, interests, and age. Marketers are likely to find the ad network incredibly useful for promoting sweepstake offers because the team knows the drill at least. Numerous blog articles only confirm that fact.
The minimum deposit is $100, making the ad solution a favorable choice for affiliates who want to test the platform. As a whole, the platform offers an abundance of features that will make advertisers delighted. Recommended formats for launching sweepstakes ad campaigns are popups, push ads and onclick, which combines popunders and direct click ads.
2. Zeropark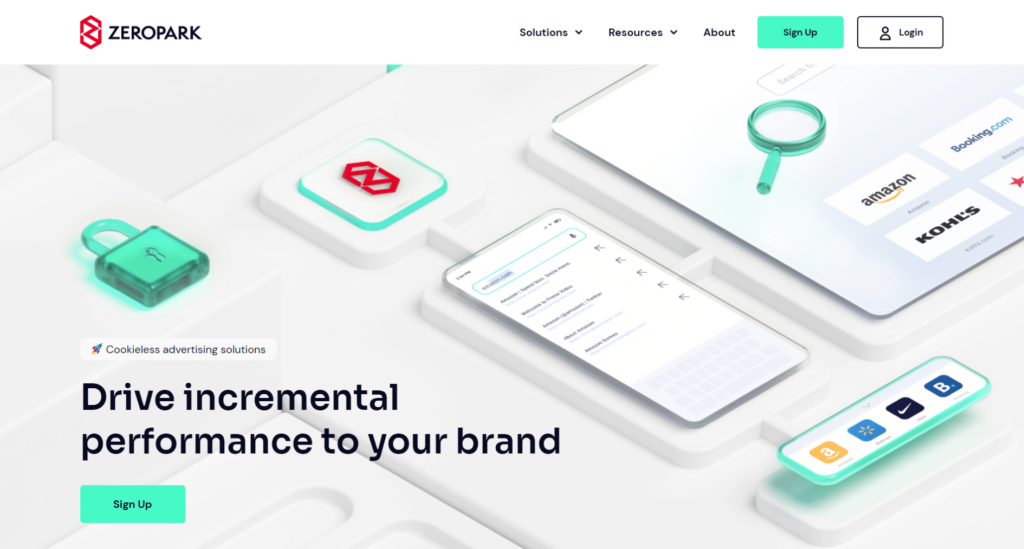 Since 2011, Zeropark has assisted businesses in acquiring traffic. As one of the top sweepstakes networks for publishers and advertisers, Zeropark offers a range of advertising options, including push ads, in-page push, popup, domain redirect and deeplink ads. As for sweepstakes, you can get the most out of your sweepstakes promotions driving pop, domain redirect or push traffic to the website.
3. RichAds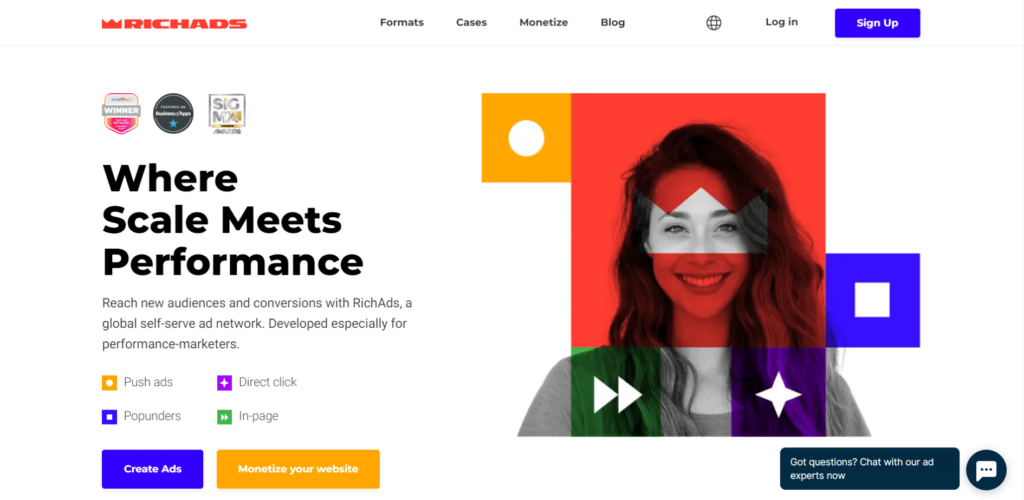 RichAds is a global ad network that specializes in push notifications, pop-ups, and direct click and native ads. The platform works with a wide variety of verticals, including sweepstakes, gambling, betting and more. Having $150 at least, advertisers can promote their offers with ease. When depositing $500, everyone can count on free creatives and personal support.
The account managers recommend dividing sweepstakes ad campaigns into mobile and desktop ones. As promised, mobile traffic works better, however, it's not worth turning down the desktop audience. The best strategy is to set up different bids for both campaigns: mobile and desktop.
4. MyBid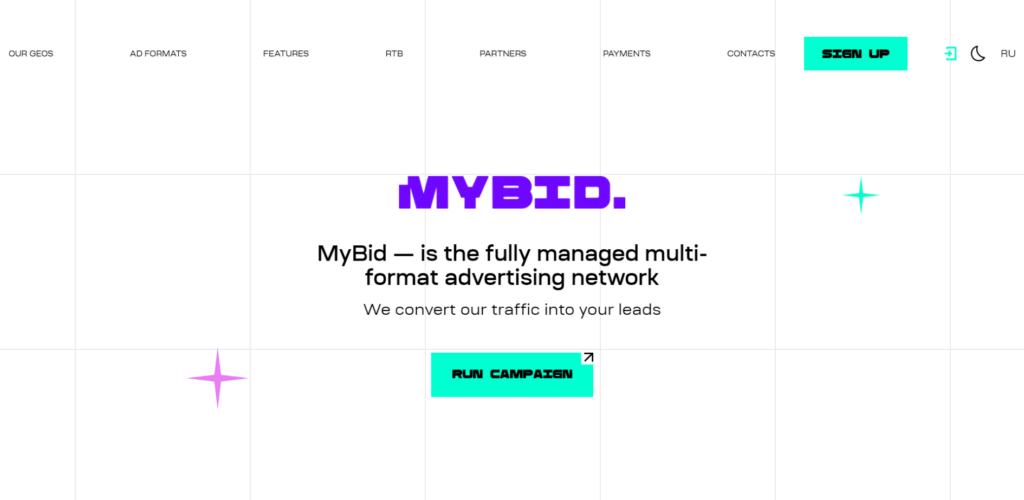 In contrast to competing ad networks, MyBid offers a full-managed service. So, advertisers can be free to relax while professional affiliates tweak their ad campaigns. Before running any ad campaign, advertisers and their managers discuss targeting options and requirements for the creativities. Advertisers remain in the loop, but all they need to do is approve of the manager's actions.
MyBid managers start and run ad campaigns from beginning to end. However, advertisers have the right to stop running ad campaigns if something goes wrong. They also can ask the manager for campaign results at each stage of the ad campaign.
Available ad formats are push notifications, in-page push, popunder, native, banner and video.
5. AdCash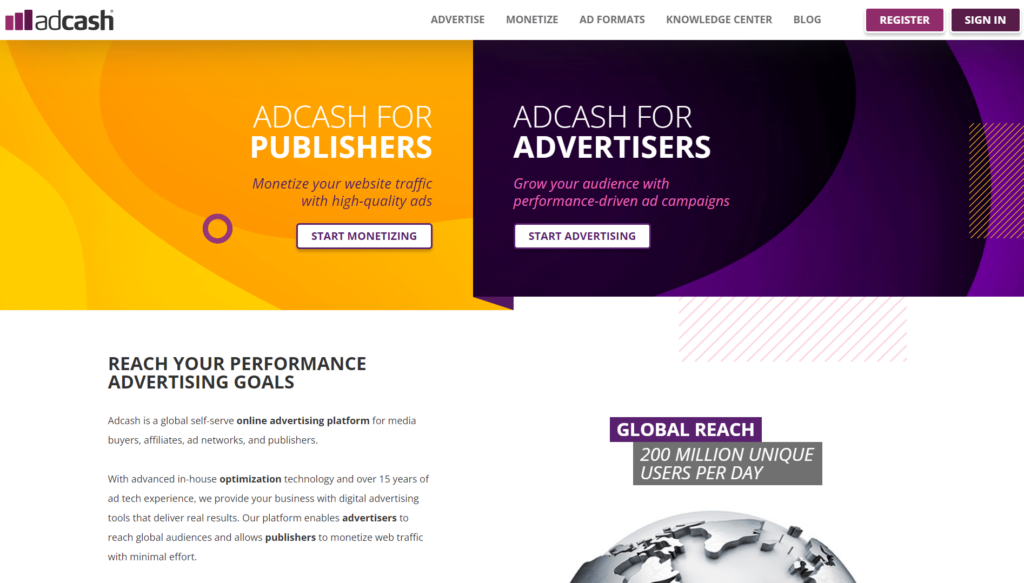 AdCash is a worldwide ad network known since the distant 2007. As such, it stands to reason that the ad platform has gained a great amount of sweepstakes traffic and a solid experience in promoting relevant offers as well. On the platform, ad formats include native, in-page push, popunder, interstitial, and banners. Whichever ad type you choose, you will be able to add unlimited creatives. The minimal budget per day, meanwhile, is just $10.
Advertisers can find themselves alluring interest-based options and targeting rules, that allow them to adjust device parameters. To profit most when running sweepstakes ad campaigns at AdCash, advertisers also can use good old-fashioned white- and blacklists.
6. Pushgroud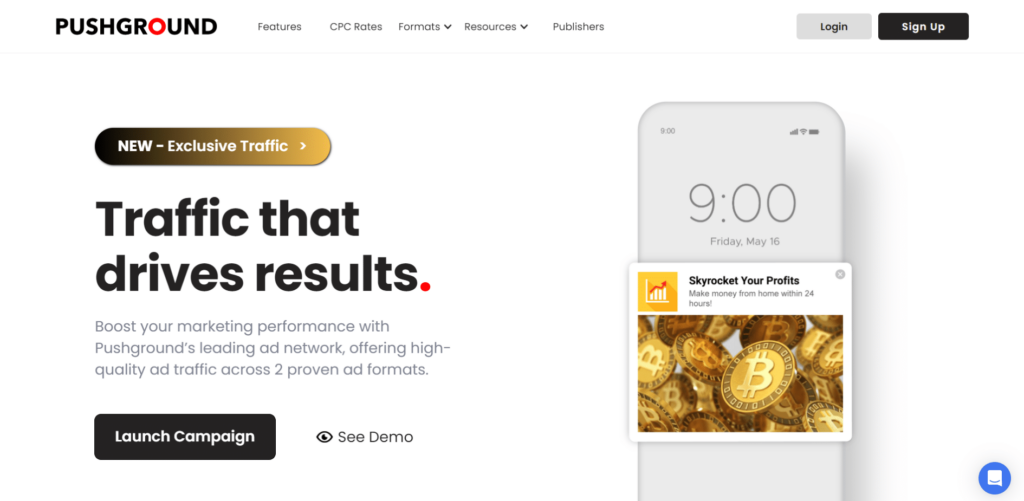 Pushground specializes in push traffic, with a primary focus on in-page push ads. The company follows a CPC pricing model only, but advertisers need not worry about limited ad inventory, as the team ensures that advertising campaigns in all verticals, including sweepstakes, yield good results. The best combination of successful ad campaigns is using whitelists provided by the personal manager and targeting popular GEOs: US, FR, DE, GB, ES, IT, TH, MY, PH.
Pushground has a demo version, so advertisers can value the ad platform whether they sign up or not. If you are going to test the demo, note optimization features: Automatic Rules and Auto-Optimization by creativity.
7. Adsterra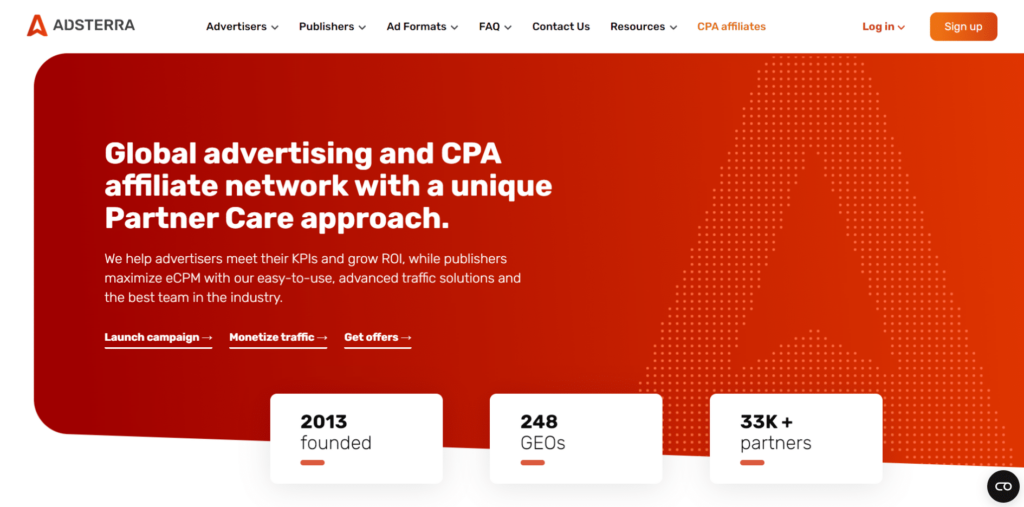 Adsterra is an established and trustworthy ad network that offers a wide range of advertising formats for businesses promoting their sweepstakes offers. The ad network promises cheap sweepstakes traffic on push and popunder ad formats. While dealing with sweepstakes ads, Adsterra's advice is to test the so-called Social Bar option that comprises several ad formats: In-page Push, Custom Widget, Icon Notification and Interstitial.
Despite the mixture of the formats in Social Bar, popunders is still the best option for the vertical. Nonetheless, advertisers can contact support specialists or their personal managers to ask them about the optimal settings for running sweepstakes ad campaigns.
8. Mobidea Push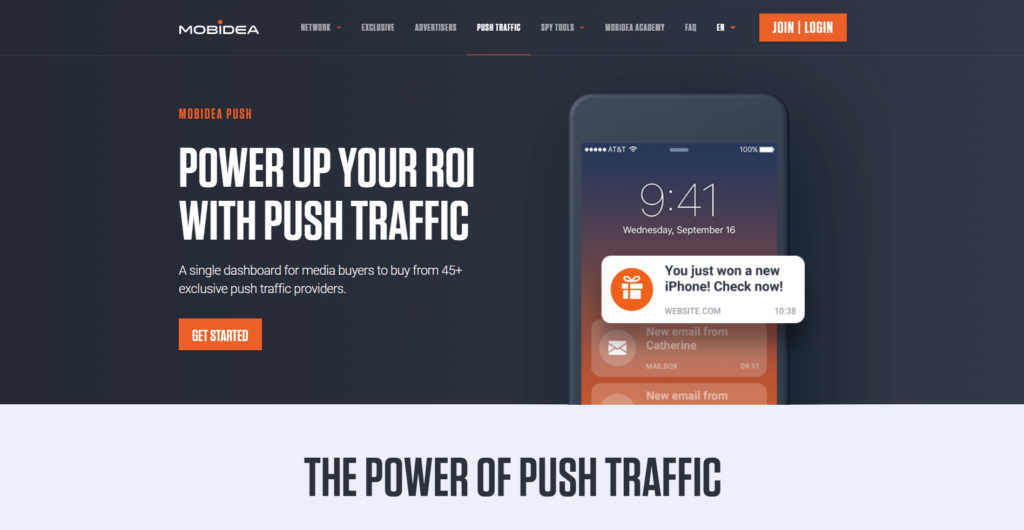 Mobidea Push warrants great attention of advertisers as the ad network enables them to create effective ad campaigns that reach their intended audience and achieve their marketing objectives. On the platform, advertisers can get the most out of your sweepstakes campaigns using advanced targeting options, real-time analytics and popular ad types, such as push notifications and in-page push.
9. BidVertiser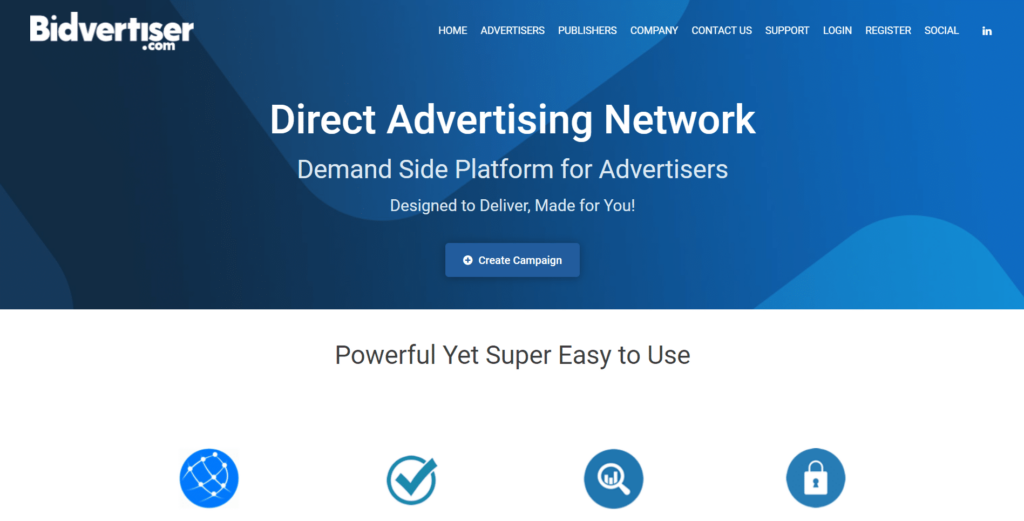 BidVertiser is a reliable platform that operates on the CPC pricing model. Advertisers can conveniently create new ad campaigns using a video tutorial that guides them through the process step-by-step. To track the ad campaigns, advertisers use only custom trackers and no third-party services. The most common ad formats the ad network specializes in are popunder, push ads, in-page push and native.
10. AdMaven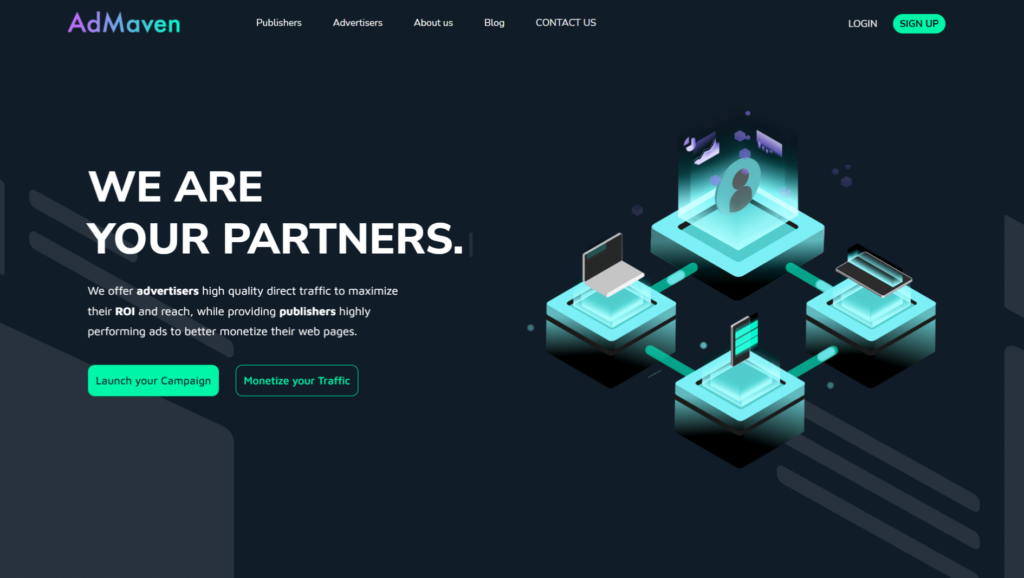 AdMaven is one of the leading ad networks in the world that serves businesses, regardless of their scale and background. Its traffic quality owes a lot to the mix of in-house and market anti-fraud tools. As an ad network with a reputation for high-quality traffic, AdMaven is a popular choice for advertisers looking to promote their products or services to a global audience.
The team recommends paying attention to push and pop formats for promoting sweepstakes offers. Beyond both ad types, the platform offers running ad campaigns on banners and interstitials.
Below, you can compare options from our top sweepstakes push networks and choose the most advantageous solution for yourself.
Below, you can compare options from our top sweepstakes push networks and choose the most advantageous solution for yourself.
Ad Networks
Ad impressions
Minimal deposit
Minimal CPC
Cost models
Ad Formats
1 billion+ daily
$100
$0.005

CPM, CPC, CPA Goal, Smart CPM
Push Ads
In-page
Interstitial
Popunders
Onclick (Popunders&Direct Click)
700 million+ clicks for push ads monthly
$200
$0.0013
CPC, CPV
Push ads
In-page push ads
Popup
Deeplink ads
Injection Traffic ads
Search Marketplace ads
Domain Redirect
5 billion daily
$100
$0.003
CPC, CPM
Push Ads
In-page Push
Calendar push
Popunders
Direct click
5 billion+ daily
$100
$0.00003
CPC, CPM
Push ads
In-page push ads
Popunder
Native
Banner
Video
9 billion daily
$100
$0.001
CPM, CPC, CPA target
Native
Push Notification
In-Page Push
Popunder
Interstitial
Banners
1 billion daily
$100
$0.001
CPC
Push Ads
In-page
1 billion daily
$100
$0.001
CPM, CPA, CPC
Popunders
Banners
Native
Video
Social Bar (including In-page push and Interstitial)
1 billion daily users
$50
$0.001
CPC
Push Ads
In-page Push
2 billion daily
$100
$0.001
CPC
Direct Navigation
Pop Under
Push Notifications
In-Page Push
Contextual Pops (Injection)
Injection Pops
Native Ads
2 billion+ daily
$50
$0.001
CPC, CPM
In-page Push
Direct clicks
Popunder
Banners
In-Stream
Notification Widget
Banners
Gallery
In-app
Conclusion
Sweepstakes is a surefire vertical for earnings, but experienced advertisers can underrate it because payouts, in this case, are not as high as promoting adult or crypto offers. On the flip side, easy money has never hurt anyone. Anyway, running sweepstakes campaigns can be a great way for beginners to dip their toes into the world of affiliate marketing. 
Sweepstakes campaigns are relatively straightforward to set up and can be quickly scaled. As we found out, push traffic is the best option to start earning money right away. Enjoy payouts by choosing one of the sweepstakes push ad networks we've listed. Good luck!