In-page push ads, otherwise called IPP ads, have been a revelation in 2020 as it's a special ad type that takes away traditional push ads' pros while reducing some of their cons. The power of the way of advertising has resonated with affiliates' needs immediately. So, what is good about in-page push traffic? Below, you will find the most recent information regarding the breakthrough ad format – in-page push ads.
Find out what in-page push ads are, how they work, and what makes them unique.
What are In-Page Push Notifications?
In-page push ads is a new advertising format that mixed push notifications with popups. In-page push is a small push notification that pops on the corner of the webpage that the user is scrolling at the moment. The format has a great benefit over popunders because in-page push ads don't distract users from the content on the webpage but entice them to click the ad at the same time. Users immediately notice these small ad windows known as in-page push notifications.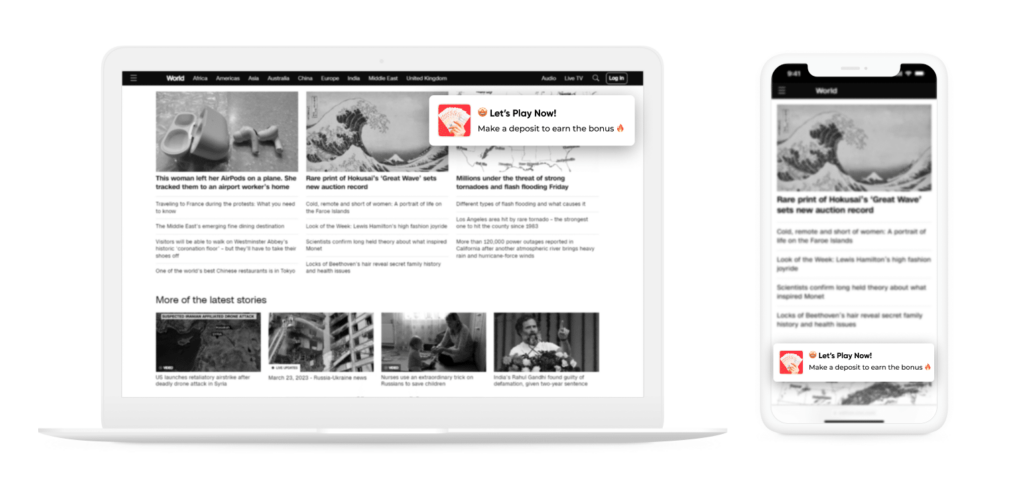 Certainly, in-page ads mislead newbies as they resemble web push notifications delivered to mobiles, or at least very similar. Now, it's time to outline their differences.
What's the Difference between Web Push and In-Page Push traffic
In-page push notifications have a lot in common with usual push ads. However, both ways of advertising generate 2 separate types of traffic. We've compared both of them.
| Characteristic | In-page Push Traffic | Regular Push Traffic |
| --- | --- | --- |
| Mechanic | Banners that pop up straight to the site | Push ads based on subscription model |
| Display | Certain webpage | Screens of users' devices |
| Device characteristics | Available for iOS | Not available for iOS |
| Basic Pricing Models | CPC | CPC, CPM |
| Fresh Audience | iOS users | New subscribers |
| Browser restrictions | No | Chrome updates |
| Lock Screen Delivery | No | Yes |
| User-friendly design | Yes | Yes |
If you haven't heard about push ads before, check out our other guide, dedicated to standard push technology.
As the table shows, in-page push ads are more direct than web push ads, thus, they can provide better performance due to high customer engagement. Conversely, not so many publishers are aware of the new format, therefore, in-page push traffic volume isn't as huge as web push one. Nevertheless, advertisers can make good money on the in-page push format, since it works on the CPC (cost-per-click) model and has distinctive strengths in terms of traffic.
Advantages of In-Page Push Traffic
Recently, in-page push format is becoming the best choice for many publishers who strive to monetize their websites. And below, we reveal the key reasons for this ongoing popularity.
Compatibility with all types of devices and browsers
In-page push ads have the same look and feel as web push notifications, but they are available for iOS users, unlike web push ads. They also have no restrictions on all browsers – in-page push ads are allowed to display on screens of devices, despite Chrome's updates.
Higher average CTR
An in-page push ad pops up on the webpage while users interact with the content. Active web visitors are more willing to click on ads than subscribers that can come across a push notification at any moment. Thus, in-page push traffic can help bring traffic to your website with better CTR.
Broader reach
Due to a diverse range of targeting settings, in-page push ads are displayed on screens whatever the browser version or device. This way, it becomes possible to drive one of the largest traffic sources – the iOS audience.
Although Android is the biggest OS in the world, the iOS market is rapidly growing in tier-1 countries, particularly in the United States, Japan, and the United Kingdom. These geos are well-known by the most solvent audience, and you may benefit significantly from them.
Ad spending is predictable
In-page push ads are more foreseeable compared to web push notifications. To be clear, we briefly explain how push ad messages work when it goes to ad spending.
All right, push ads are shown to subscribers, no matter whether the users are online or not. Offline subscribers can see the ad and click on the notification once they get online. It can happen even if the campaign stops running, which inevitably leads to the issue – advertisers continue to pay for clicks, thus, they won't be able to plan the ad budget in advance.
Here come in-page push ads. Web visitors see them, whenever the marketer's bid is won in the auction. Put another way, in-page push ads can be delivered only to users who are browsing the site currently. So, advertisers don't have to put into the budget extra funds to reach users that connect to the web after finishing the campaign.
Overcoming ad banner blindness
The negative point of advertising is that people get bored with it very quickly. Users have seen banners and popups many times, so these ads seem to be rather intrusive for them. Thus, advertisers can face such trouble as ad blindness, which implies that the audience starts ignoring banners and similar ads.
Fortunately, the ad blindness problem is partly solved by driving in-page push traffic. Since the in-page push format is a new method of advertising relative to popups or banners, users treat them much more loyally. The pretty uncommon sort of ad catches the eye of potential clients and makes them react to the notification.
Top Verticals and GEOs for In-Page Push Traffic in 2023
Choosing the best verticals and GEOs for in-page push ads is influenced by traffic characteristics. As in-page push traffic covers a fresh audience (in particular iPhone users), niches and locations will be slightly different from those which are great for push ads format.
We've analyzed the data of popular advertising networks to provide you with the high-end verticals and countries that will perform best.
Ad Networks
Daily Ad impressions
Minimal deposit
Minimal CPC
Top GEOs
Best verticals
Visit ad network
5 billion
$100
$0.003
United States
Thailand
Japan
Indonesia
India
VPN&Cleaners
Utilities
Antiviruses
Finance
Visit website
2 billion+
$100
$0.001
United States
Great Britain
Brazil
Japan
Indonesia
India
VPN&Сleaners
Utilities
Gambling
E-Commerce
Sweepstakes
Pin submits
Dating
Visit website
1 billion+
$100
$0.005
United States
Thailand
Brazil
India
Indonesia
Utilities (VPN&Cleaners)
Sweepstakes
Finance
iGaming
Dating
Visit website
1 billion
$100
$0.001
United States
Brazil
Japan
India
Indonesia
VPN&Mobile
Utilities
Apps&Messengers
Software
Subscriptions
Visit website
1 billion
$100
$0.001
United States
Italy
China
France
Japan
Casino
Betting
Adult
Antivirus
Visit website
The data are relevant for January 2023. We recommend you contact the ad networks for the latest information
As you see, utilities have strong appeal to iOS fans, so seize the chance to promote your offer within in-page push campaigns, if you work with the relevant vertical. You can also start with niches that are effective for push advertising: Sweepstakes, Gambling, Betting, and Dating.
3 Smart Tips for Running In-Page Push Traffic
Although the process of launching IPP campaign is similar to push ad campaign setup, there should be taken into account tricks of in-page push format before promoting your offer:
Create 2 individual campaigns for web push and in-page traffic. By following this advice, you will be able to enhance your ad campaign through fine-tuning target settings;
If you run an in-page push campaign first, use all traffic sources provided by the ad network to identify the most efficient ones, and then narrow down them depending on the test results;
When there is a choice, whether you should run in-page push traffic or traditional push one for promoting utility-related offers, select the first alternative. In-page push ads are available for iOS users who adore various apps and utilities.
To boost your profits, follow these tips and combine them with universal recommendations for any ad campaign: set a conversion tracker and make appealing creatives.
Bottom Line
When choosing traffic types, you should consider your goals and the audiences you want to reach. If you run a push ad campaign, try scaling it with the in-page push traffic. Since the in-page push ad display is allowed not only for subscribers, the IPP campaign reaches new users who have never seen your notification.
Anyway, ad diversity skyrockets chances to succeed. So, it is definitely worth dealing with in-page push traffic, especially if you search for innovative methods of increasing your profit.