Affiliate marketers make a killing by leading new users to bookmakers because there will always be those who are willing to tempt fate and make a bet. People are obsessed with betting for a straightforward reason – it brings together three of their passions: sports, games and money. Despite the obvious demand, betting ads are difficult to promote because of restrictions regarding the country's law, age and rules of the advertising channels.
In many channels, betting is covered by the gambling category. Gambling and betting are also often combined into one vertical in the affiliate marketing industry as well. And it's not casual: both of them stand for money-making games (very simplified). However, these are two inherently different verticals.
Today, we are going to share a bag of tricks to earn money on the betting vertical like a pro. Keep reading to learn more about the ins and outs of the betting vertical, its differences from gambling, and the best sources for advertising.
Click the button if you want to know what betting push networks are the best in 2023 right away.
Betting Vertical Explained
Betting vertical unites offers from affiliate marketers who collaborate with bookmakers providing services for betting. People usually bet on their favorite sport team teams before matches or events like FIFA World Cup or Olympic Games.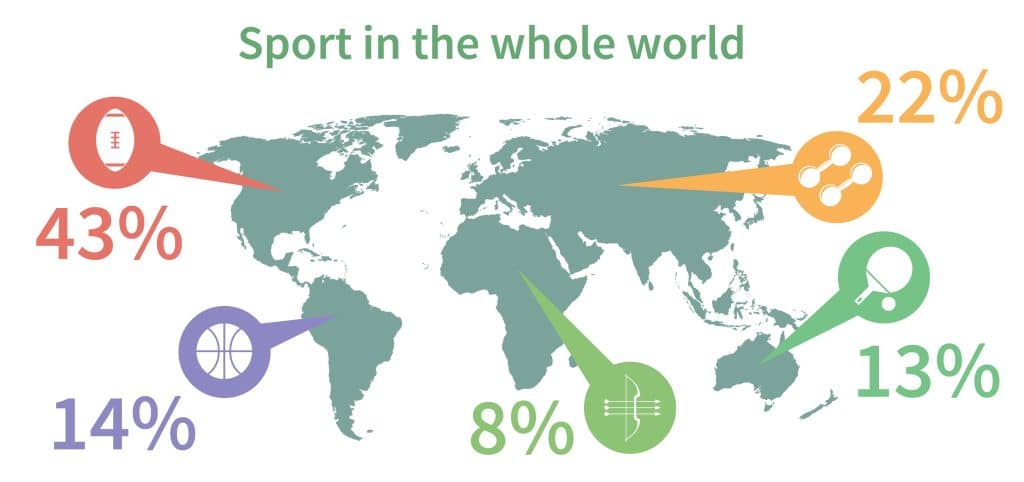 Betting also covers alternatives to traditional competitions: esports and fantasy sports.
Many people discovered esports during the pandemic. The activity was a breath of fresh air when many sports events had to be canceled because of the lockdown.
The top esports competitions are League of Legend, Dota 2, CS:GO and ML:BB.
Gambling vs. Betting. What's the difference?
Like casinos, bookmakers offer people a way to satisfy their passion and try to make money. So, gambling and betting could be confused by affiliates, but the truth is they are partly right as betting is a part of the gambling vertical. Unlike betting that comes with only sports events, gambling is a broader concept that includes a wide range of activities, such as lotteries, bingo, roulette, card games and many others.
Get familiar with this vertical closer by reading our gambling guide.
Since betting and gambling are integrated into one vertical, similar ways of promoting and restrictions apply to them. However, betting offers have some key specifics important to consider while promoting.
Betting is mostly seasonal
As betting offers are connected to large matches or eSports tournaments, the demand for them is extremely changeable. Advertisers should keep track of popular sports events to succeed.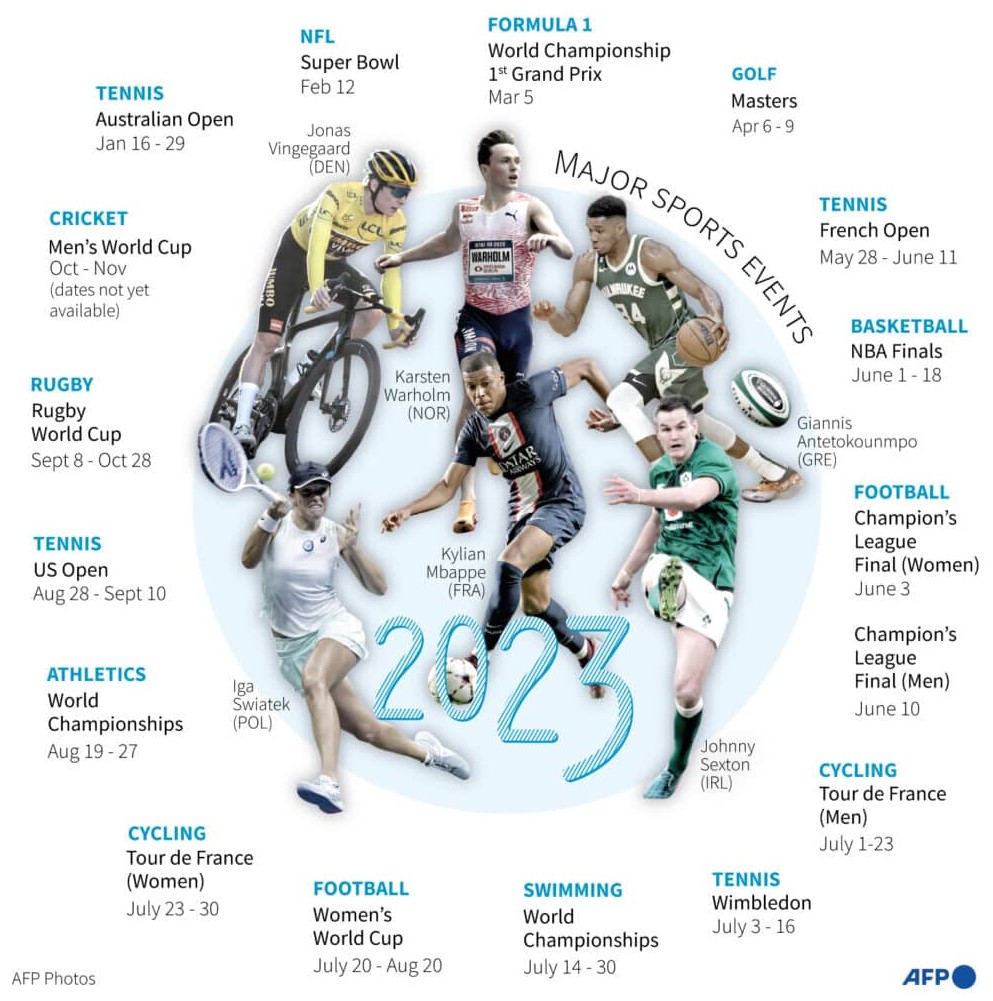 Fewer restrictions
The legality of online betting varies greatly by region. However, betting ads are allowed to run in more countries than gambling. There are also fewer restrictions associated with them.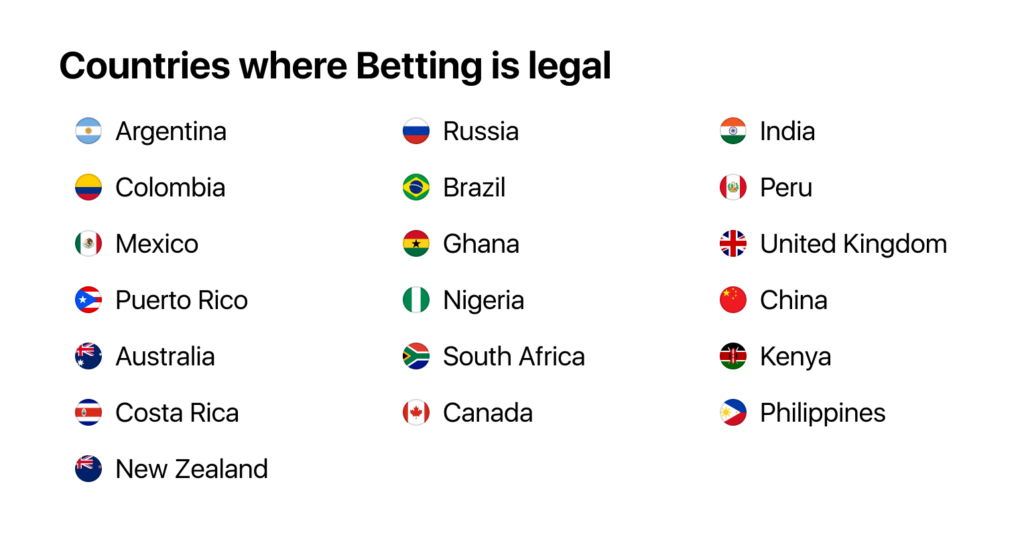 Most clients are men
According to research, gambling offers are equally interesting for both genders while real fans of the betting industry are men.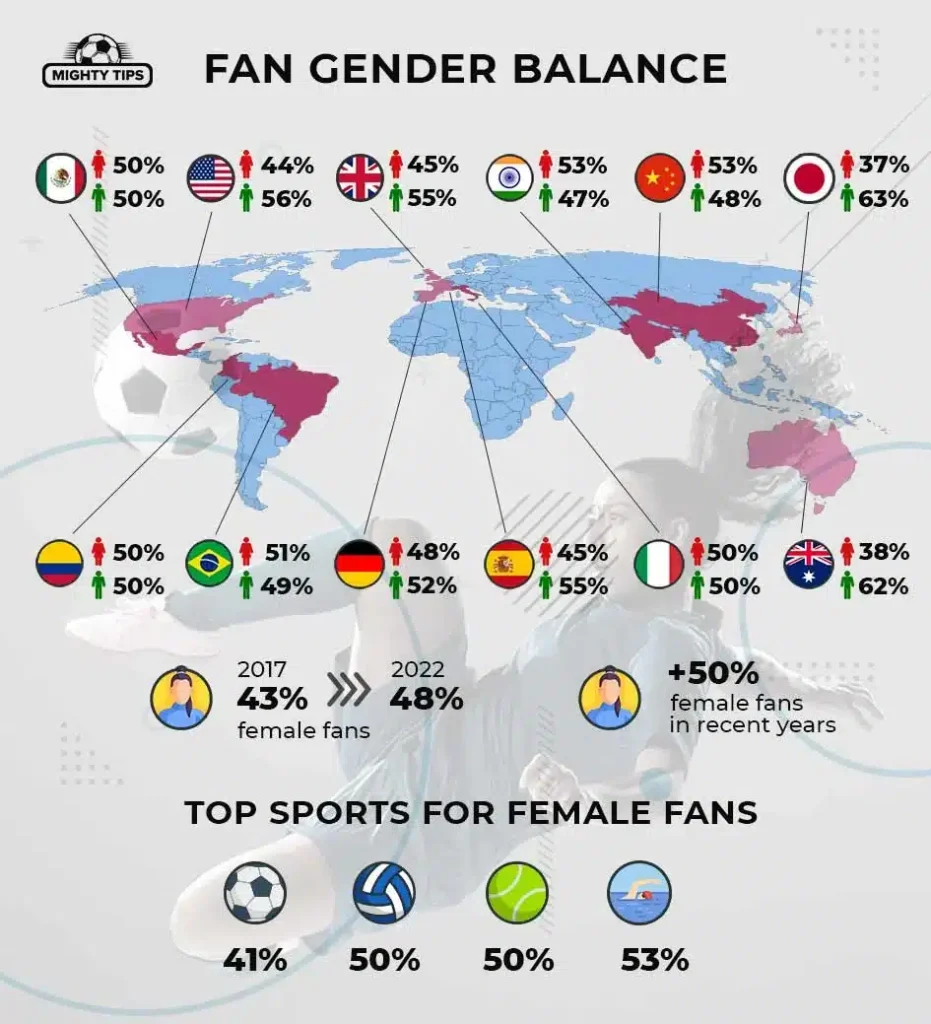 Popular Traffic Sources for Betting
Look at what advertising channels are popular for betting ads.
Google Ads and Youtube
Sports betting ads fall under the category of gambling-related content according to Google Ads policy. Apart from the fact that advertisers should have the license to run betting campaigns across some geos, they must be certified by Google Ads as well. Despite all limitations, Google backs responsible advertisers who promote betting businesses in compliance with the rules.
As Google owns YouTube, the video platform has the same requirements for betting offers, but there is a slight difference: gambling offers are prohibited to display at the top of the YouTube homepage whereas sports betting ads are allowed.
Social Networks
Facebook and Instagram don't directly allow betting advertising. Affiliates have to get permission from the Meta platform and adhere to the age and country restrictions to advertise betting offers. Just like Meta platforms, Twitter requires permission from the account team to promote betting offers.
As opposed to most social networks, TikTok and Telegram don't give the green light to betting advertising at all.
Influencers
Bloggers can help out with betting advertising as many people tend to trust opinion leader endorsements. This way, affiliate marketers can promote their offers on popular social networks. Difficulties can come with finding bloggers who support the betting industry.
Best Practices to Bypass Restrictions
Advertising rules are difficult to follow when it comes to betting offers. So affiliates sooner or later resort to the cloaking. Due to this technology, they managed to replace the real link with another one to bypass moderation. Target users, meanwhile, see the real content from the link, and robots get access to the webpage that doesn't contradict the current advertising policy.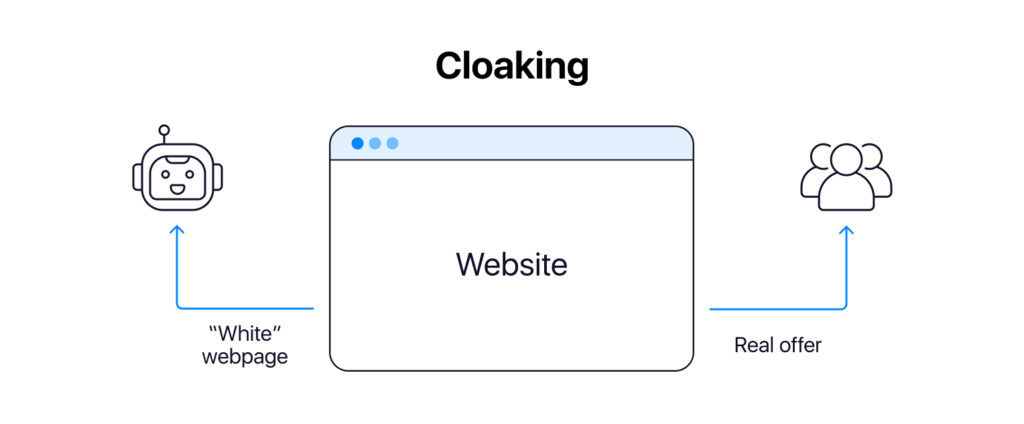 In addition to cloaking, there are other methods as well but the majority of them are risky. Advertisers can get banned for using bots and creating fake accounts for any reason.
A more elegant way to get around restrictions on social networks, unlike cloaking, is advertising with popular bloggers. The method is time-consuming and costly, but it's a handful for increasing brand awareness provided there is a sufficient budget.
The most optimal and safe method of promoting offers is ad networks that provide various traffic types performing for Betting very well.
The ad networks give considerable freedom in relation to betting ads compared to other channels. Age and country restrictions are still in force here. However, cloaking isn't required and promoting costs less than influence marketing. To pass moderation, advertisers should pay attention to guidelines where requirements for creatives and targeting settings can be specified. Anyway, affiliates needn't worry about possible blocking in the betting push networks.
Push ad networks
Push ad networks have already cooperated with publishers who are willing to place the ads on their websites. Thanks to the platforms, marketers can launch ad campaigns on multiple betting push traffic sources at once instead of searching for site owners and offering them collaboration independently. Moreover, there is almost no restriction on betting advertising in the ad networks, which makes them a very appealing option for affiliates.
As the tests show, push notifications is one of the optimal formats for the launch of betting campaigns. Users get push ads in the form of notifications about private messages. Notifications ads appear on the device screens, whether the user is online or not. They are 100% visible and don't irritate users at the same time. Advertisers can struggle with ad fatigue by push format as users still don't get tired of notifications ads. So, needless to say, push ads are marked by a much higher CTR than other types of advertising.
Unlike social networks, there is no interest-based targeting option while tweaking a push campaign. The good news is that site visitors subscribed to notifications themselves, which means advertisers get the most devoted audience.
Top Betting Push Ad Networks
As ad networks give affiliates something like carte blanche for promoting betting campaigns, it's worth taking a closer look at these traffic sources.
Betting ad networks vary by traffic volume, price models, formats, features, targeting settings and many other characteristics. We combined essential information from the best ad networks that specialize in betting advertising.
Read and choose the most appropriate solution for testing your offers.
The list of top betting push ad networks: 
RichAds
PropellerAds
Evadav
ZeroPark
MyBid
Noviclick
Clickadu
Mondiad
AdMaven
ADxAD
You will find the comparative table that integrates important characteristics of betting push networks at the end of the article, but now we tell about each source in general terms.
1. RichAds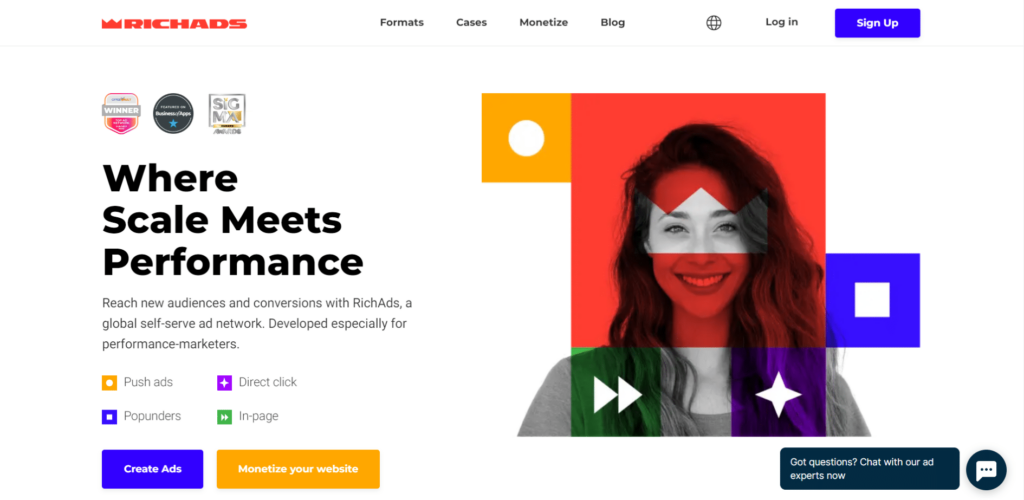 RichAds is a respectable push ad network in the world of affiliate marketing. The push traffic network has a solid base of betting site owners, as the vertical is one of the first business lines in RichAds. At least the traffic volume that is 5B+ ad impressions daily and 220 GEOs to target are worthwhile reasons to test the platform.
Besides, the ad network shares earning tricks and predictions for the betting vertical in its blog. As promised, a wide range of targeting options and features coupled with insights from the team gives superior campaign results.
2. PropellerAds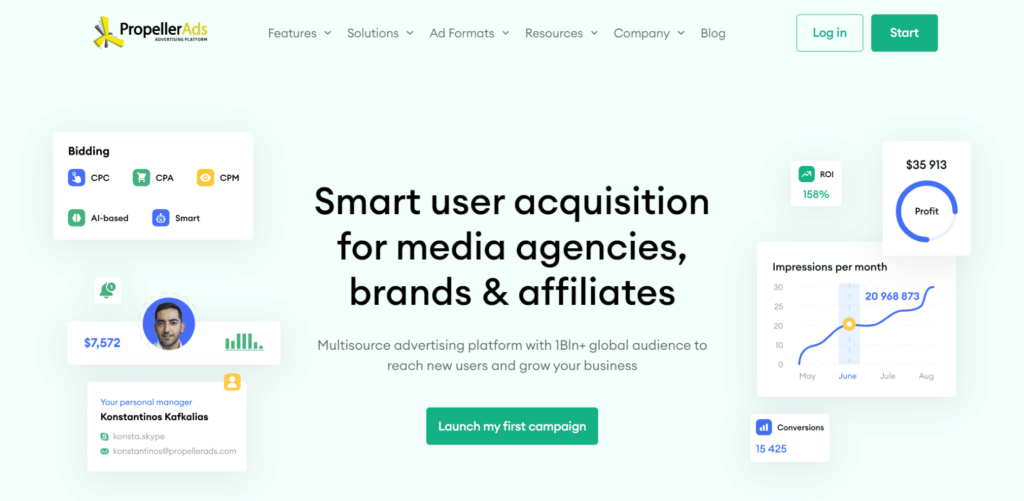 The ad network ensures high-quality traffic for affiliates, networks, brands and agencies. It represents only the white hat verticals on the main page of the website but, nevertheless, the platform provides marketers with betting traffic too. The abundance of blog articles dedicated to betting only confirms it.
Advertisers will be overjoyed by the platform as it offers plenty of targeting options, including gender, interests and age. By targeting options, the ad network manages to outperform even social networks. Given that a low minimum deposit is $100, advertisers couldn't hesitate to test the platform.
3. Evadav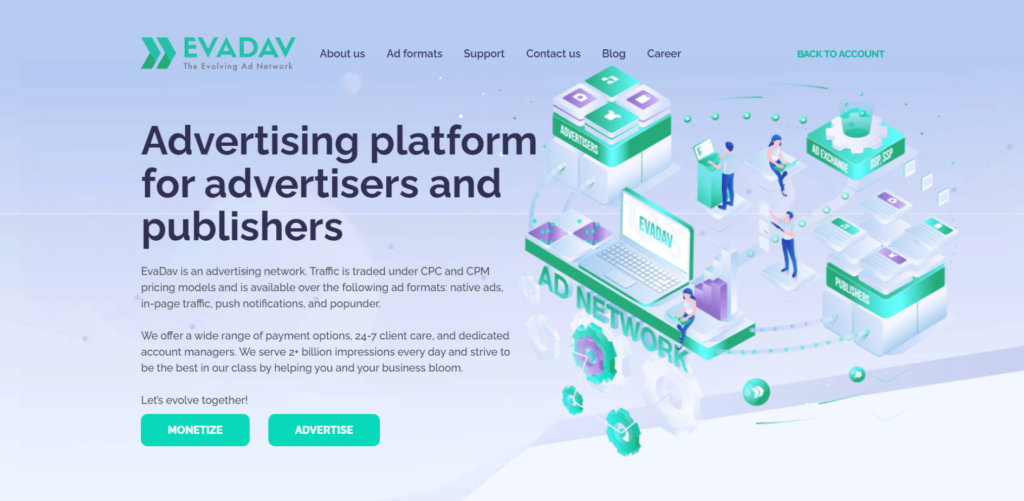 Evadav is always quick off the mark when it comes to new trends and newsbreaks all over the world. So, the ad network doesn't miss the opportunity to take up such a highly lucrative vertical as betting. According to the annual report from Evadav, betting, together with gambling, has become the most profitable vertical in 2022.
Users can get in touch with the personal manager on the platform, no matter how much money they deposit. However, many perks of the platform are available only for high-level account holders who deposit more than $1000.
4. ZeroPark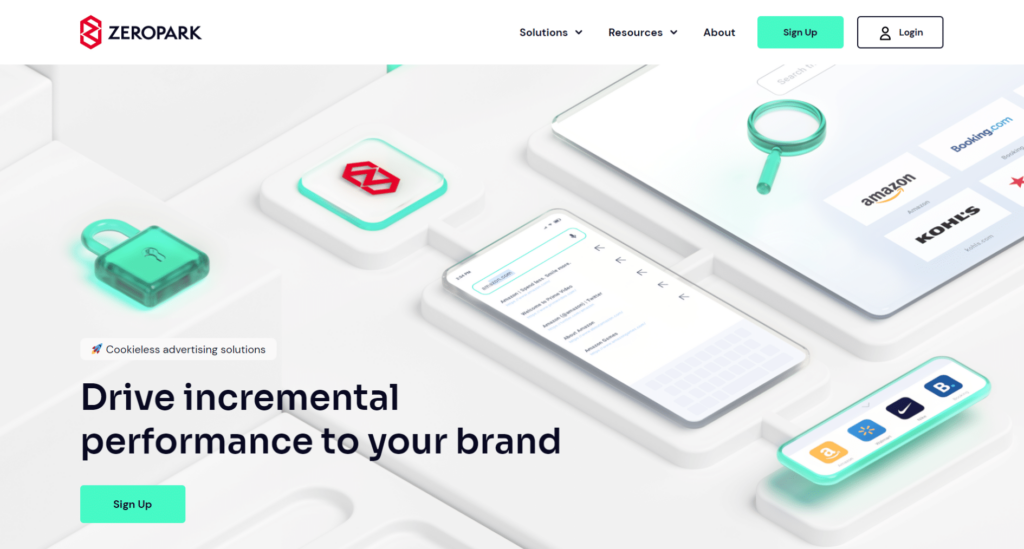 ZeroPark is a globally-focused ad network with extensive expertise in the field of betting. The platform in skilled hands produces incredible results, so we recommend learning about blog articles related to "betting" before the ad launch. Exhaustive guides published on the platform describe everything advertisers need to know for a successful betting ad campaign to run.
The minimum deposit for affiliates starting with the network is $200. If you spend more than $2000 per month, a personal manager will be assigned to you, assuming that the conversion tracker is set up.
5. MyBid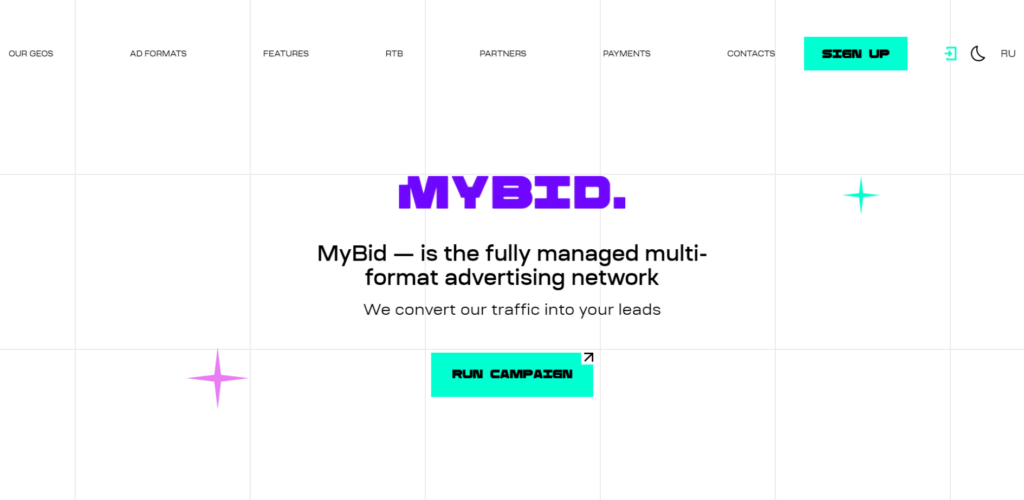 MyBid is the ad network that stands out among the others because it's not a self-serve solution. Ad campaigns on the platform are set up by the manager. All advertisers need to do is discuss targeting options and creatives with the manager they contact. Next, affiliates are free to go with the flow – the MyBid team will do their best to attract targeted traffic. The minimal cost of service is $100.
As the company reports, betting became one of the best-performing vertical in 2022 – alongside gambling.
6. Noviclick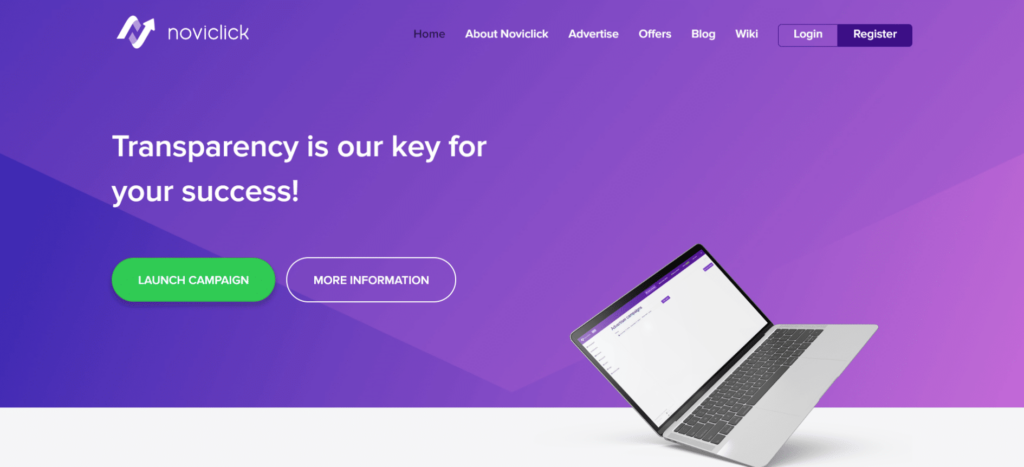 Noviclick is an ordinary ad network with push and pop traffic at first sight. The platform not only assures advertisers that traffic is safe but also makes up for visits that seem suspicious. It's easy for Noviclick to promise a refund as the ad network is proud of its advanced fraud detection system and great traffic volumes.
The company calls betting one of the most popular verticals that works well with push traffic. For advertisers, the betting network offers to test traffic at an affordable price. The minimal deposit is only $50.
7. ClickAdu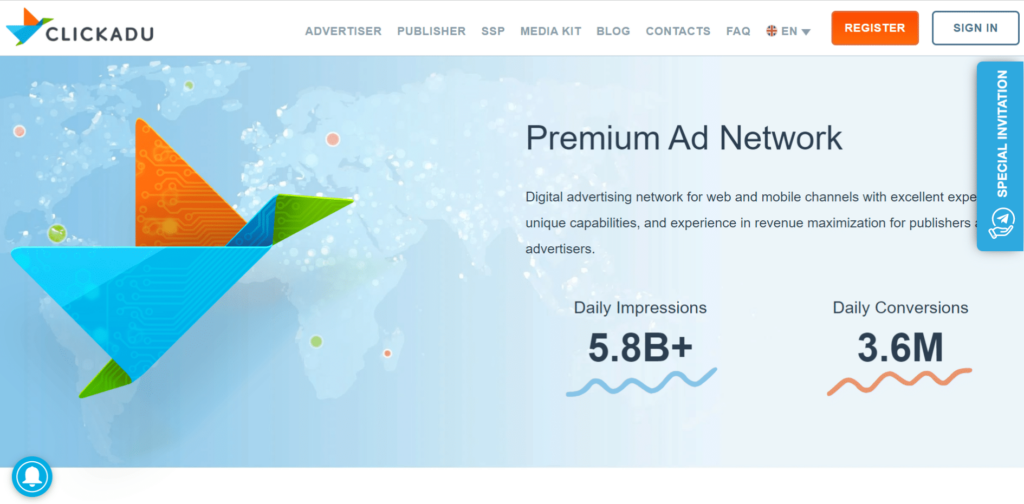 Clickadu is a multi-format ad network that covers 240+ GEOs and traffic sources from 3500 publishers. As a premium ad network, Clickadu offers good traffic driven across various ad formats, including video. Most traffic on the platform is generated via mobile devices. Also, affiliate marketers can get additional traffic from Anti-AdBlock zones and masked Apple devices.
By running CPA campaigns in Clickadu, advertisers have a chance to test betting traffic. While CPA campaigns, the platform measures the performance of each converted ad spot. As a result, non-performing sources are blacklisted automatically.
8. Mondiad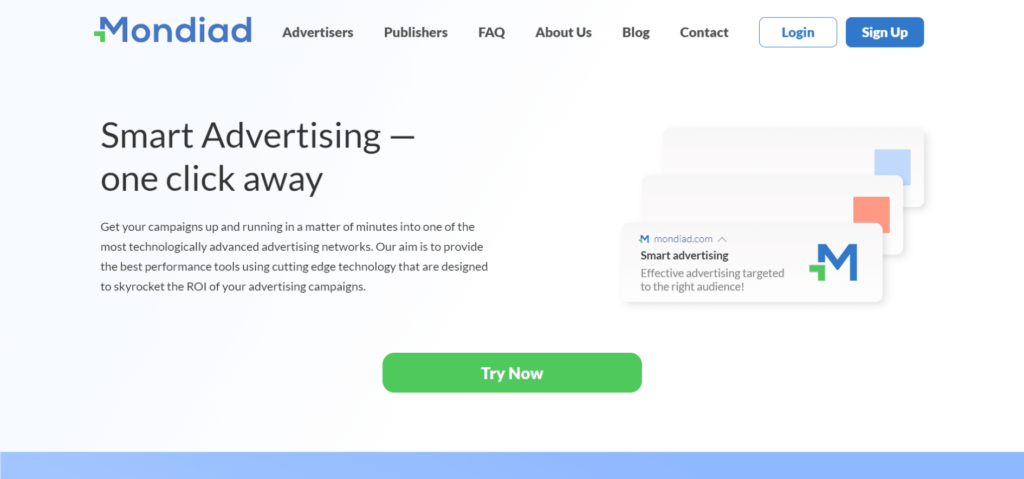 Mondiad is a performance-oriented ad network that boasts great market experience and first-class support. Before hitting the market as Mondiad, the team had been working on the popunder ad network – PopCash, founded in 2012. The new ad network promises to offer more diversity, as against the cornerstone project. Now, it specializes in push and native ads.
The company promises advertisers safe traffic and worldwide coverage. By advertising betting offers Mondiad recommends targeting GEOs such as the US, Canada, LATAM, France and the UK. As per the last blog post, Super Bowl is one of the best occasions to amplify betting ad campaigns.
9. AdMaven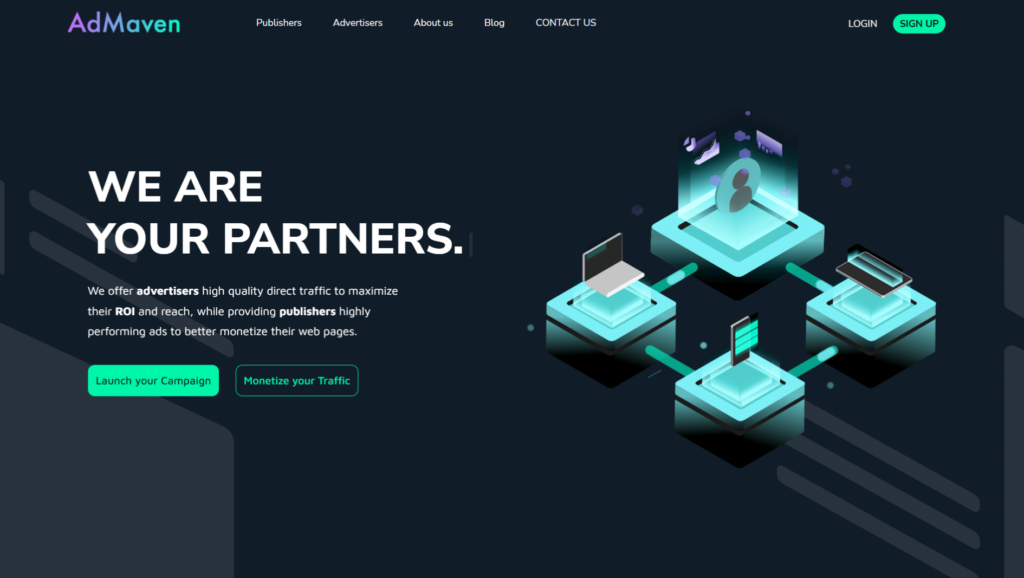 AdMaven is probably one of the shortest ways to a great amount of betting traffic. Advertisers will be able to sign up in a couple of clicks. Once they registered, it is enough to deposit $50 to start testing – sounds tempting, doesn't it? Test the platform and listen to the experts that can give real effective tips. As a support team works 24/7, advertisers can count on prompt assistance at all hours.
10. ADxAD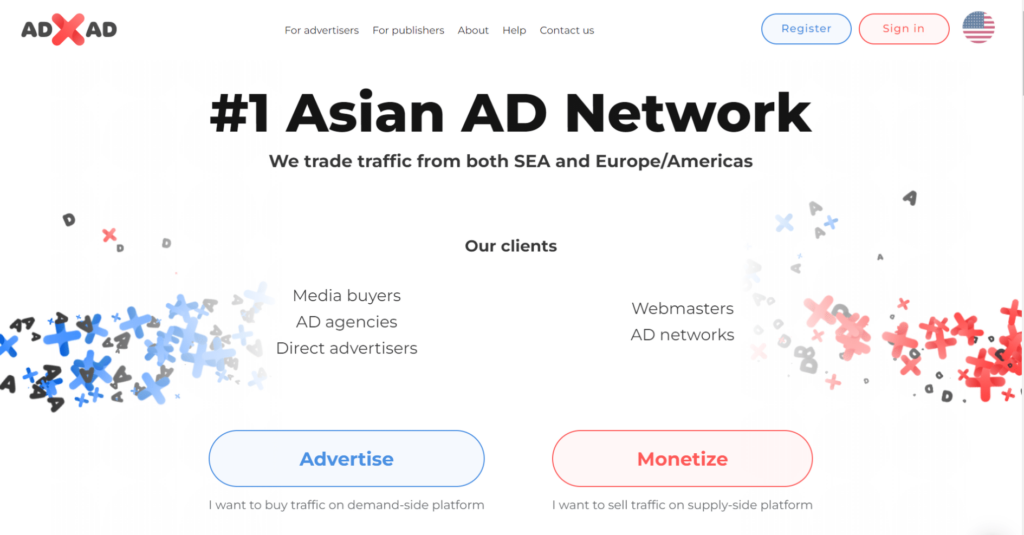 ADxAD is an Asian ad network that offers tons of traffic, including for the betting vertical. In addition to traditional cost models such as CPC and CPM, the ad network offers Flat Price. The platform can be self-service or full-managed, upon request of the advertisers. In any case, affiliates are free to contact their personal manager 24/7.
The only thing that makes sense is to test. Make use of our chart to choose the best betting ad network for you and take action!
Ad Networks
Ad impressions
Minimal deposit
Minimal CPC
Cost models
Ad Formats
5 billion daily
$100
$0.003
CPC, CPM
Push Ads
In-page
Calendar push
Popunders
Direct click
1 billion+ daily
$100
$0.005

CPM, CPC, CPA Goal, Smart CPM
Push Ads
In-page
Interstitial
Popunders
Onclick (Popunders&Direct Click)
2 billion+ monthly
$100
$0.001
CPC, CPM
Native
Push Ads
In-page
Popunder
700 million+ clicks for push ads monthly
$200
$0.0013
CPC, CPV
Push ads
In-page push ads
Popup
Deeplink ads
Injection Traffic ads
Search Marketplace ads
Domain Redirect
5 billion+ daily
$100
$0.00003
CPC, CPM
Push ads
In-page push ads
Popunder
Native
Banner
Video
2 billion+ daily
$50
$0.001
CPC, SmartCPC, SmartCPA
Push ads
In-page push ads
Popunder
5,8 billion daily
$100
$0.001

CPM, CPC, SmartCPM, SmartCPA

Banners
Push ads
In-page push ads
Popunders
Video pre-roll
Instant text message
SKIM
3,5 billion daily
$50
$ 0.001
CPC, CPM
Push ads
In-page push ads
Native

2 billion+ daily impressions

$50
$0.001
CPC, CPM
Push Ads
Popunders
Interstitial
Banners
3 billion+ daily
$150
$ 0.001
CPC, CPM, Flat Price
Pops
Push ads
In-page push ads
Display Banners
Member Area Dating Clicks
Native
Conclusion
Betting is an up-and-coming vertical that has great potential to make money. However, strict regulations of some advertising channels make it difficult to work with them, not mention to country restrictions. Fortunately, the push format gives advertisers the freedom to promote betting offers. You can find the relevant ad inventory for running push ad campaigns in ad networks. Choose one of the betting networks for publishers and advertisers from our list and enjoy high payouts.