Adult advertising is one of the lucrative niches in affiliate marketing. Even though some ad channels and even countries' laws have restrictions on adult content, the audience of porn websites is skyrocketing. People still want bread and circuses like in ancient times. So, it's no surprise that plenty of users are interested in sex shops, adult advertising sites or chats.
Thanks to the high demand for adult products, advertisers have learned to bypass many restrictions to grow their business. However, it should be considered that adult advertising is a vertical where great competition is. That's why marketers need to know as much as possible about adult traffic to be one step ahead of their competitors.
In this article, we tell about how to advertise 18+ offers most effectively and share our top adult ad networks.
Adult Vertical in Affiliate Marketing
Adult is the vertical covering porno and webcam websites, online erotic games, intimate goods and other similar offers. All types of adult offers are fairly popular. Be sure of that! Pornhub has higher traffic even than social networks and media giants such as NY Times and CNN.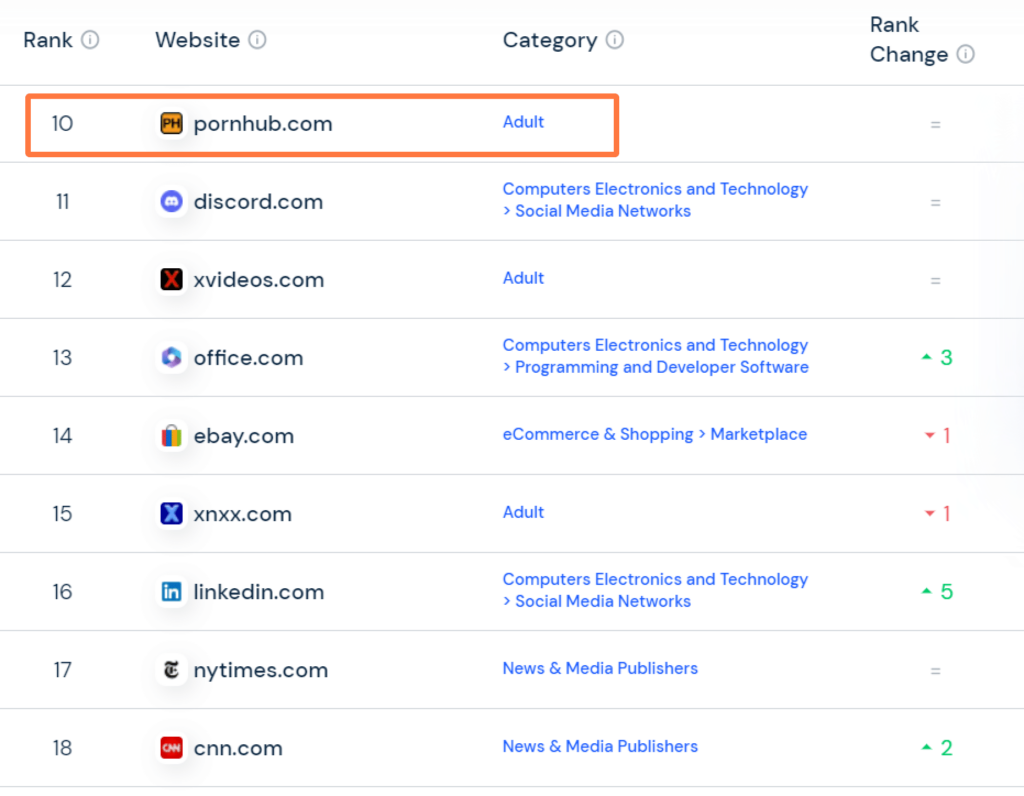 Despite the age limit (18+), adult traffic is a broad audience with various interests. This is explained by the fact that most adult offers aim to meet people's basic needs, particularly sexual life. That's why advertisers can use the widest possible settings for launching ad campaigns.
Mainstream and Adult in Affiliate Marketing: What is That?
All the offers in affiliate marketing are divided into 2 categories: Mainstream and Adult.
Categories were created to simplify running ad campaigns as Adult has more restrictions than other verticals: Gambling, Е-Commerce, Finance, Sweepstakes and many others. As such, traffic sources for adult offers will be drastically different from the rest.
The Adult niche is full of the highest payout offers covering porno and webcam websites, online erotic games, intimate goods and other similar offers. They are not easy to promote because of numerous restrictions by age, countries' laws and content policies of certain web sources.
The Mainstream category includes all verticals beyond Adult. It is a group of verticals that combines white-hat offers and others related to Gambling, Betting, Nutra and Sweepstakes.
Mainstream includes offers related to the following verticals: Gambling, Betting, Е-Commerce, Sweepstakes, Finance, Dating, Nutra, etc.
Adult cover only Adult vertical and includes the relevant offers, such as porno and webcam websites, online erotic games, intimate goods, etc.
It seems rather clear and direct, however, Adult can be easily confused with mainstream verticals.
Here are a few samples that can be mistaken for non-adult offers:
Sex dating sites. This offer doesn't relate to Dating since similar websites imply dating "for 1 night". It's not about timid hugs and walks under the moon;
Vitamins for male potency. Advertising of any vitamins is most likely a Nutra offer, but when it comes to men's health it's always an Adult product;
Webcam sites (18+). If an offer is not allowed to show for people under the age of 18, it refers to Adult.
As some niches pass into Adult categories because of their sexual undertone, marketers can come across verticals called Dating Adult and Dating Mainstream. The same goes for other verticals, however, Dating is the most common in terms of adult offers.
Knowing what vertical you are dealing with is crucial because adult offers cannot be promoted just like mainstream ones. Otherwise, you risk getting banned. To avoid this, you should be aware of platform specifics where you run adult offers.
Traffic Sources for Adult Offers
The majority of traffic channels have strict limitations regarding adult ads that could prove to be a big hurdle for marketers. However, it's possible to advertise adult offers where they are forbidden. Below, we take a look at popular channels for promoting 18+ offers in detail and describe their pros and cons.
Google Ads
Adult advertising is allowed by Google but with major limitations that can be strong or moderate. Images of intimate body parts on creatives and 18+ dating offers fall under the first restriction category. In this case, ads can be shown to those users who looking for sexual content themselves. Regardless of restriction types, adult ads must not contradict local laws and users' SafeSearch settings.
In light of the very strict requirements for adult vertical, it goes without saying that sexually explicit content such as hardcore pornography isn't allowed to advertise.
Social networks
Advertisers can target the most relevant audience in social networks. Due to wide targeting options, ads can be displayed to users based on their interests, age and gender. However, social networks have multiple restrictions.
Facebook and Instagram
Adult advertising is forbidden on both Meta platforms. According to Meta's advertising policy, nudity is considered insulting, as well as individual body parts in ads. The only exception is for ads associated with medicine and health care. In addition, Instagram allows posting for family planning, contraception and 18+ dating services.
When making adult creatives advertisers have to think outside the box, because sexual content can only be approved if its context isn't explicit.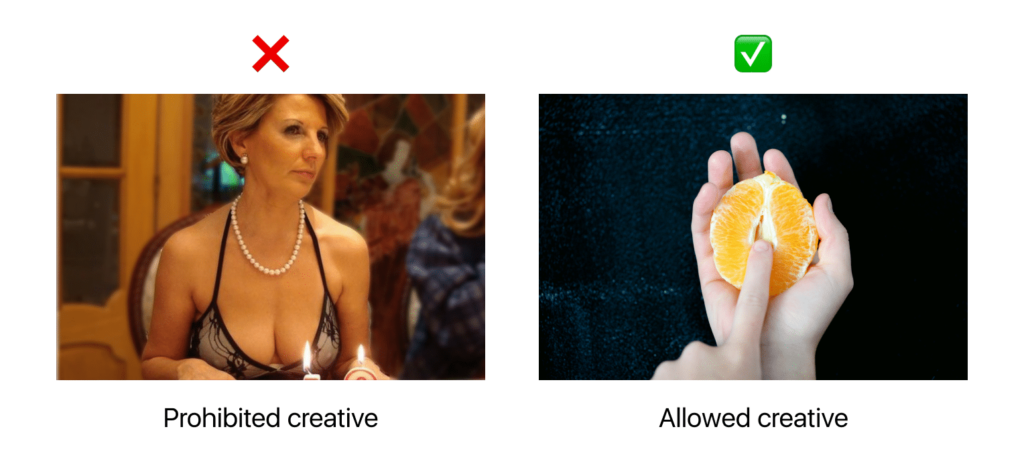 As Facebook and Instagram ads are moderated carefully, marketers need to not only disguise the key message of the creative but also hide the offer link.
In theory, an adult campaign can be launched on Facebook or Instagram, at least because of interest-based targeting. However, you may need to buy third-party services and spend time getting around restrictions.
Twitter and TikTok
Adult advertising on TikTok is even tougher than on Google or Facebook. These social networks prohibit any content with sexual context. The content policy of TikTok also covers adult nutra offers and entertainments like strip clubs or adult streaming. On Twitter, violation of the content policy will be considered advertising of hostess clubs and mail-order bride services.
How to Bypass Restrictions to Adult Ads
As the saying goes, there is strength in vulnerability, and experienced affiliate marketers have proven that it's possible to advertise adult offers on any channel.
Here are the most popular ways how to bypass restrictions:
Cloaking. This method of advertising helps hide the real landing page from robots that moderate content. Once robots redirect to the link they land on a webpage that complies with the rules but doesn't contain the real offer. However, when users go to the landing page they see the truly promoted offer. Popular services where there is an option to set up cloaking are trackers such as Ketairo, AdsBridge, and Binom;
Chatbots (only for social networks). These are programs that send out adult content ads as personalized messages. Moderators can't catch you red-handed, but it's rather risky because any user can complain about the ad;
Pre-landers. It is possible to avoid blocking by using pre-landers – pages appearing before the landing page, that don't contain explicit adult content and have the offer link. To warm up users' interest or increase their engagement it's better to use questionnaires and surveys as pre-landers.
Cloaking and chatbots are optimal methods for social networks and search engines. To promote offers in ad networks, advertisers usually often use pre-landers. Although pre-landers are optional for some ad networks, they can help filter out low-quality traffic and improve the sales funnel.
Ad Networks – Traffic Sources for Adult Offers with Fewer Restrictions
Ad networks are platforms that connect advertisers and publishers in one place while meeting the needs of both sides. Thus, advertisers don't have to contact each publisher they are going to collaborate with, because ad networks have already done it for them. Similar platforms usually have a ready database of proven publishers and systems for analyzing traffic quality.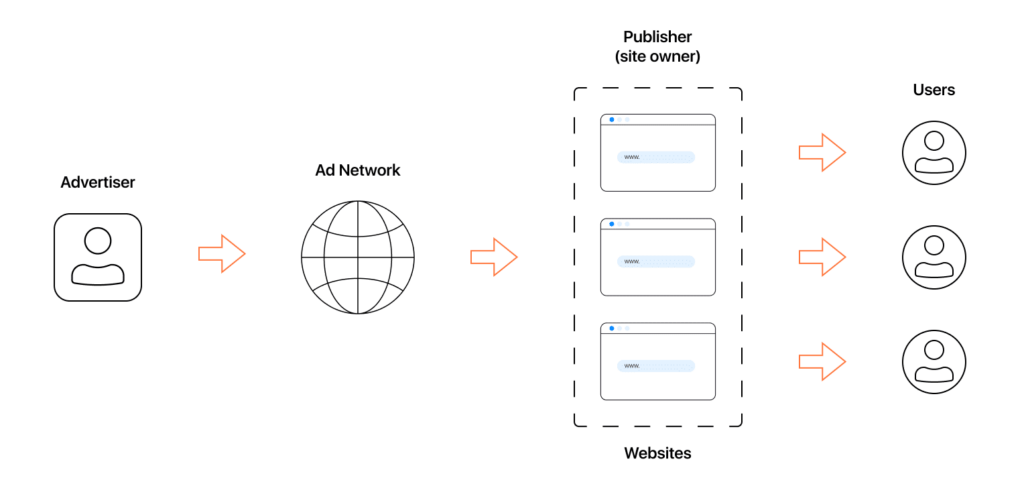 Many ad networks offer a huge amount of traffic, which is already divided into adult and mainstream sources. Thus, advertisers don't have to test all traffic on the platform. Moreover, the ad networks can provide users with ready-made whitelists for each vertical they work with. There is the chance to run the adult campaign on most converting sources at once.
Before choosing the ad network, remember that adult website advertising is not allowed everywhere. So first, pay attention to content guidelines to not lose time.
Compared to other traffic channels, ad networks have undeniable advantages:
No strict requirements for creatives. The hottest creatives are available here. By the way, some ad platforms create adult creatives themselves;
Dedicated support. Managers of ad networks assist the clients on each step of cooperation. They share the best sources for the offer and help to set up ad campaigns;
Traffic verification systems. Ad networks are most interested in offering high-quality traffic because it increases the chance of campaign performance and empowers them to maintain a perfect reputation in the industry;
No bans or account blocking. Advertisers won't get banned because ad networks carefully moderate ad campaigns. Anyway, the manager tells the client what's wrong with a creative or a campaign as a whole;
Multiple ad formats. Ad networks is a wide range of ad formats. Ad types that can be available are push ads, pops, banners, videos, native and teasers. The set of ad formats depends on a certain ad network.
To sum up all perks, it could be safely concluded that ad networks is the best solution for promoting adult offers.
The Best Ad Formats for Adult
Adult vertical is very specific that requires an appropriate approach to promote 18+ offers. We picked up ad formats that convert the best.
Pop Ads
Pop advertising brings a great amount of traffic because it's suitable for most offers, including adult products and services. When launching a pop ad campaign, target users see a popup where the landing page with an offer is. Meaning that creatives aren't required to. It's a huge plus for advertisers because creatives usually must meet many requirements to pass moderation.
What's also great about popups is that the traffic costs a penny, so affiliate marketers can spend more on testing, and make a good profit, considering how big payouts are for adult offers.
Since popups suddenly appear on device screens they might look intrusively because they may distract users from browsing the content. An alternative to popups is popunders. These are the same popups, but they show up under the opened webpage and thus don't bother users.

Push and In-Page Push Ads
Push advertising is a way to reach a high-engaged audience because ad recipients are users who have subscribed to notifications ads themselves. The push messages are delivered straight to the devices, so they are well-visible and have a great chance to attract users' attention. Meanwhile, push ads are displayed on the screens as private messages, which inspires trust, especially when it comes to 18+ dating offers.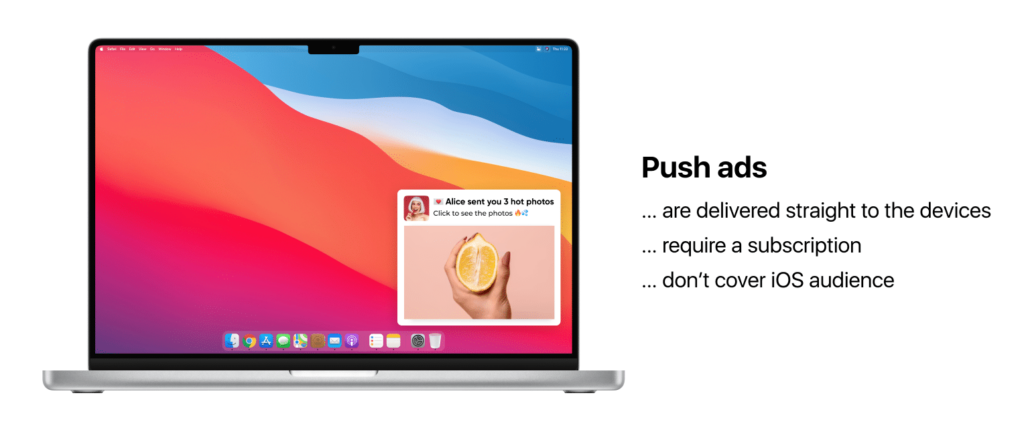 Making creatives for push campaigns is a must. However, fortunately for affiliates, there are almost no restrictions for them.
As for in-page push ads, they resemble classic push notifications but without the main image. Similar to push notifications, users see in-page ads in the corner of a webpage when they land on a website.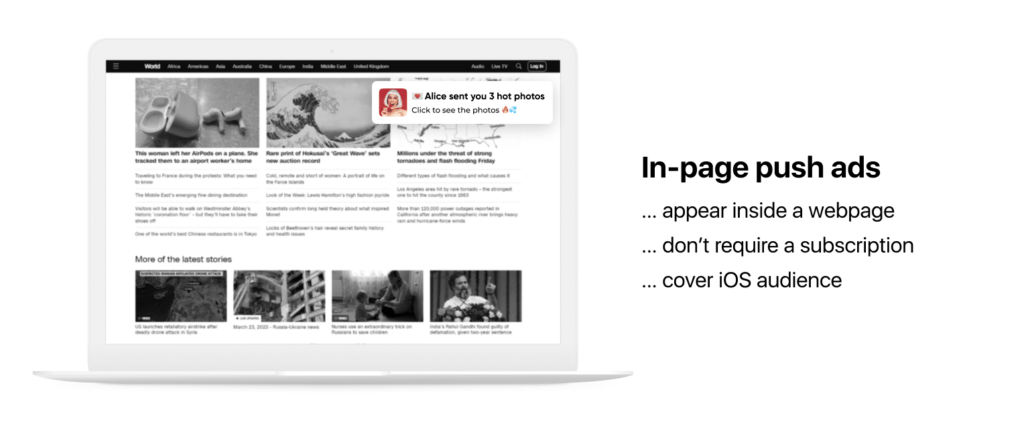 Unlike their counterparts, in-page push ads don't require a subscription, so they cover iOS users – the most solvent audience that could generate a great portion of revenue for affiliates.
Domain Redirect Ads
Domain redirect traffic is based on key user requests. How is it work? Users enter an incorrect query that contains the wrong brand or domain name, and then they are redirected to the landing page with an offer, so there is no need for creatives. However, the main advantage of domain redirect advertising is that marketers deal with already "warm" traffic because users are interested in the relevant content at the current moment.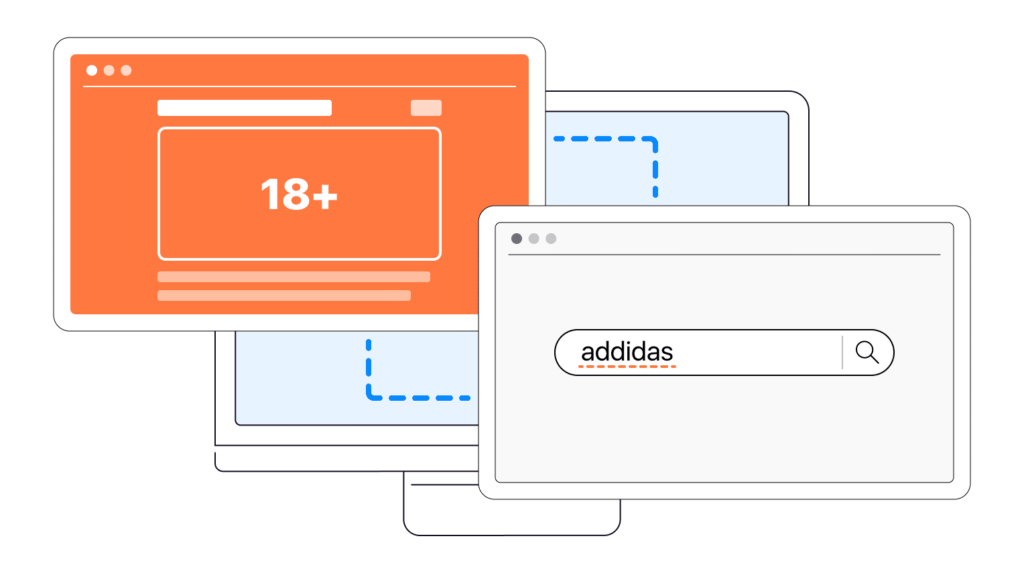 Tips for making choice: 
If you are a newbie, choose pop traffic – it's cheap and easy to launch;

The ideal match for adult dating offers is domain redirect traffic;

Push ad campaigns bring more "warm" traffic in comparison with popups because users become subscribers independently. However, pop traffic is the best option for increasing brand awareness;

Are you going to attract iOS users? Launch in-page push campaigns that reach an iOS audience!
Top 10 Adult Networks in 2023
Here is a list of the best ad platforms for promoting adult ads on sites in our opinion.
1. HilltopAds

HilltopAds is a renowned global ad network established in 2013, specializing in buying and selling high-quality traffic worldwide. It has emerged as one of the leading advertising networks in the industry. Among the best adult networks, HilltopAds offers top-quality traffic, a wide variety of ad formats, precise targeting options, and personal support for all users. As a global ad network, it boasts an impressive track record of buying and selling top-tier adult traffic on a worldwide scale.
Tailoring ad campaigns is a breeze, with 10+ parameters for targeting, covering GEO, Devices, Browsers, OS, IP-ranges, and more. The cherry on top is the traffic segments by users' activity, which allows for meticulously ranking based on quality and conversion potential, ensuring optimal campaign performance and high ROI, especially for top GEOs.
2. Kadam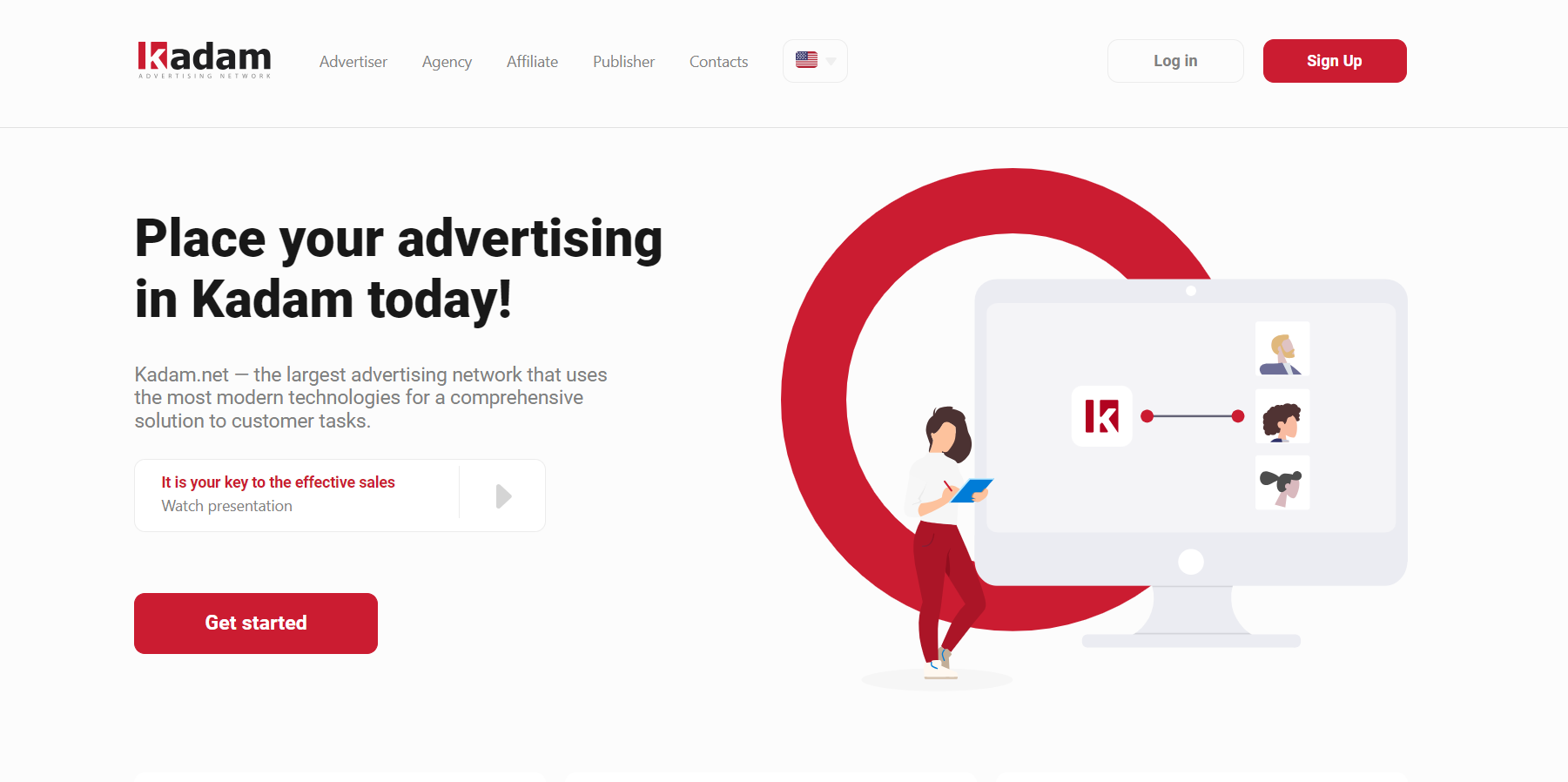 Kadam is a large advertising network with both mainstream and adult traffic. The company has gained popularity as a versatile platform with huge traffic volumes. In total, the ad network generates 300 billion ad impressions monthly. What makes it possible? Smooth cooperation with numerous partners – publishers and advertisers – and a wide range of ad features did the job.
Covering multiple traffic channels, the platform allows advertisers to try the following ad formats: push, in-page push, native, banner, pop (or pop ads). Here, it is possible to launch a campaign in 195 GEOs. Regions with the best growth potential at Kadam are LATAM, Tier-1 and Asian countries. They're just perfect for running adult ad campaigns!
The feature you may find valuable for optimizing adult campaigns is "Creative Management". The system rotates creatives depending on their performance, prioritizing the most effective ads. As visualization is crucial in adult marketing, this feature comes in handy. On top of that, advertisers can tap into other optimization tools: whitelists/blacklists and bid adjustments.
3. Dao.ad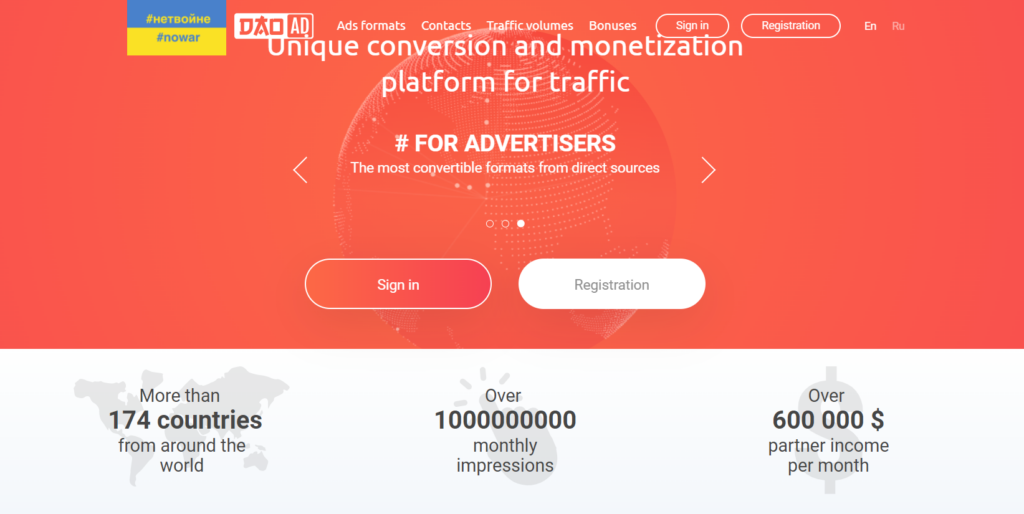 Dao.ad is a robust advertising network delivering about 1 billion impressions per month across 249 countries. Although the ad network was established in 2019, it has all the necessary tools to launch well-performing ad campaigns and even beyond! This is probably the only ad platform that has introduced two categories of 18+ traffic: Adult and Racy. The Racy content isn't as sexually explicit as Adult. That's the difference.
Additionally, Dao.ad traffic is distinguished by quality: Premium, High, Regular, and Low. Underperforming traffic sources can be added to blacklists automatically with a rule-based optimization feature. To receive the best traffic from Dao.ad, advertisers can target users subscribed to push notifications recently (1-3 days or 4-7 days). The age of subscription option is available.
4. Exoclick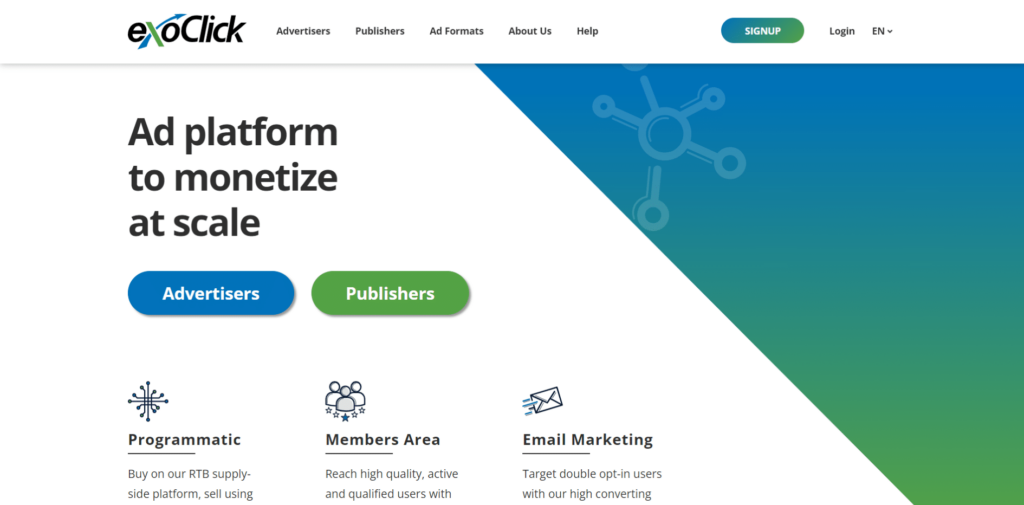 Exoclick is an adult-oriented ad network that was established in 2007. The platform covers 12B+ daily impressions all over the world. Most converting GEOs are North America, DACH and Europe. In addition to the self-serve platform, advertisers can buy ad spots in the Marketplace where all available traffic sources of Exoclick are displayed.
Marketers who register in the ad network will discover a variety of ad formats. Exoclick offers 10+ ad formats, including the best-performing ones for getting adult traffic: push ads, in-page push and popunders.
5. Pushground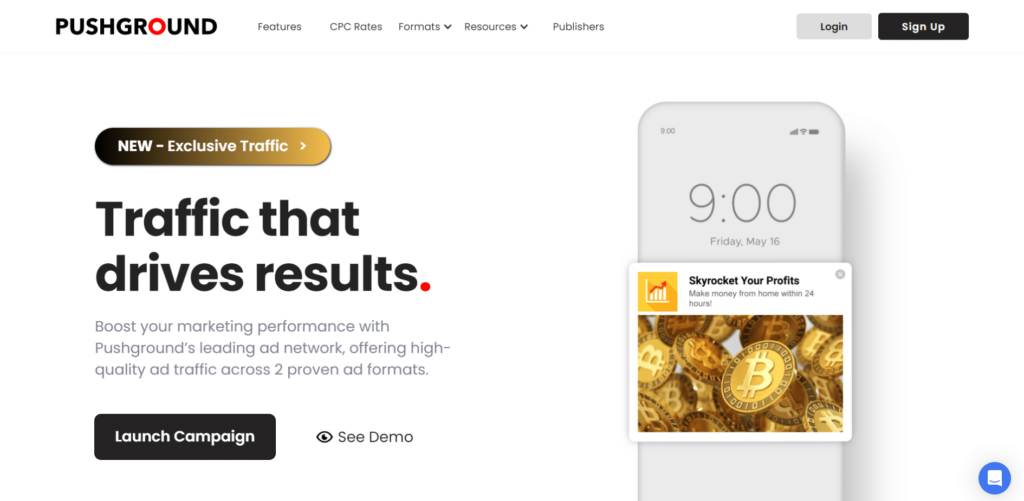 Pushground is a push ad network that works on the CPC model. The ad network also reaches iOS users thanks the in-page push traffic it attracts.
When running adult campaigns advertisers can work only with Adult traffic and non-premium sources. Despite this, adult campaigns are result-driven thanks to great features. Due to advanced optimization tools, advertisers will be able to set automatic rules for campaigns and deliver most of the traffic to best-performing creatives.
6. Evadav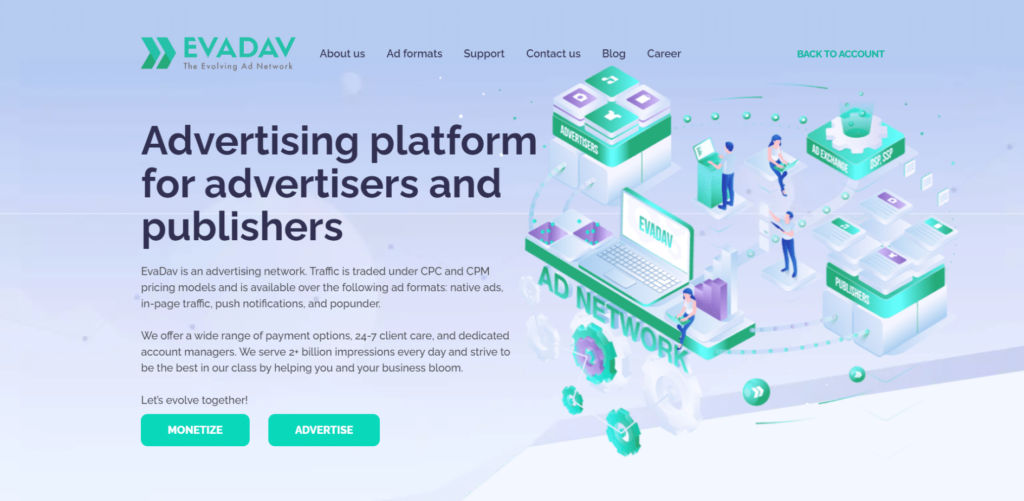 Another ad network that focuses on buying targeted adult traffic is Evadav. The platform works with both adult and mainstream traffic. Ad formats the ad network introduces are popunder, native, push and in-page.
Similar to social media networks, the company offers interest-based targeting, increasing the chance of covering the right audience. Adult campaigns can be launched on both Dating and Adult verticals, depending on the offer. Most conversions come from in-page push traffic.
Using pornographic content that implies explicit sexual activity is prohibited.
7. Traffic Stars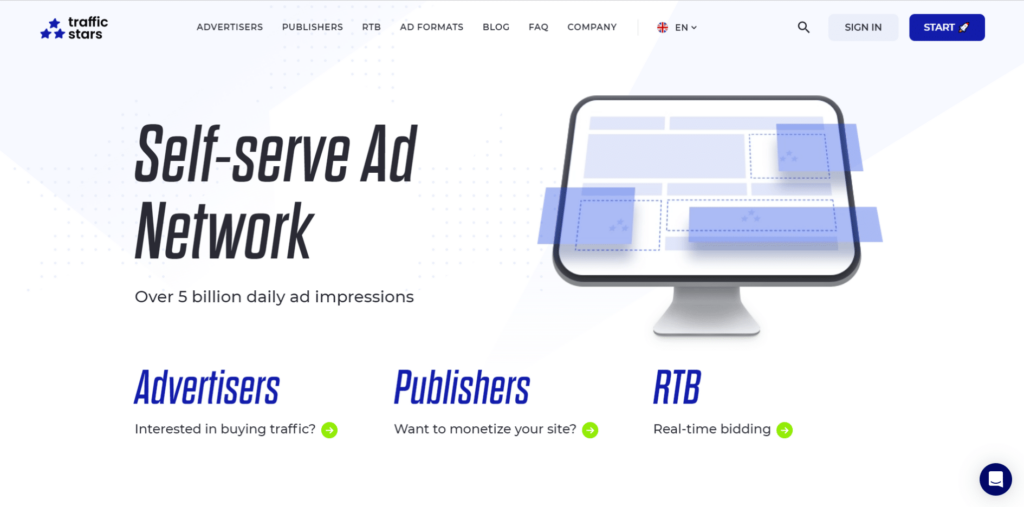 Traffic Stars has large volumes of adult traffic driven by direct publishers and other ad networks. Adult offers can be launched from adult and mainstream sources. The adult category, in turn, is divided into several groups of sources: Adult General, Webcams, Cartoons, Dating, Pornstar and so on. Categorized adult traffic allows advertisers to reach the most relevant audience and thus increase their profit.
Advertisers get access to run adult campaigns on premium sources when they choose any ad type, except for the classic push format. There are plenty of ad formats the network is ready to provide, the most popular of them are banners, push, in-page, popunder and banners.
8. Plugrush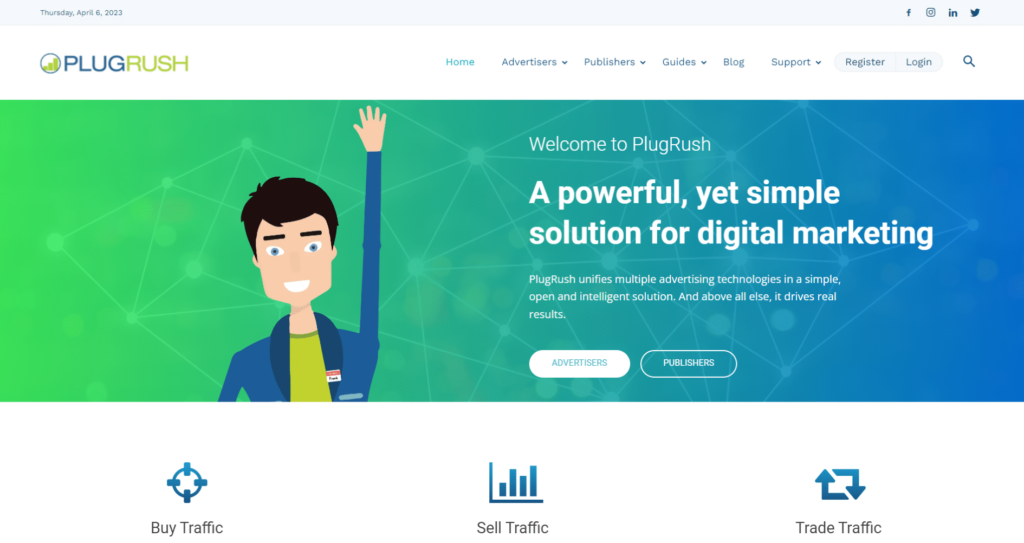 Plugrush is an ad network that works with the adult vertical, although it also provides clients with mainstream traffic. Generally, most of its traffic is based on tier-1 countries which ensures ad campaign success and high payouts for affiliates. Additionally, marketers can improve their campaigns due to retargeting option that allows reaching users who have already visited a landing page.
Available ad formats are push, in-page, banners, native and popunder.
9. Zeropark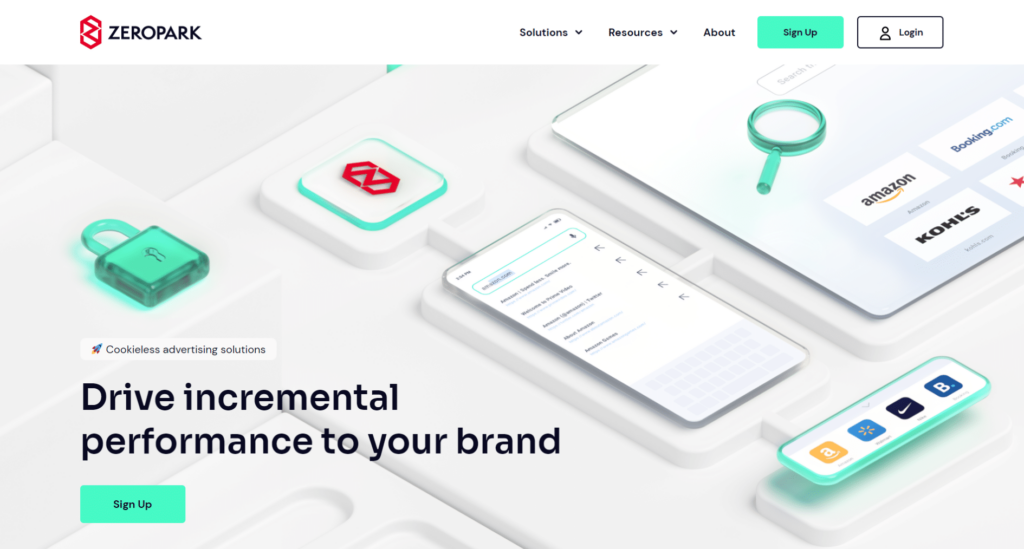 Zeropark has helped companies to buy adult traffic since 2011. The ad network offers all popular ad formats for promoting adult offers: domain redirect, push notifications, in-page push, popup. The launch of adult campaigns is only permitted on adult traffic. The ad network warns that explicit adult content is prohibited and recommends using pre-landers.
10. MyBid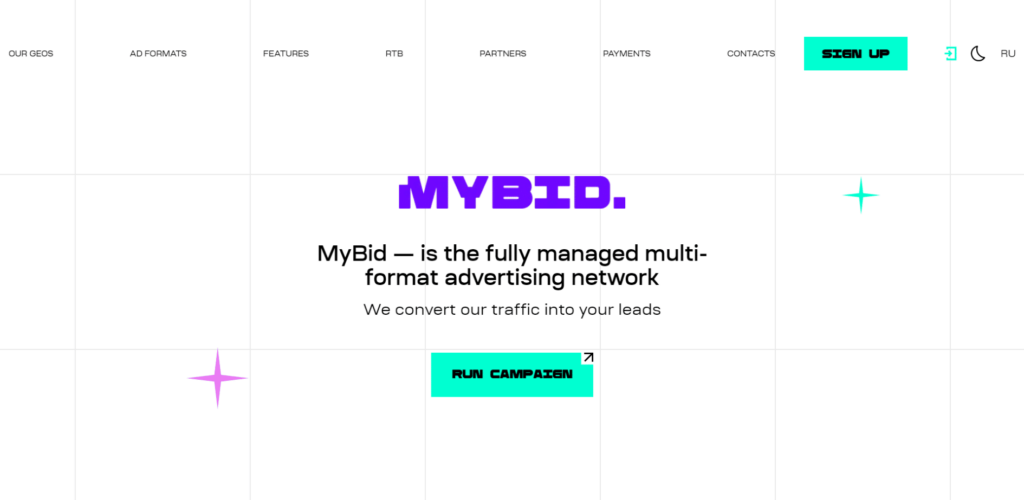 Maybid is the only fully-managed ad network on our list. The company has grown from an affiliate marketing agency into a full-fledged advertising network in just two years. The network focuses primarily on adult traffic, but there is also mainstream traffic here. Ad formats available for advertisers are push notification, in-page push, popunder, native, banner and video.
Every advertiser is served by the personal manager which completely sets up the ad campaign from start to end. Managers are responsible for making creatives, choosing the targeting parameters and optimizing.
The only thing that makes sense is to test. Make use of our chart to choose the best adult network for you and take action!
Conclusion
Adult traffic is one of the most promising sources of income for advertisers. And no matter how many restrictions it has because there is a perfect way to bypass them – advertising networks. 
By registering in ad networks that work with adult vertical affiliates can drive high-quality adult traffic and use almost any creatives. High CTRs and payouts are achieved due to engaged adult traffic sources, anti-fraud tools and the support of dedicated managers. Before choosing an ad network, it is worth learning about its recommendations for running adult campaigns and restrictions.