Calendar notification ads fit seamlessly into the daily routine as they couple usual planning with ad display. Integration with a popular calendar makes the ad format native and available to the iOS audience. So, if you would like calendar notifications to penetrate Apple devices and certainly capture the attention of potential customers, read on!
We'll elaborate on how to reach the iOS audience that affiliates are banking on, and what you need to get started.
How Does iOS Calendar traffic work
As the name suggests, ads appear within the calendar app on iOS and macOS. Users start getting them after they opt in. Generally, the subscription process is the same as for the web push format.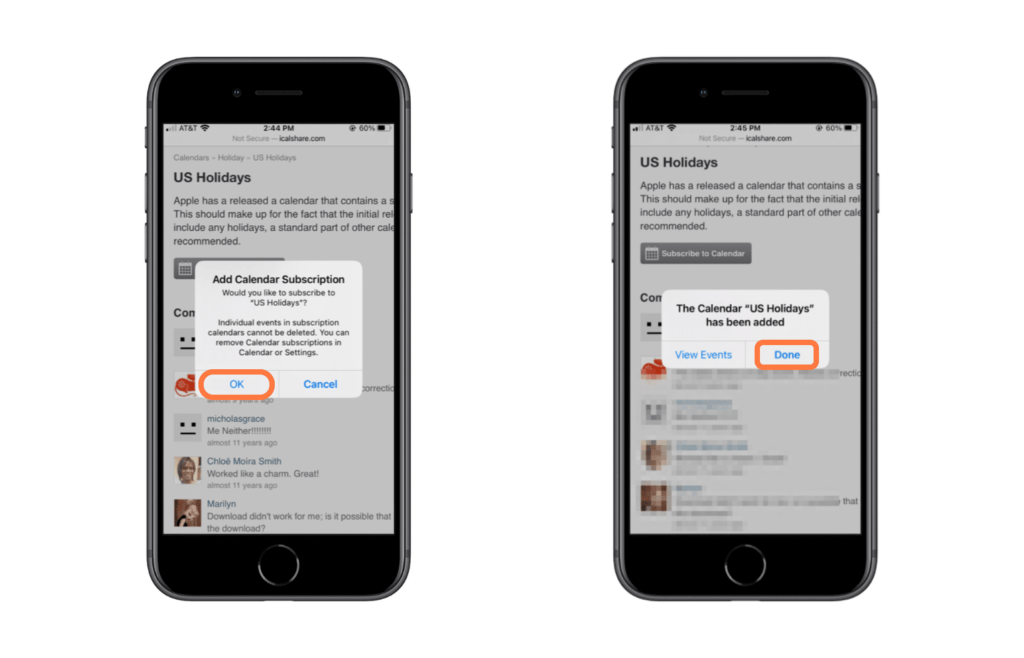 Subscribers are eligible to cancel the subscription wherever they want.
If the users become subscribers, the ads are displayed on their devices in the form of calendar notifications. Once the subscribers click on the alert, they are able to see the ad as a planned event in the calendar app. Any calendar ad has a URL that leads to the landing page with the offer.
You can return to the received notifications via Calendar app at any moment. Notifications themselves will still pop up on the devices imitating reminders as subscribers get closer to the event. They can appear even on locked screens when it comes to mobiles. When the event has passed, subscribers stop receiving alerts.
Elements of iOS Calendar Push Ads
Just like usual web push ads, iOS calendar notifications consist of the title, link, and description (at will). However, they don't have the image and the icon. Let's take a closer look at what items make up typical calendar ads.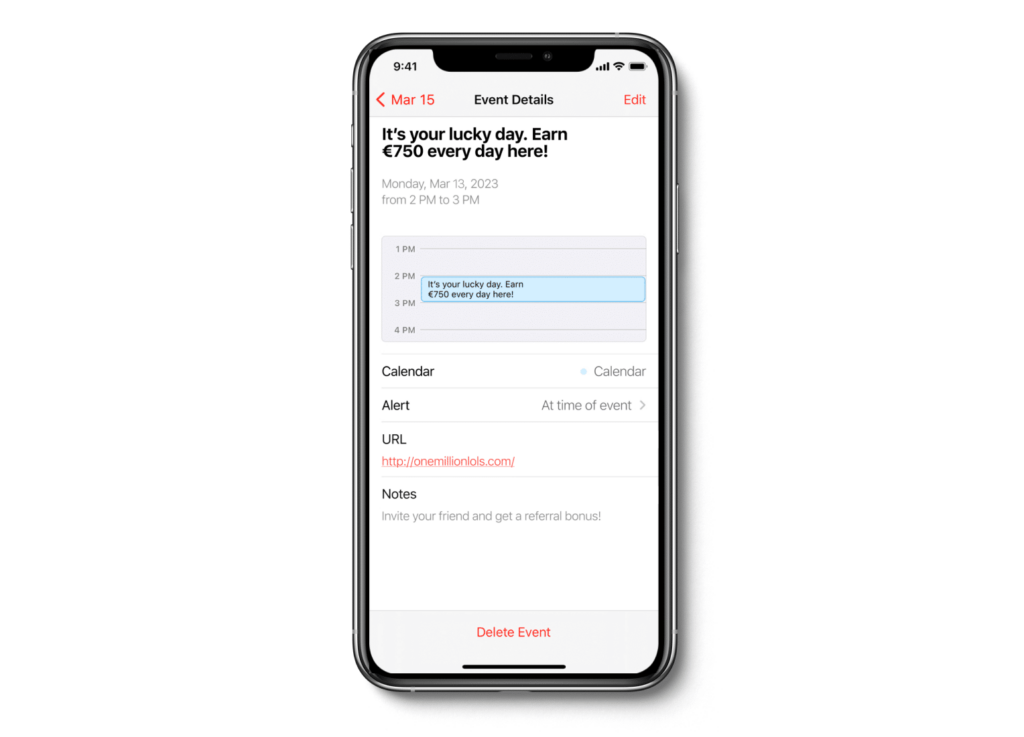 Title
The first element that catches the eye is the title. Since the calendar ads have neither the icon nor the image, the title is almost the only chance to draw subscribers' attention.
It's worth testing several variations to choose the most catchy title that will generate traffic with the maximum rates of conversion.
Link
This is the link that refers to a pre-lander or landing page with an offer. It could be placed in the description field. The best approach to higher conversions is a short URL with a trustful domain name.
Notes (description)
Here, you may give more details related to your offer to boost the target audience's interest. Ad viewers can be attracted by bonuses, discounts, or any other profits.
Users are able to complement calendar notifications by adding custom notes. This way, the calendar ad engages users in the interaction with the ad content, increasing the chances of conversion multifold.
Benefits and Downsides of iOS Calendar Push
Calendar push traffic is a promising way of advertising to reach the right audience. Let's dive in and discover the benefits of it.
Benefits of calendar push traffic:
High-quality traffic. By targeting iOS and macOS devices, affiliate marketers can cover the most solvent audience that can provide them with high revenues from offers. Needless to say, most calendar push traffic is available in tier-1 and tier-2 GEOs;
Native look. As people are constantly busy with their own affairs, they get tired quickly of ads, especially if they see them all over again. However, when users see ads that look like scheduled affairs, they treat them more loyally than classic ad banners;
Easy access to the ads. Subscribers can return to the ad at any time, unlike push ads;
Great visibility. While the web is full of ads, the calendar ad format isn't widely known. So, there is a probability that your notifications will be the first ad your potential customers see;
High conversion. Since calendar push notifications appear in the app people get used to, subscribers willingly trust them and click the ad link more often than traditional ads;
No icons and images. Calendar ads don't require adding icons and images. Obviously, the fewer elements the easier the campaign launch and optimization process;
Low test budgets. Affiliate marketers pay for only clicks on links as the format works on the CPC model.
Some advantages of calendar push notification ads are downsides simultaneously. You should be aware of them before running push campaigns.
Drawbacks of calendar push traffic:
Difficulties with budget planning. Given that users can click the link in the calendar app after the campaign is over, advertisers can't predict how many clicks they pay for. This way, easy access to the ads can become disadvantageous, but if you have a solid budget, feel free to test the new format;
Poor creatives. Of course, it is much easier to make a creative that comprises a title and a link, but on the other hand, you are unable to add visual elements such as icons and images that would be best to attract subscribers' attention.
Top Verticals for Calendar Push
Calendar iOS notifications is a versatile ad format, but you can also focus on the peculiarities of the iOS audience to choose the most appropriate vertical. For example, Apple users like to download apps more than anyone else.
List of verticals for calendar iOS ad format:
Gambling&Betting

Sweepstakes

VPN&Cleaners

Antivirus
Finance

Dating

iOS applications
How to Create the Best-performing Creatives
Even though a calendar push notification includes only text elements, there are some tricks on how to use them to the fullest:
Consider peculiarities of the calendar format

As you have the opportunity to schedule your offer for a certain date, take it! Adjust to current events like World Cup or a football match, for instance. People usually tend to be afraid of missing the benefits, so time-bound offers seem to be particularly attractive to them.
Add emojis to your title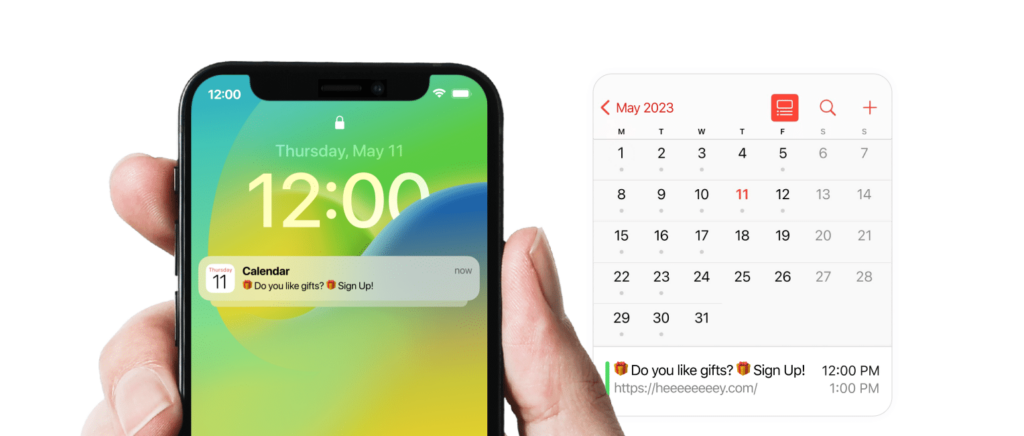 Although images are not permitted for calendar creatives, you can use emojis to entice the target audience to follow the link, thereby increasing click-through rates.
Personalize your messages

You might win over potential customers if you will make your push ads personal by including GEO or some popular name in the relevant country.
Top Ad Networks for Engaging iOS Calendar Push traffic
We have brought together proven ad networks where you can find top-notch calendar push traffic.
Ad Networks
Ad impressions
Minimal deposit
Minimal CPC
Top GEOs
Best verticals
Visit ad network
5 billion daily
$100
$0.003
United States
Thailand
Japan
Indonesia
India
VPN&Cleaners
Utilities
Antiviruses
Finance
Visit website
6 million for calendar ads daily
$50
$0.0003
Germany
France
Spain
China
Dating
Crypto
Lead Gen
Finance
Casino
Games
VAS
Visit website
750 million daily
$50
$0.0001
United States
Germany
Japan
Russian Federation
Vietnam
Software
Dating
Pin Submits Sweepstakes
Visit website
1 billion daily
$50
$0.003
US
UK
Spain
Indonesia
Germany Vietnam Canada
Mobile Content
Forex
Nutra
Sweepstakes Gambling
Visit website
Bottom Line
Сalendar push traffic is kind of like a breath of fresh air in affiliate marketing as not so many ways to interact with iOS users are. Despite the simplicity of the format, a calendar push campaign yields high returns because of the low competition. So, if you're ready to try something new, follow our recommendations and pull calendar push traffic right away.