In the age of digitalization, it is more difficult to grab clients' attention than ever. Push ads solve this task much more effectively in comparison with other ad formats. The secret of push ads' success is that this ad type is user-friendly and notable. Surely everyone came across push advertising more than once.
Read on to learn more about push notifications: their peculiarities, pros and cons, and how to reach maximum conversion rates through this ad type. Here is a complete push ads review that will be helpful for affiliate marketers, publishers, and anyone who wants to become a push ads guru.
What are Push Notifications and How Do They Work?
Before diving into the high-level push notification solutions, let's start with the fundamentals and definitions.
Push notifications definition
Push notifications are clickable pop-up messages displayed on device screens, chiefly desktops and smartphones. The technology originally served for sending non-advertising notifications. Apple was the first who implemented push technology for its devices in 2009. The company created Apple Push Notification service (APNs) that enabled iOS developers to send notifications to apps installed on Apple devices.
Today push notifications are well-known as advertising technology that is supported by Android, giants Google and Microsoft. Push notification ads also can be viewed almost on most browsers and delivered on any smart devices that are connected to the Internet, for example, tablets and consoles. Despite the fact that push ads appear literally anywhere, they are voluntary. The point is, users should subscribe to notifications before they start receiving push ads.
The technical side of push notifications
Push ads are based on the subscription model. Let's see how it works.
A user visits the website and sees the window with the proposal to subscribe for getting notifications.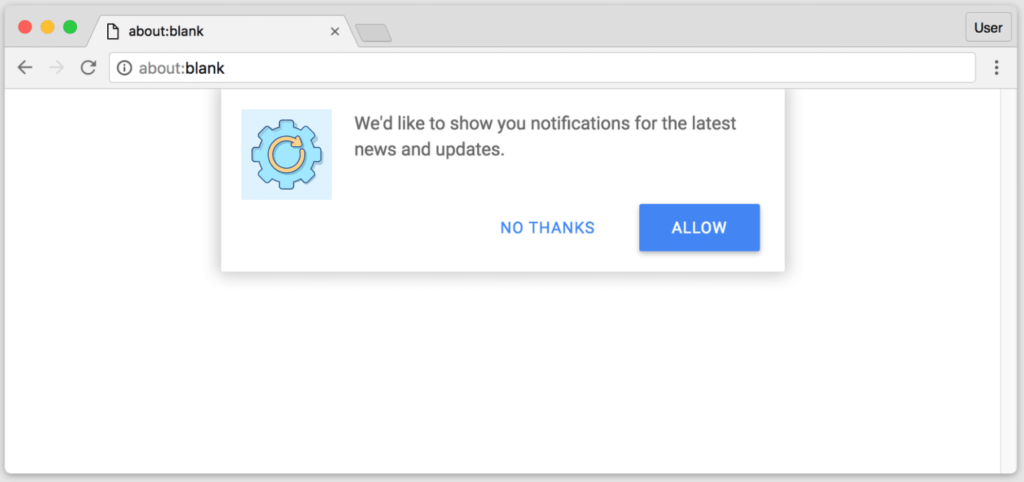 Website visitors can click the subscribe button or close the window. Users who choose the first option become push ad recipients soon. They start getting notifications that look something like the following: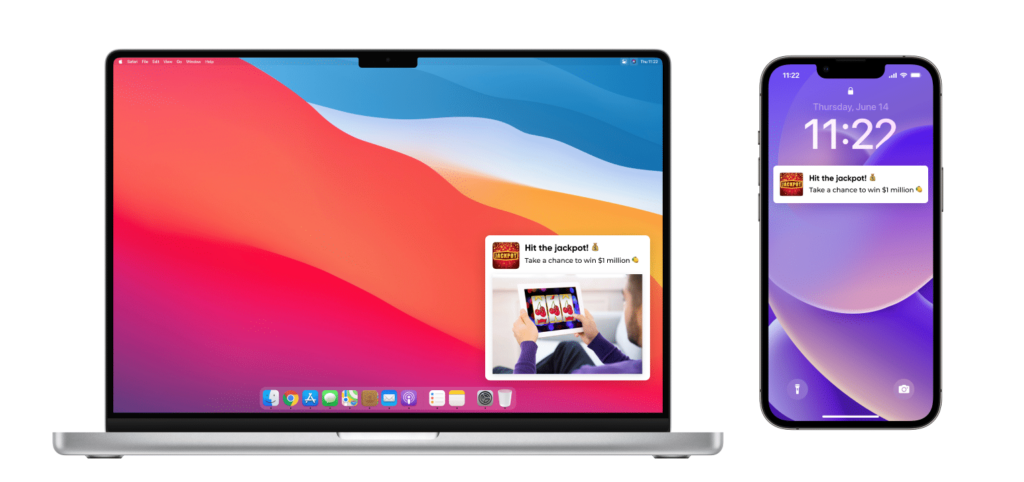 Looking at the samples of notifications above, we'll describe their elements:
Main image. This element explains the sense of the offer or illustrates the profits of an offer for users;
Icon. Ordinarily, the icon displays a brand logo or picture related to the offer;
Headline. It is the key message that can include a CTA;
Description. The element gives more details about the offer and supports the headline.
All elements are clickable since a push ad contains a URL that allows users to land on the offer page or pre-landing containing a link to the landing page. The pre-landing page serves as part of the sales funnel which is an important stage of the user's journey and a sort of filter for uninterested ad recipients.

As you've seen, the main image is invisible to mobile screens. As a result, ads shown on mobile phones, resemble message notifications that users are accustomed to. Because of this similarity, push advertising is considered to be a type of native format. Unlike other native formats such as SMS and email advertising, push ads can be sent without the user providing contact details. The subscription is totally anonymous for all users.
Types of push ads
At present, there are many types of push notifications available for advertising purposes. The most popular formats are the following:
Web push notifications
This technology implies sending out classic push notifications through desktop or mobile browsers. Usually, push ads pop up at the right-hand side or top of the screen, depending on the operating system being used by a subscriber.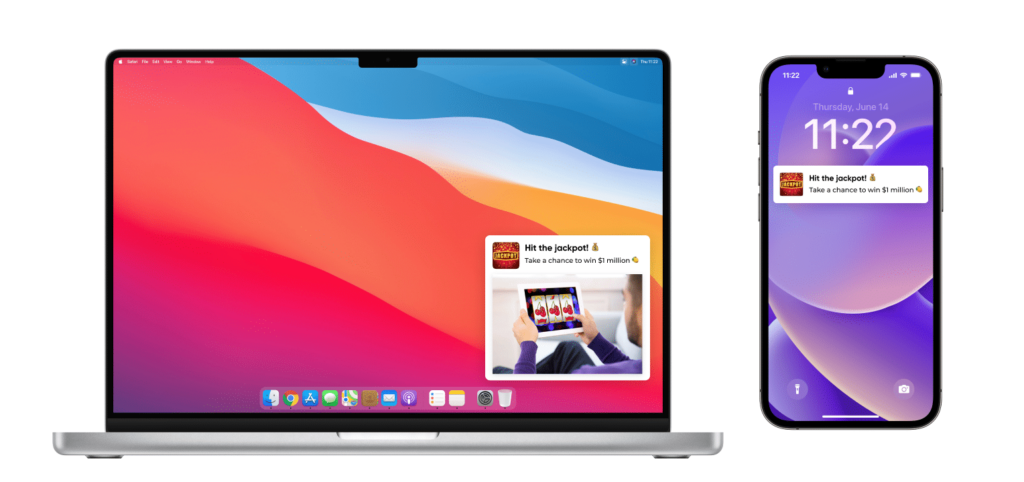 In-page push notifications
Unlike classic push notifications, in-page push ads are sort of popunders, stylized as push notifications. Notably, this ad type was invented in order to engage iOS users that hadn't seen notifications from websites before.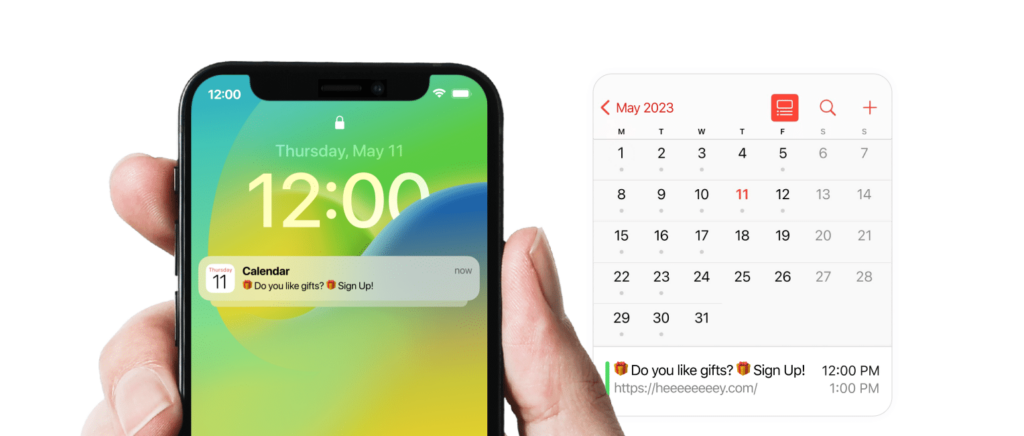 Calendar iOS notifications
These ads are displayed on iOS devices via the сalendar application, imitating a scheduled event. Similar to push ads, users receive calendar notifications right on their devices regardless of whether they are online or not.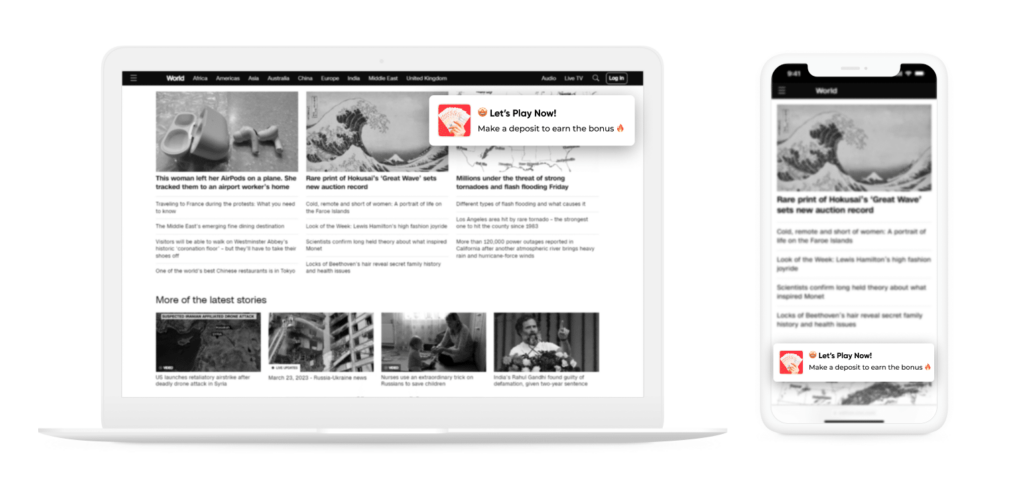 It's worth trying various push formats beyond classic web push notifications, and there is one simple reason for this: whatever the advertising, users get tired of the traditional push ads.
Benefits and Downsides of Push Ads
Marketers who decide to try push ads often discover that this format makes more profit than the others. And they have powerful reasons for it.
Benefits of push ads:
Voluntariness of subscription. Given that the subscription is voluntary, users treat push notifications as a less irritating and more trustworthy ad format. That is why anyone who sees a push ad is more likely to interact with it;
High level of reliability. No fraudulent traffic, no bots. At least, the technology significantly reduces the chance of getting malicious traffic because push notification subscribers are real people;
100% delivery guarantee. Even though ad recipients are offline, they will see the ads anyway. Once users connect to the Internet, a push notification will be delivered to their screens via browser technology;
A good way to collect a database. Since push notification advertising cover not only website visitors but also interested users from around the web, running push ads becomes a great solution for publishers who strive to scale an existing database and engage high-quality traffic at the same time;
Non-intrusive ad type. Push notifications don't distract users from looking through the site content or reading messages. Users are free to choose whether they want to click on the ad or skip it. Eventually, they can deactivate the subscription;
Cost-effective model. Advertisers and affiliate marketers generally buy push ads traffic on a cost-per-click model (CPC), which means they won't have to overspend budget on ad impressions to disinterested users;
Flexibility. Push ads are adapted under a wide range of offers that, in turn, can be launched in many GEOs.
Just as every medal has its reverse, push format has its downsides.
Downsides of push ads:
Difficulty in retaining subscribers. Users have the possibility to opt-out at any time. They can even do it inadvertently, re-installing the OS, for instance;
Impossibility of controlling by users. The life span of push notifications ranges from a few seconds to several minutes. If the user doesn't have time to browse an ad, it's lost;
Specific requirements for creatives. The description of push notifications is extremely limited, and the creatives themselves need to be constantly updated.
What are the Best Verticals for Push Traffic
Push advertising is useful as a way to cover a wide variety of verticals. The following verticals tend to have higher click-through and conversion rates than the other ones, which makes them more profitable for marketers.
The list of best verticals for push notifications:
Gambling;
Betting;
Sweepstakes;
Dating;
Health & Beauty;
Finance;
VPN and Utility;
Antiviruses;
E-commerce;
Games;
As some verticals, like Adult, Dating, Gambling, and Sweepstakes are prohibited in social networks, running push ads become almost the only appropriate solution for the promotion of such offers. Note that some restrictions may also be related to the laws of a particular country. For example, gambling or betting offers are forbidden for advertising in the United Arab Emirates.
Due to the adaptability of push notifications, it is impossible to say which vertical performs best, but it's definitely worth focusing on not too-specific offers because of the lack of interest-based targeting.
What are the Specifics of Push Campaigns?
We'll explain some technical aspects of push campaigns related to their setup, and then tell you how to get the most out of this knowledge.
Targeting options for push ads
The targeting options in both push and social media campaigns are very different. Unlike push campaigns, social networks offer more targeting options based on user personal data: age, gender, and interests. Moreover, users leave the data themselves, creating their personal accounts.
While social media collect personal data, almost nothing is known about the browser users. Everything you can learn about the target audience comes down to device options, browser parameters and geolocations.
Here are 4 conditional targeting categories in push ad campaigns:
GEO. Push ads are available in a great number of GEOs, which means marketers have the broadest possibilities to promote offers across many verticals;
Devices characteristics. They can include demographic targeting, device model, OS, connection type, browser and its language, as well as other options that allow advertisers to reach users based on device characteristics;
Schedule. As push ads can be displayed around the world, affiliate marketers often have a question: which schedule to set? It's essential to focus on time zones at first. However, it is equally important to take into account "happy hours" when users are really ready to see ads and interact with them;
Capping. It's a tool that allows affiliates to set limitations on impressions, clicks, and even conversions. Frequency capping will be useful for making advertisements non-intrusive – a user won't see the same ad too often.
Segmentation of push traffic
Even though push notifications are voluntary, not all users are equally interested in the notifications they subscribe to. Traffic segmentation helps to discover what audience group is the most effective.
Push traffic can be divided into 2 groups, depending on the following factors:
User freshness. As a rule, new subscribers are more likely to click on ads compared to the rest. User activity is supposed to be reduced in about 7 days;
Performance. It's clear that some traffic sources convert better than others. The quality of traffic for a particular vertical or offer can be checked through A/B testing. Some ad platforms do this work for their clients, providing them with ready-made lists of traffic sources. These lists can be called in different ways, but primarily these are Premium and Standart subscribers lists.
By targeting premium sources, advertisers can maximize campaign results, while sources with standard or low performance can be used for further scaling.
Push ads pricing models
Most of the used cost models in push advertising are CPC and CPM.
Let's take a closer look at them:
CPC
CPM
Stands for: Cost Per Click
Stand for: Cost Per Mille (1K impressions)
Context: Advertisers pay for only user's clicks
Context: Advertisers pay for every 1K impressions
Best for: Generation of
conversion-centered campaigns
Best for: Broad audience marketing, in
particular increasing brand awareness
Advertisers often choose the CPC cost model because of knowing how many clicks they can get according to their campaign budget. And on this basis, the CPC model seems to be more simple and less risky, unlike CPM.
Where Advertisers Сan Buy Push Traffic
As advertisers find traffic for promoting their offer, they need publishers who have their own websites. Publishers or site owners, in turn, are interested in collaboration with advertisers because their purpose is to monetize existing traffic. Obviously, publishers can create an opt-in form for collecting subscriptions through a special plugin, but this way takes much time and reach only website visitors.
The most effective way to monetize or buy traffic is cooperation with push ad agencies that meet the needs of both sides:
Publishers who have their own traffic and want to monetize it;
Affiliate marketers who want to get a portion of the revenue made from a promoted offer.
Push ads networks aggregate many site owners in one place, giving access to a great amount of traffic for advertisers.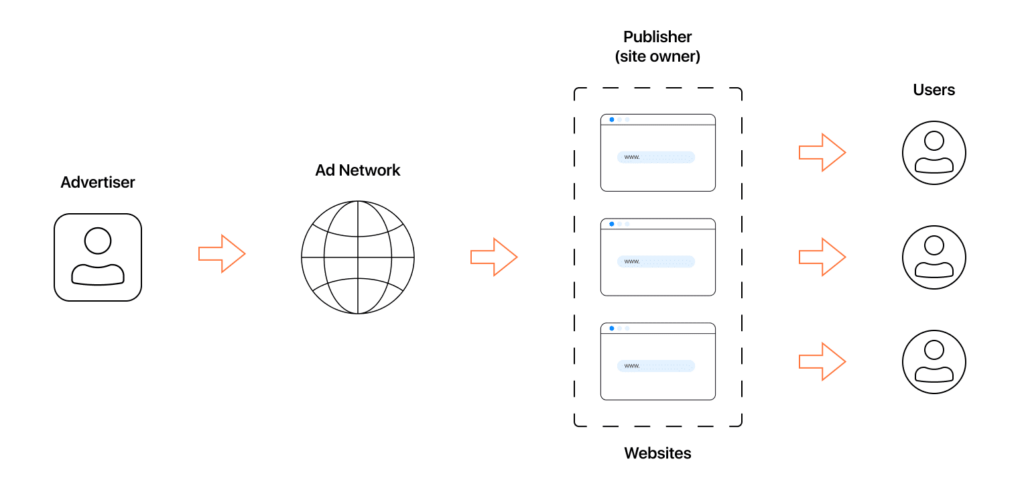 Subscribers lists are the largest traffic source in any ad platform. Each list can include several publishers. And accordingly, each publisher can have either one site or multiple ones.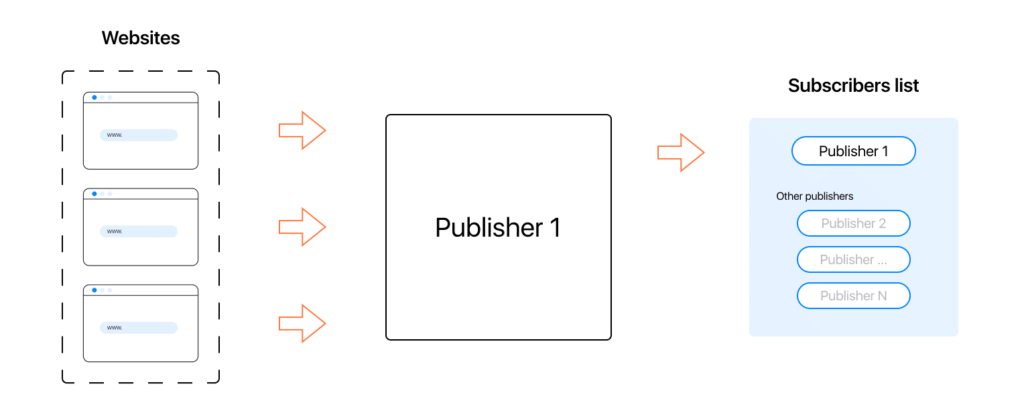 Why Joining an Ad Network is Worth Driving Push Ads?
Networks offer full service for creating campaigns, not limited to only the collection of subscriber databases. These are multiple targeting options, subscribers lists prepared for particular verticals, optimization tools and other perks.
Benefits provided by networks:
Wide range of targeting settings. Different targeting options help to engage the right audience while the easy workflow makes the process of running campaigns even more convenient;
Traffic verification. The majority of push ads networks use tools for verifying their traffic to filter out fraudulent or low-quality sources;
Onboarding and support. Each new member of an ad network can get help from an account manager who will guide through all stages of running push ads;
Integration with trackers. Push notification ad networks allow their clients to add postback URL generated by any tracking system they integrated with. It's a great advantage for advertisers because they don't have to come up with ways of integrating their campaigns with trackers;
Optimization tools. Any ad platform is the ad inventory in the first place. Various platform features help to optimize the campaign and define profitable targeting and creative bundles;
Traffic insights. Ad networks provide their clients with actual statistics on traffic volumes according to GEO, devices, and other targeting characteristics;
Multiformat. Not only can ad platforms provide push format, but they offer other ways to advertise, for example, popunders, direct click, banners, and native ads.
Often publishers go to networks because they are looking for a more universal solution than just the plugin for collecting subscriptions. As far as marketers, they benefit from a great amount of traffic and multiple tools for optimization.
How to Сhoose an Ad Network: Main Criteria
Diversity of ad networks puzzles many advertisers. This choice is made easier if you know what you need to pay attention to.
Provided push formats. The more ad formats, the more possibilities for earning you can get as an advertiser;
Offered traffic volumes. Evaluate the traffic volumes of the platform to imagine what result you can count on. Usually, ad networks specify general data about their current volumes on their main page. You can pay attention to daily impressions at first, and then find more accurate analytics on GEOs;
Traffic verification system. Ad fraud prevention is a must for any ad platform that wants to stay competitive. Check whether the ad network uses tools for traffic verification before start cooperating with it;
Rules and limitations. Even though the push ads are loyal for many offers, limitations to ads come with the content policy of each network. This is especially true for Adult. If you promote the adult offers, pay attention to what verticals are allowed in networks;
Available targeting options. A wide range of target options is a great potential for optimization. You will be able to reach high CRs due to the chance of discovering and excluding inefficient combinations;
Optimization features. Tools for optimization help to automatize working with push ads and maximize your profits. Since ad networks have a lot of setting options, the more optimization features the better;
Additional services. Even though all ad networks are self-serve platforms, many of them provide service that involves support at all stages of the launch of push ads or even fully management of campaigns. If you are interested in such a type of cooperation, choose ad software where personal managers are.
Basic Steps to Create a Push Campaign
The steps we outline below is a basis for any network.
Select the GEO. It's the main parameter of the push campaign. Each country is characterized by different traffic volumes and levels of bids. Use hints from ad account or ask your manager for advice on what country to choose for your offer;
Specify cost model options. Most often CPC model on the go. It seems to be more profitable to pay for clicks instead of impressions, although both models can be winning for advertisers. Rely on in-house analytics to set optimal bids. These may be hints in UI or insights on each GEO in the relevant section of the advertising account;
Choose device options. These are basic targeting settings that allow getting crucial information about users. Remember about the creation of separate campaigns for mobiles and desktops and set the wide settings to get as much data as possible about your target audience;
Setup conversions tracking. You can't do without a tracker if you are gonna optimize your campaign. Many ad networks are integrated with tracking solutions and suggest adding postback URL when setting up a campaign. If they also provide account users with step-by-step manuals, setup tracking becomes a piece of cake;
Specify traffic sources. Not all networks have the option of splitting traffic into groups, nevertheless, it's an effective way to find a devoted audience unless you want to test all available traffic. Launch your first campaign on premium sources and scale it on less-performing ones. Besides, sources can be divided into other groups, and the only right strategy is to test;
Choose your budget. You can define a push campaign budget limit per day to avoid overspending or unplanned costs. Pay attention to other functions, such as ASAP and EVEN, if traffic distribution matters;
Set up capping. Ads displayed on the screen of the same user several times per day look intrusively, but it's even worse when this user starts clicking on your ad without any purpose. To avoid this, specify the following settings: 1 click or impression/per day/per 1 user;
Add creatives. Learn about the requirements of an ad network and make creatives aligned with its guidelines. The number of creatives may be unlimited up to 8-10. Use all attempts to understand what creatives ad recipients most often click on;
Set a schedule. Specify local time, start and end dates of the campaign. If you are running a campaign at first, try to use a 24/7 schedule for learning what time performs best for your offer.
5 Hot Tips on Boosting Campaign Performance
Setting up push campaigns doesn't imply as many targeting options as social media advertising accounts have. However, push technology provides large volumes of traffic compared to social networks. If a campaign is launched in some ad platform, there are also more opportunities for affiliates to optimize it. Thus, the success of a campaign depends on its proper setup.
Here, we'll share the secrets of high-performance-based campaigns.
Learn best performing GEOs for your offer
When choosing GEO, advertisers should consider that each country has its level of economic development, needs, culture and laws – all these factors influence on advertiser's profit.
As GEOs are categorized in a tier system, you can focus on a particular group:
Tier-1. Countries that have the most solvent audience (Finland, Norway, Spain, Portugal, Poland);
Tier-2. Competition of these countries group is lower than in Tier-1 one (Latvia, Lithuania, Macedonia, Romania);
Tier 3. Tier-3 countries are the poorest sectors of the world population, but the traffic cost is very cheap (Egypt, the Dominican Republic, Ethiopia, Gabon, Georgia).
If you choose GEO from the Tier-1 group, you have a chance to get the largest payouts for offers, but the cost of this traffic will be high. Also, you can profit from the high traffic volumes of Tier-3 countries at a low price. The selection of GEO from the Tier-2 group is an alternative to mentioned options.
Choosing GEO impacts the potential amount of traffic that you can get. Affiliates can cover all countries while creating campaigns, provided that they have enough budget and time for testing and this strategy is appropriate.
Make attractive creatives and test them
The primary aim of push creatives is to attract users' attention which is so valuable nowadays. Look at a few tips on how to make eye-catching creatives: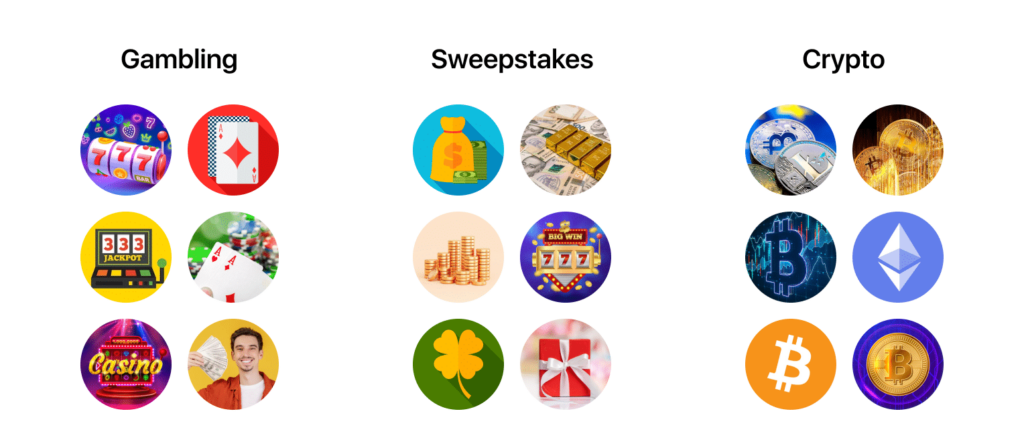 Icon should be simple and coupled with the main image. So, complex graphics or over-detailed icon isn't the best option.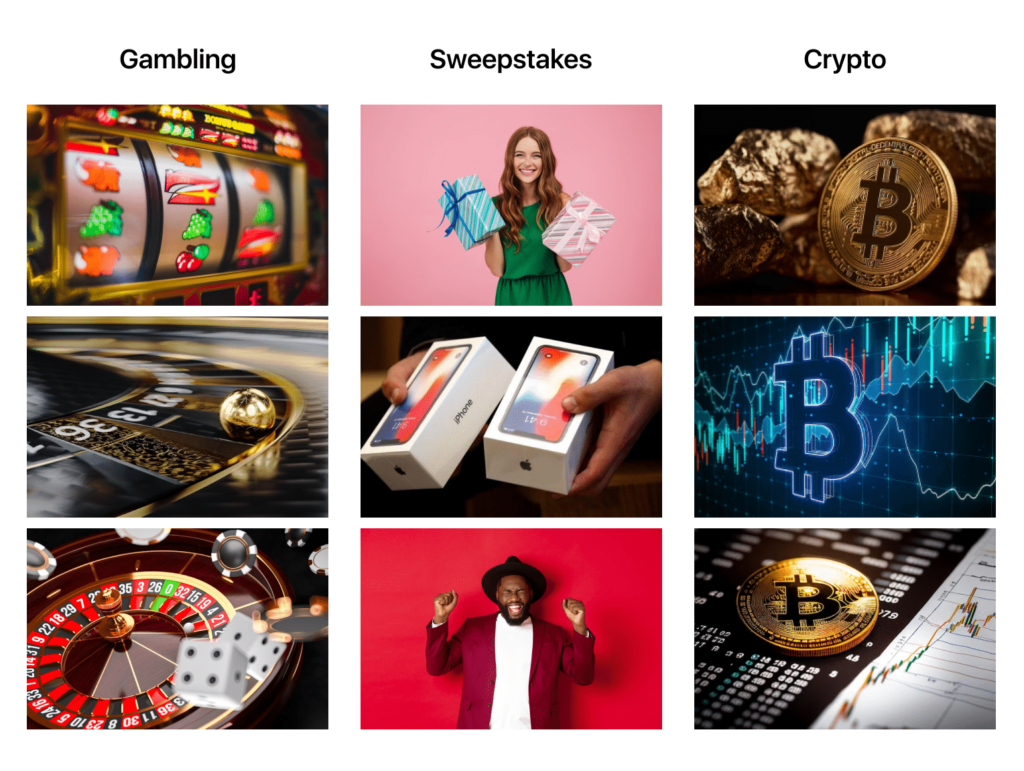 It is preferable to choose a catchy main image that will convey the sense of the offer. The idea of the image must be clear at the first sight. The best practices for image plots are happy people and before-after pictures;
A successful title is short and meaningful at the same time, as well as the description. The format of push notifications is limited to several words, so start with the most important message of your offer.
Use various creatives for your campaigns and change them from time to time. Even the most ordinary creative can come off.
Use traffic sources groups
If an ad network divides all available traffic into groups, offering sources of different performance levels, it's better to seize this opportunity. By choosing premium sources, it is possible to increase CR and reduce CPA when testing only part of traffic. The rule that works here is: "Quantity does not equal quality". Sources with lower performance and lists of new subscribers can be used for campaign scaling.
Create separate campaigns for desktop and mobile
Campaigns should be separated for different devices because mobiles and desktops differ only by traffic features. It is definitely worth doing because separation makes optimization easier. To separate campaigns, you need only duplicate the created campaign and replace device settings. The process of creating separate campaigns for devices may be slightly different for diverse ad networks.
Use optimization tools
Optimization is the power of push format, and it may have an even greater impact on conversion results when its options are would be used to the fullest. For example, you can set up Automated Rules that allow making changes based on the conditions users choose. If you set rules, all low-converting sources can be blacklisted at once. It's more convenient than excluding each source one by one manually.
Likewise, you can use other optimization features to achieve the best campaign performance. Ways of optimization are numerous, so use any opportunity to improve your campaign and reach the target audience more precisely.
Final Thoughts
Push Ads provide advertisers with a non-intrusive and voluntary format. Since traffic comes from visitors who subscribe to notifications independently, advertisers draw a highly-engaged audience and thus reach higher conversion rates than traditional ad formats.
Your campaign performance skyrocket if you are working with such verticals as Gambling, Betting, Dating, Mobile Utility and Finance. Follow our pro tips on choosing the right ad networks, optimization and making attractive creatives to boost up your push notification campaigns.