Have you been keeping up with the buzz around cryptocurrency lately? It's amazing how the world has embraced cryptocurrency, some even call it digital gold. Surely many of us remember how some people make a fortune on the rapid growth of the Bitcoin exchange rate on the world market.
Along with the rise of cryptocurrency, there has been a boom in the crypto affiliate marketing industry. Now, we'll delve into the fundamentals of the crypto vertical in affiliate marketing and present our top crypto push ad networks for running ad campaigns.
We have rounded up the best cryptocurrency push networks at the end of this article. If you want to leave details of advertising crypto offers out, click the button below and cut to the chase!
Crypto Vertical in Affiliate Marketing
Crypto affiliates marketing involves promoting crypto offers via social networks, Google, ad networks and all possible advertising channels. Crypto-related offers themselves include products and services that assume blockchain training, making money on investments, trading, and auto-trading.
Crash course for beginners
Cryptocurrency is based on blockchain technology and has value only in the virtual world. Being a decentralized currency, it isn't supervised by banks and other financial institutes. This means that crypto remittances can be made without the participation of middlemen or the government. Because of that, cryptocurrencies seem to be more transparent and practical than traditional currencies.
The first cryptocurrency was Bitcoin. As the industry was developing, new types of cryptocurrencies appeared on the market, such as Ether, Tether, Solana, Binance Coin, etc.
Let's look at niches of crypto vertical in more detail:
Blockchain training. Educational programs that intend to teach people how to handle cryptocurrency to take advantage of it;
Investments. Users are encouraged to opportunity to invest money in new assets;
Trading. This activity involves buying and selling cryptocurrency on exchanges or similar platforms independently;
Auto-trading. Unlike ordinary trading, it requires using bots and special programs. The advantage of automated trading is that users do not need special knowledge to make money. Instead, they only pay for the software to trade.

The main purpose of crypto offers is to attract customers who are looking for ways to earn money easily.
The payouts crypto affiliate programs offer can be quite tempting. We've been convinced of it when screening offers from the Adsterra CPA network.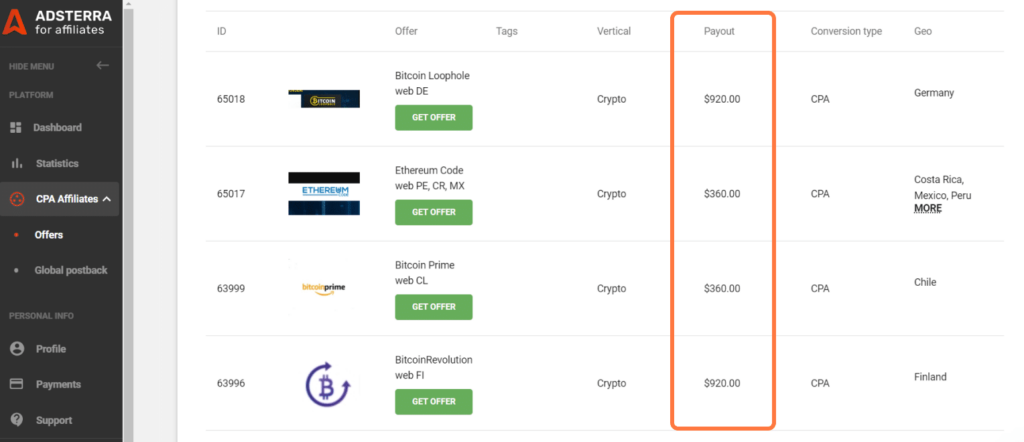 On the flip side, it's important to realize that crypto offers are risky because they require solid test budgets. Companies prefer advertisers to work on the CPA pricing model because crypto offers appeal to many people, but very few of them are willing to take the targeted action.
If you are a newcomer to affiliate marketing, it's better to start with cheaper offers. For example, you may train on a sweepstakes ad campaign and then go back to promising crypto offers. Read our guide about sweepstakes vertical unless you want to take the risk.
Popular Channels for Promoting Crypto Offers and its Restrictions
When launching crypto ad campaigns, you are likely to encounter some restrictions mainly related to countries' laws. Since crypto is not controlled by any authority, it's obvious that not every government approves crypto exchange. Moreover, there are a lot of scams that want to cash in on courageous people wishing to improve their well-being. All this explains why plenty of restrictions come with crypto offers in many advertising channels.
The laws of countries directly affect the content guidelines of Google and other platforms where advertisers can place their ads. Still, what can we squeeze out of traditional advertising platforms? Well, let us see.
Google Ads
Advertisers must be certified by Google to run crypto ad campaigns. Besides, the ads should be consistent with the laws of chosen countries for ad display. These restrictions concern only crypto offers related to cryptocurrency exchanges. As for other niches of the vertical, marketers need to check local licensing requirements before advertising.
Social networks
Since the crypto niche is full of scams, social networks try to save users from fraud by putting strict regulations in relation to crypto advertisements.
Instagram and Facebook
On Meta platforms, advertisers need to provide the registration or the license according to the GEO they choose for targeting. Nevertheless, it's not enough to do business officially to launch ad campaigns on Instagram and Facebook – advertisers also should request written permission from Meta. This means the crypto ad campaign can be declined for any reason despite the availability of all necessary documents.
Less stringent requirements are applied to the offers:
Blockchain training;
Cold crypto wallets;
Events related to cryptocurrency or blockchain technology;
Non-fungible tokens (NFTs) based on blockchain technology;
Tax services for cryptocurrency companies.
These offers aren't tied to high-risk investments, thus, they are less safe than the rest. Accordingly, they haven't imposed restrictions in a major number of countries.
Twitter and TikTok
Both social networks permit promoting crypto offers if it doesn't contradict country laws. However, advertising some offers are forbidden by the platforms themselves. For example, cryptocurrency mining isn't allowed to advertise globally on Twitter.
How to Bypass Restrictions to Crypto Ads
Advertisers have to use not quite illegal ways to run crypto ad campaigns. One of them is cloaking – special software that allows advertisers to replace the target link while robots act as content moderators.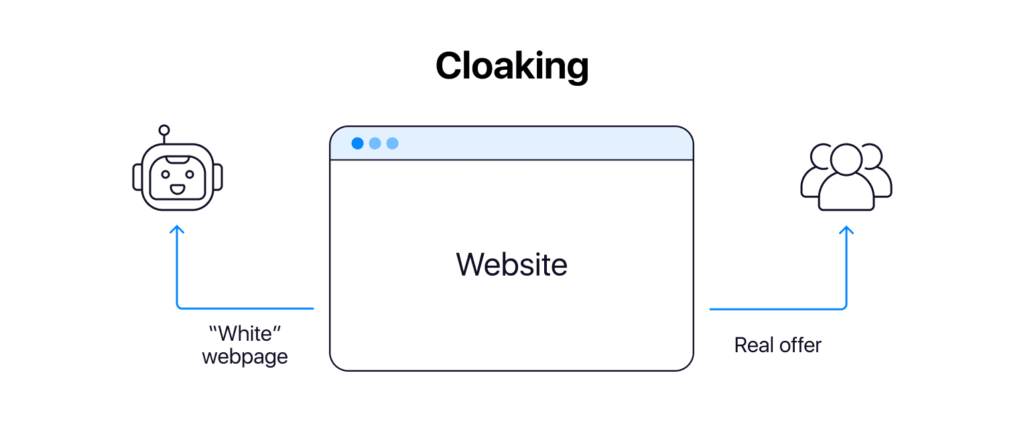 Other methods include creating bot accounts, launching influencer marketing campaigns and others. All in all, any ways to bypass restrictions are wasteful or very doubtful, but fortunately, there is a way out – ad networks.
Ad Networks as the Optimal Way to Advertise Crypto
Ad networks have fewer restrictions to advertise crypto offers than traditional channels. At the same time, their traffic is verified by anti-fraud systems, which means they don't support scams. This is why they are worth paying attention to advertisers that promote crypto offers.
Let's explain what ad networks are and how they work.
Ad networks meet the needs of advertisers and publishers interested in driving additional traffic to their websites. For affiliates, ad networks are platforms that give access to various types of traffic from the most targeted sources in one place. Traffic on the ad platforms is sold based on targeting options advertisers set up. Most often it comes from direct publishers while third-party sources are used for ad campaign scaling.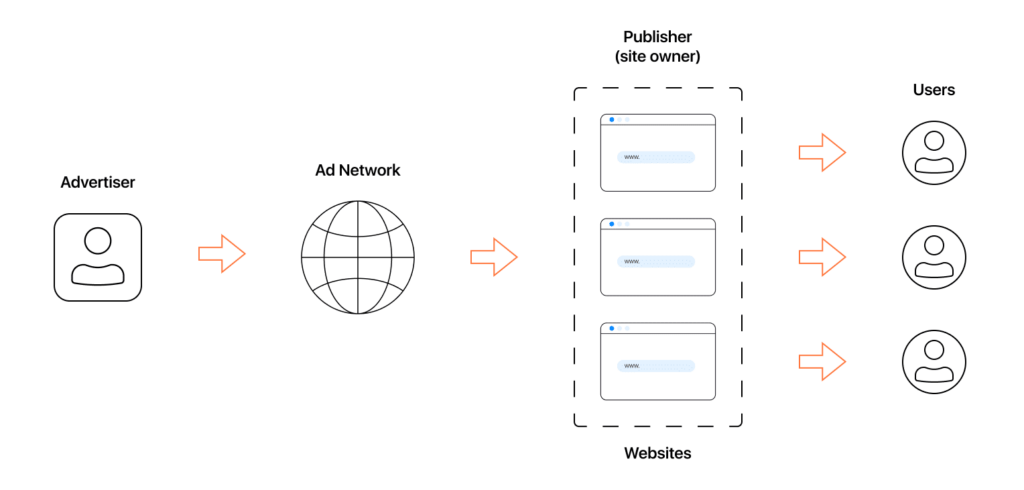 The quality of traffic depends on how properly the settings are tuned.
Common targeting options the ad networks offer to advertisers:
GEO;
Device characteristics;
Connection type;
Mobile carrier;
Internet service provider (ISP)
IP address.
The personal manager or support team can help with campaign setup.
Before starting, it is desirable to find out from the team whether crypto advertisements are allowed or not. Some ad networks disapprove of promoting crypto-related offers. All prohibited products and services are usually indicated in content guidelines.
Traffic Types of Ad networks
Unlike other traffic sources, ad networks offer diverse ad formats for driving crypto traffic:
native;
video;
banners;
direct click (redirect ads)
pops and popunders;
teasers, etc.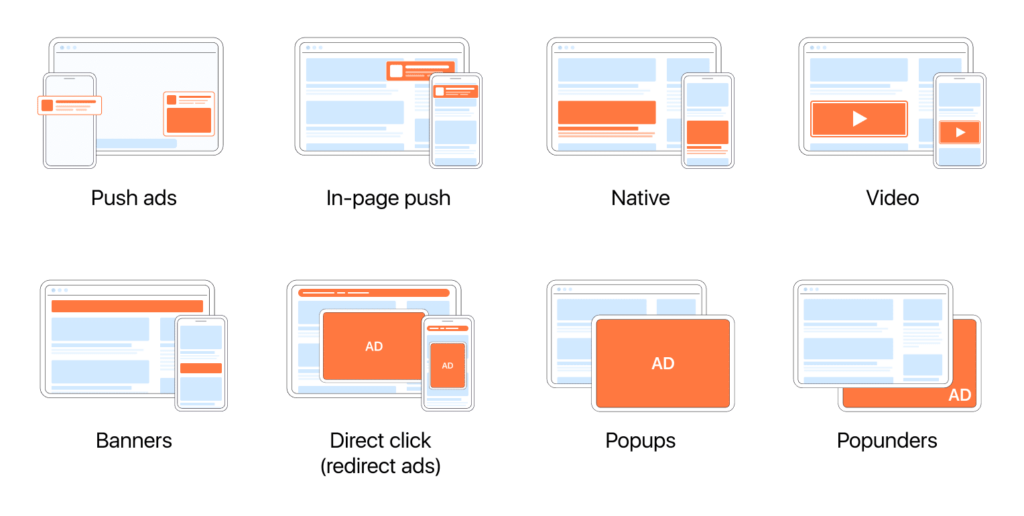 One of the most perspective ways to attract cryptofans is push format.
Bitcoin push ads can become a performing way to reach a high-engaged audience since ad recipients are users who have subscribed to notifications ads themselves. Furthermore, because push ads are sent directly to users' devices, they are well visible and have a great chance to capture users' attention in a matter of seconds.
As companies are willing to pay for users' actions, advertisers should choose ad formats that bring the most-converted traffic. Most often people move to action when they are searching for information currently, so direct click ad format can work out. Popunders and pops, as opposed to direct click ads, appear on the device screens unexpectedly, but the traffic they attract is cheaper and greater.
Whichever ad format you choose – video, in-page or banners – everything requires testing.
To get optimal results, we suggest consulting with the personal manager to determine the most effective ad formats to use.
Top Crypto Ad Networks
Advertisers can try to test top crypto push ad networks to convince in their performance for a crypto traffic source.
As advertisers need to make an effort to promote crypto offers, we've compiled mainly ad networks where advanced features for dealing with traffic are: Automated Rules, Target CPA, White- and blacklists, etc.
1. PropellerAds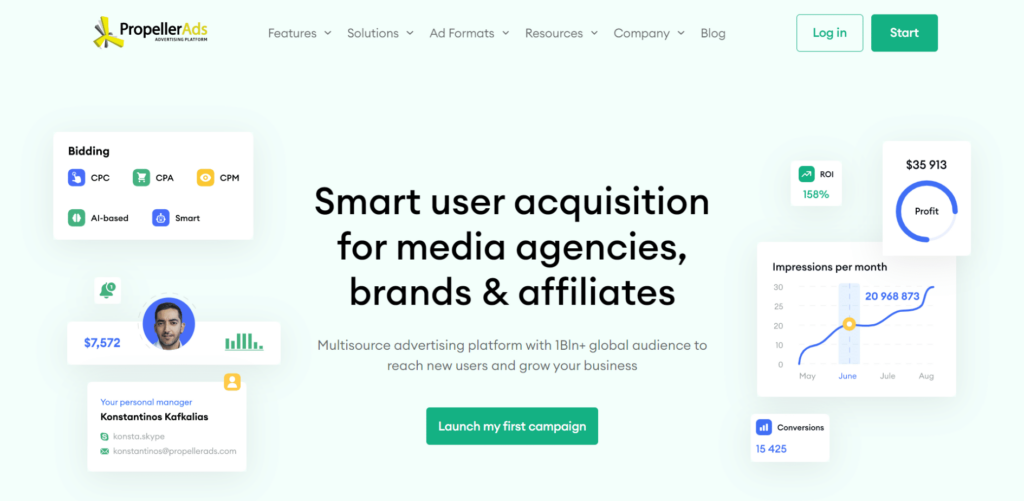 PropellerAds is a comprehensive ad network that gives access to exclusive traffic sources and cutting-edge tools for optimizing. The platform allows advertisers to test traffic within the CPA goal pricing model. Thanks to this model, advertisers can test traffic on a CPC basis before launching CPA campaigns. To get many as possible conversions, affiliates can start smart ad campaigns in which the optimization algorithm is already built.
In addition to advanced features, PropellerAds offers extended targeting settings comprising users' interests, gender and age. The converted audience can be collected for retargeting campaigns.
2. Pushground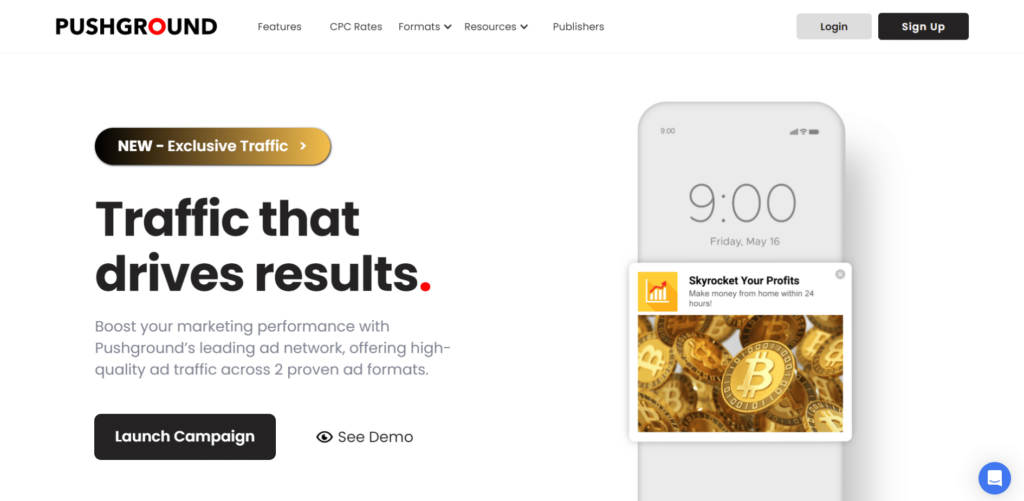 Pushground focuses on push traffic, including in-page push, and operates on only the CPC pricing model. Despite the limited ad inventory, the team assures advertisers that campaign results satisfy them across any vertical, including crypto. The company recommends starting ad campaigns with whitelists instead of testing RON traffic. Besides, it's better to create separate campaigns for mobile and desktop platforms.
The best tool for optimizing crypto campaigns is Automatic Rules. By using that feature, advertisers can stop or change their campaigns depending on the rules they set. The rules work for CPA, ROI, clicks, CTR and many other campaign parameters.
3. Evadav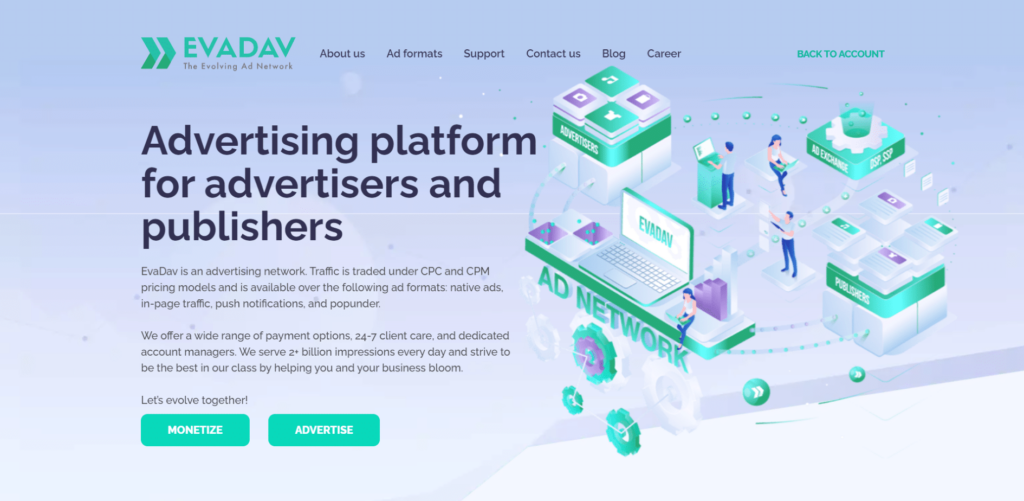 Evadav is keeping up with the latest trends and breaking news from around the globe – so, it's no surprise that the ad network is aware of the cryptocurrency boom. On the platform, advertisers will find several guides to launching crypto ad campaigns. The team shares valuable recommendations on how to choose profitable offers and GEO, create converted creatives and landing pages.
At Evadav, managers advise testing various ad formats to succeed: Native, Push, In-Page, Popunders. Optimization tools advertisers can use to enhance their campaign results are automated rules, black and white lists.
4. AdCash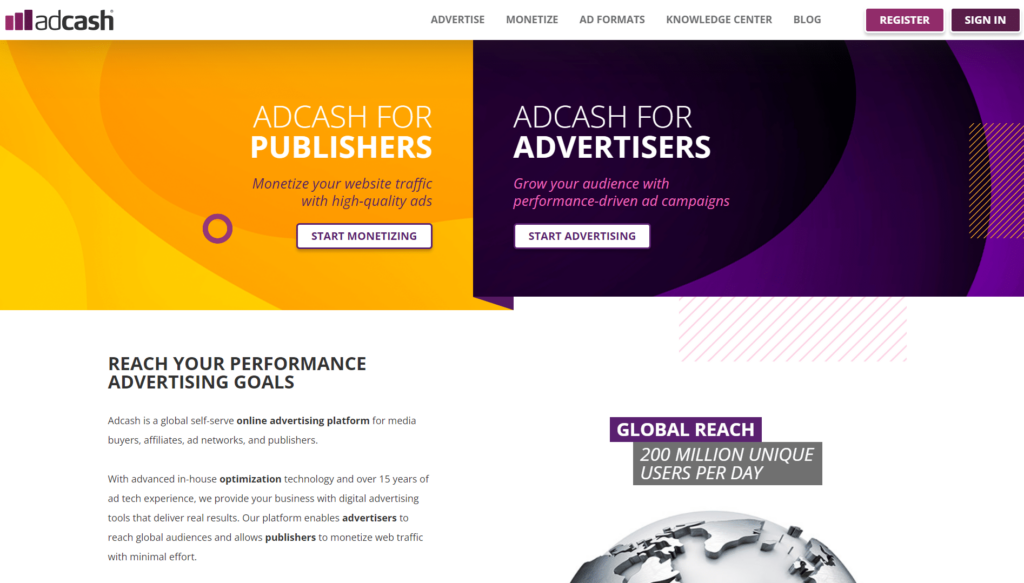 AdCash is the global ad network recommended to advance crypto offers. While tweaking crypto ad campaigns advertisers can specify a CPA goal to obtain maximum conversions by the target price. The CPA pricing model empowers advertisers to optimize their ad campaigns automatically. For manual optimization, affiliates can avail targeting rules, white and black lists.
Well-thought-out targeting is another key to crypto ad campaigns' success. Beyond traditional device parameters, campaign settings encompass users' interests and website categories.
5. TacoLoco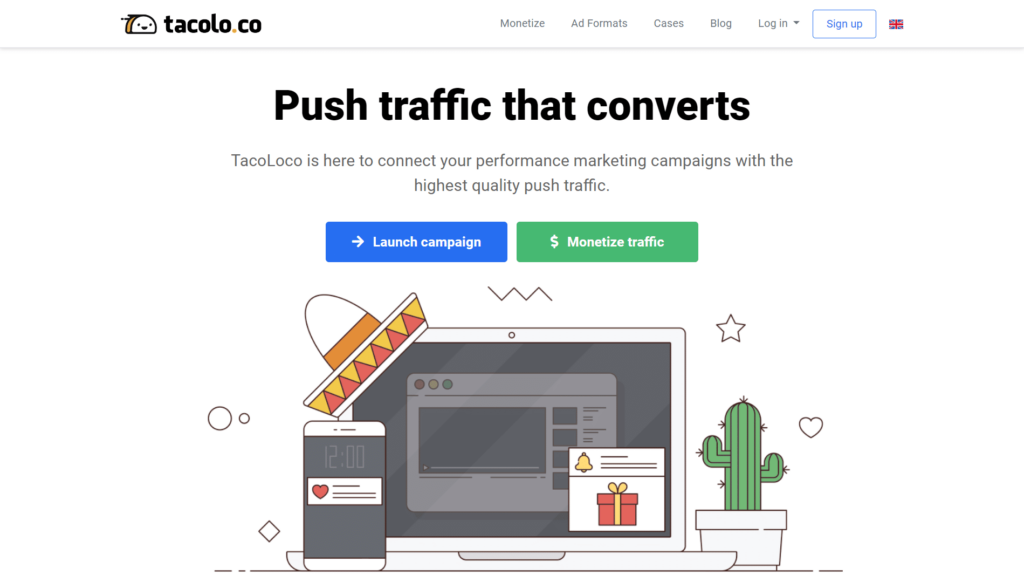 TacoLoco is the ad network that deals mainly with push traffic around more than 180 countries. Crypto winds up being one of the most lucrative verticals here in 2022. Advertisers that join the platform should run crypto ad campaigns on Mainstream traffic to come out. As for optimal ad formats, advertisers can test not only push notifications, but also classic popunders or fresh direct click ad format.
6. Zeropark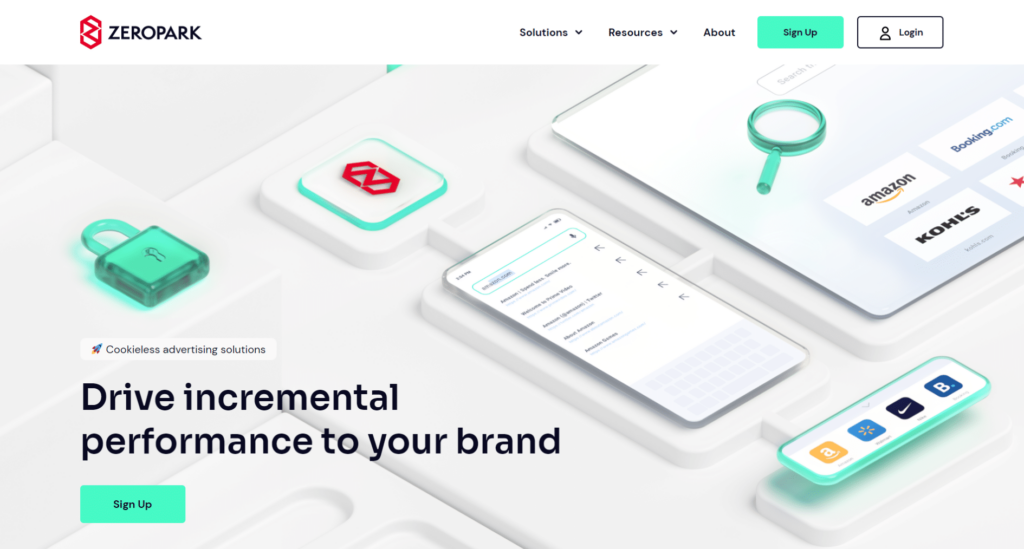 ZeroPark is an advanced ad network that can boast a worldwide reach and vast experience in crypto advertising. The team generously shares its expertise in the Zeropark blog. According to the complete guide to crypto vertical, newcomers are better to pay attention to popunders, and experienced marketers are worth choosing direct click or push ad format. To start an affiliate journey on this platform, $200 as a minimum deposit is required.
7. Traffic Stars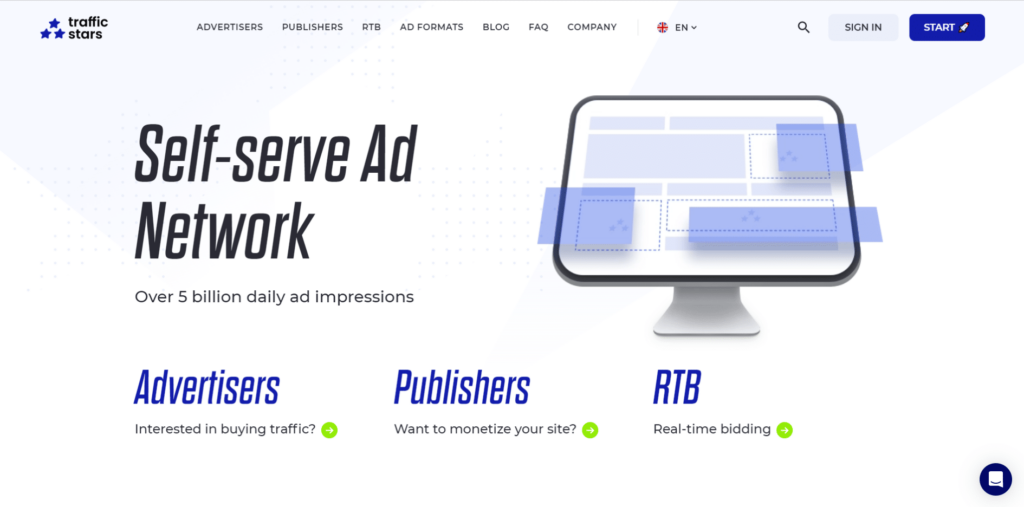 Traffic Stars has a wide range of formats and promises good quality traffic for media buyers who are up to earn on crypto offers. The ad network team considers that indispensable elements for success in setting up crypto campaigns are catchy creatives, good landing pages and deep knowledge of digital currencies. To reach the potential audience, advertisers are free to create a retargeting campaign for getting out the most from their offers at Traffic Stars.
Alongside crypto offers, the ad network specializes in running Forex ad campaigns. This means marketers are free to promote any financial offers regardless of whether they are associated with cryptocurrency or not.
8. ClickAdilla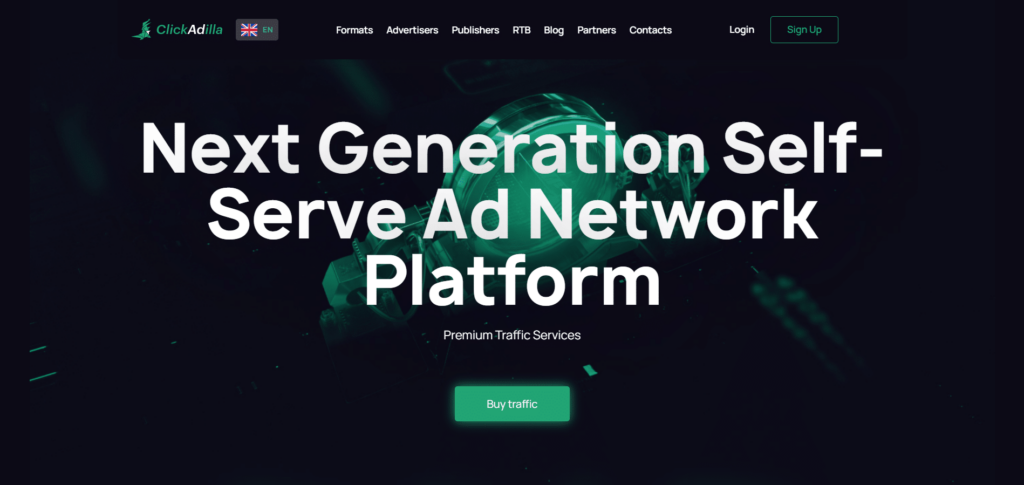 In 2022, Crypto got into the list of top verticals at Clickadilla. The unique feature of the platforms is crypto targeting. We've never come across similar options in other ad networks, so the platform is worth testing for it at least. Here, advertisers also will find other helpful tools to skyrocket crypto campaigns' performance, but they need to deposit no less than $1000 for testing.
ClickAdilla offers an abundance of advice related to running crypto offers in its blog. The company shares best practices for making creatives and encourages affiliates to launch crypto offers across the following GEOs: IN, DE, UK, US, JP, FR, IT and MX. Popular ad formats include Push Ads, Native and Banners.
9. RollerAds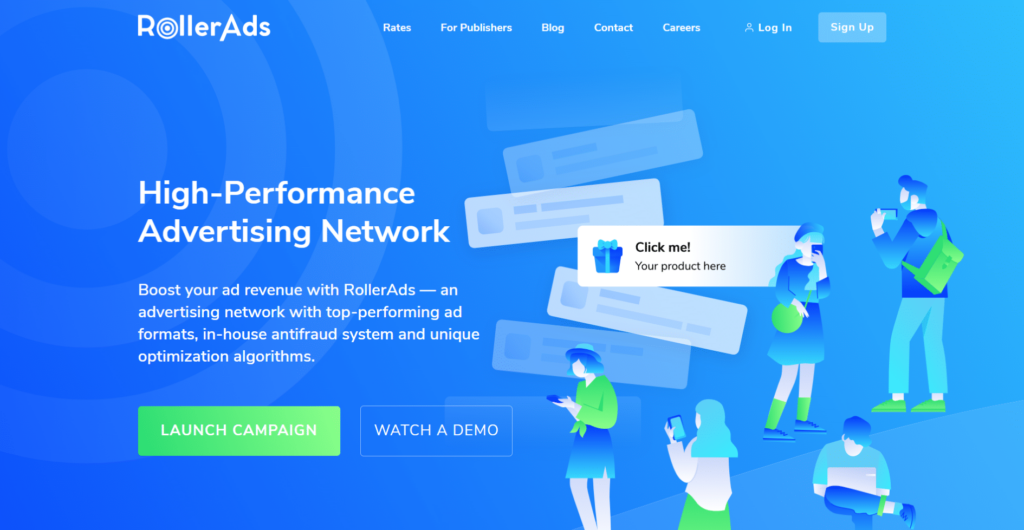 RollerAds is an ad platform that is an active player in the affiliate marketing industry. The company provides traffic from 10k direct publishers and sells it by CPC and CPM cost models and its smart alternatives. Top ad formats are Push ads, in-page push and Onclick (popunders).
Finance is consistently ranked among the top 3 verticals on the ad platform. Obviously, it covers all possible crypto offers. Given that the crypto vertical requires making high deposits to start, the ad network allows advertisers to save the budget through smart ad campaigns. To discover the most profitable ad zones by CR, test CPA optimization here within the Smart CPC campaign. The feature acts as optimization-based rules.
10. MyBid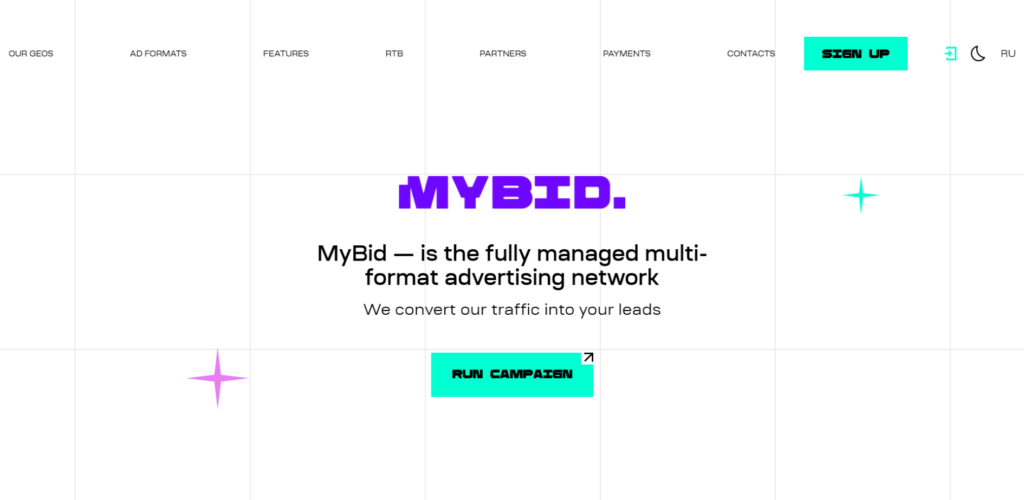 MyBid is a fully-managed ad network, where advertisers are relaxed while managers are working on their ad campaigns. The ad network works with all demanded formats: Push ads, In-page Push, Popunders, Native, Banners, Video. The top GEOs are Tier-1, India, Indonesia and LATAM. Coincidentally or not, the best countries to promote crypto offers are the same.
We have provided details of all top crypto ad networks in one table. Consider it to choose a proper crtraffic source matching your needs.
Ad Networks
Ad Impressions
Minimal deposit
Minimal CPC
Cost models
Ad Formats
1 billion+ daily
$100
$0.005

CPM, CPC, CPA Goal, Smart CPM
Push Ads
In-page
Interstitial
Popunders
Onclick (Popunders&Direct Click)
1 billion daily
$100
$0.001
CPC
Push Ads
In-page
2 billion+ daily
$100
$0.001
CPC, CPM
Native
Push Ads
In-page
Popunder
9 billion daily
$100
$0.001
CPM, CPC, CPA target
Native
Push Ads
In-Page Push
Popunder
Interstitial
Banners
1 billion daily
$100
$0.001
CPC, CPM
In-page Push
Direct clicks
Popunder
Banners
In-Stream
Notification Widget
Banners
Gallery
In-app
700 million+ clicks for push ads monthly
$200
$0.0013
CPC, CPV
Push ads
In-page push ads
Popup
Deeplink ads
Injection Traffic ads
Search Marketplace ads
Domain Redirect
5 billion+ monthly
$100
$0.001
CPM, CPC
Banners
Native Ads
Video Pre-Roll
Video IM slider
Video X Pre-Roll
Classic push
In-Page Push
Full Page Interstitial
Popunders
Targeted clicks
4,5 billion daily
$50
$0.001
CPC, CPM, Smart CPM, CPA
Push ads
Popunder
Native
Interstitials
Gallery
Direct Links
2 billion daily
$50
$0.001
CPC, CPM, Smart CPM, Smart CPC

Push ads
In-page Push
Popunder (Onclick)
5 billion+ daily
$100
$0.00003
CPC, CPM
Push ads
In-page Push
Popunder
Native
Banner
Video
Conclusion
There is no doubt that the crypto vertical stands by high payouts if advertisers are ready to invest in one of the traffic sources we outlined. Given that crypto offers are not easy to promote on Facebook and Google, crypto advertising platforms can compete with them. It's really hard to say which network is best in cryptocurrency because each is great in its own way.
The only reasonable solution is to test. So, what are you waiting for? Join the bandwagon and run crypto ad campaigns right now.