Megapush advertising network is no longer running.
But we have at least 20 other great alternatives.
You can find them here.
When looking into ad traffic providers, we always tend to seek the first in the industry. After all, being a pioneer means the platform was the first to determine the viability of such traffic type. It has gone several overhauls to improve its service and is likely the best among the rest. Read Megapush review to know more.
However, these assumptions remain to be seen when it comes to push notification marketing. Ever since this traffic type sprung up in 2017 and became popular years after, many networks offering this ad format have also sprung up.
This article will be reviewing the self-proclaimed trailblazer in the push messaging ad space — MegaPush.
MegaPush Overview
Megapush used to be one of the biggest push notification ad networks, mainly because it is one of those that came first. It offers worldwide traffic, but while other networks are pushing billions of ads, this network is now delivering up to 100 million ads at most.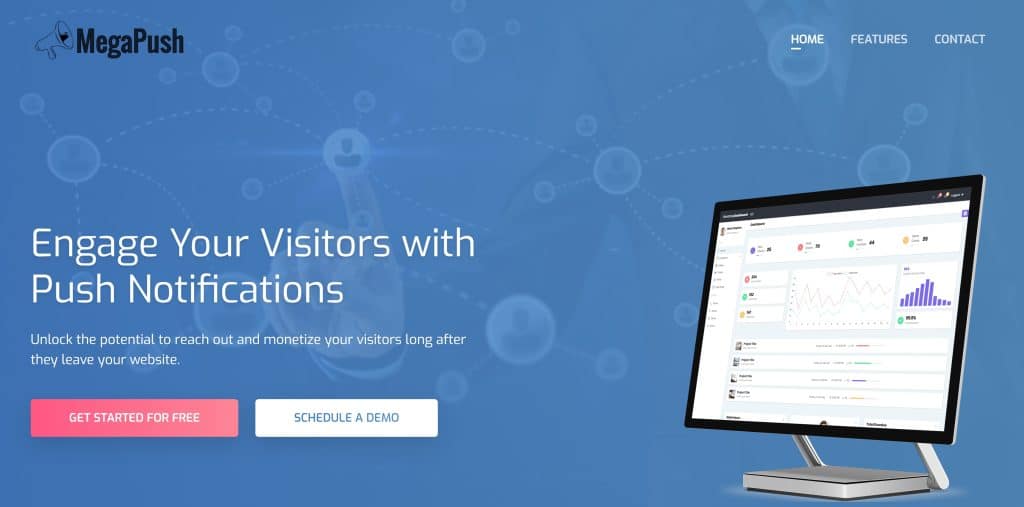 MegaPush Advertising Network History
Founded in 2017, Megapush was created as a traffic network whose primary focus is nothing else but push notification ads. It is the first to launch push as an ad format, though it has since diversified to other formats, including First Page Ads and SMS Campaigns.
First Page Ads are essentially pop ads that act like interstitial ads. They open up before the user arrives at his intended website destination for the first time. SMS Messaging, on the other hand, is a text message ad sent to targeted recipients. For this ad type to work, you must already have a list of recipient numbers to send ads to.
MegaPush Campaign Optimization Features for Marketers
Volume of Traffic 
Being one of the first in the industry, MegaPush was able to gain subscribers on their own, and they also linked with multiple partners at the time. Their biggest source of traffic was Badboys. Network, which unfortunately ceased its operations last 2020.
MegaPush's website still maintains that the network has 450 million subscribers and can deliver 5 billion ad impressions. This information has not been edited almost a year after their direct publisher (Badboys.Network) has closed down.
Advertisers whose balance falls below $500 cannot get traffic from MegaPush's external feed (hint: third-party ad networks). In short, if you have less than $500 in your account, you will receive zero traffic from push notification ads. So that your money will not be for naught, you can instead use the money for their First Page Ads.
Unique Offer Link Options for Affiliate Marketers
While other networks allow you to place typical links that redirect your landing page, MagePush gives its advertisers other options. There are seven available clickable link choices, and these are:
Standard Link – your usual link to the landing page that opens up a browser.
WhatsApp – you must input a WhatsApp number and a short text message. This opens up the app on the user's mobile phone and shows the text you added as a typical message.
Youtube ID – this opens up the Youtube app and shows the video as indicated by the ID you placed.
Play Market ID – this one opens up Google Playstore to prompt the user to download the app.
Messenger – this opens up the Facebook Messenger app to the exact Page Messenger account of your business. This will encourage the user to send you a message. If you have bot messaging installed in your Facebook Messenger, you can make your push notification ad look like the user has an unread message coming from you.
SMS – this one opens up the default SMS messaging app with prefilled text to encourage the user to send a text message to the number you set. This works great for SMS flow offers.
Phone Call – this initiates the default calling app so the user calls the number in one click. This works great for call conversion offers.
To monitor the performance of the links, advertisers must copy the postback link provided into their external trackers.
MegaPush Affiliate Offers and Verticals
In the past, the offers that worked well with MegaPush are Dating, Sweeps, Gambling, and Binary options. With the change in this network's source of traffic, there is likely an adjustment in the top-performing offer categories as well.
How to Create a Campaign on MegaPush
Those who still have enough balance to run push messaging ads (as we've stated above) can still create campaigns. The process is really simple.
First, click on the Push Campaigns tab in your dashboard, then choose New Campaign on the dropdown.
Second, fill out the necessary fields. There are only a handful of fields to complete and targeting options to choose from, and these are:
– Country
– Device type – right now Mobile is pre-chosen, possibly because there is no desktop traffic any more.
– Link – this is the link or app to which the audience will be directed to once he or she clicks on the ad, as described above.
– Ad creative – this includes the title (up to 30 characters), message (up to 45 characters), image (492 by 328 pixels), and icon (192 by 192 pixels).
– Name of the campaign
– CPC bid – minimum of $0.001, although the field requires the amount to be placed in cents, so ¢0.1 is the lowest CPC rate you can input.
– Device – from Android 4 to Android 10
– Schedule – time of day or days of the week
– Blocked List – this is a list of source IDs you don't want to receive traffic from (blacklist)
Finally, set the daily budget you want to spend. Keep in mind that the actual ad spend may go over this budget. Push messaging ads are paid per click, so there may be delayed clicks (and ad spend) when the users finally see the ad.
MegaPush estimates the excess to be 10% to 30%. However, recent experiences of advertisers show that campaigns can sometimes go 100% over budget.
MegaPush Minimum Deposit for Running Push Ads
To run some campaigns, you must first add some funds into your account, of course. MegaPush's minimal deposit requirement is a hundred dollars.
However, be warned that the network dictates that they do not provide refunds, no matter the concern. Even if the problem is on their end, you can wave your funds' goodbye unless you spend it on ads.
MegaPush Payment Methods
The network accepts payments thru WebMoney, PayPal, ePayments, Capitalist, and BTC. While they state that other forms of payment are available with the help of the support team, it is highly unlikely to deposit through different means, and below is the reason why.
MegaPush Ad Network Support
MegaPush's support is almost nonexistent. Their live chat is frequently offline even during the supposed working hours. Even if you send an email through the live chat box, the quickest response you can get is a matter of weeks, if you get any response at all.
Some of those who managed to talk to the support team found that responses are unhelpful or sometimes even downright rude.
In the past, the network displays the contact information of account managers in the dashboard, but these are now nowhere to be seen.
MegaPush Affiliate Marketing: Pros & Cons
Let's enumerate some MegaPush advantages and disadvantages to help you evaluate the network:
Pros
Continuously researching new ad formats (such as First Page Ads and SMS messaging)
Can be a good source of traffic if you have more than $500 ad budget
Cons
Zero push ads traffic for those with less than $500 budget
No refunds
Campaigns can go over budget by 100%
Unresponsive support, and when they do respond, they are unhelpful
Push Notifications by MegaPush Traffic Source: Is it worth It?
If your concern is push notification ads, we can honestly say that no, it is not worth it. Save yourself from potential headaches and loss of funds but avoiding this network at all costs. They no longer have a direct source of push traffic, so best sign-up with networks that do.
However, if you intend to use the platform for First Page Ads, then you have a chance of getting your money's worth — if you can optimize the traffic.

MegaPush Review: Final Thoughts 
Based on the experiences of multiple affiliates and media buyers, both newbies and super-affiliates, who have already lost some money in MegaPush, we cannot by good intentions recommend this network to anybody.
Here are some common questions about this network that we would like to address:
– Is MegaPush good? For push ads, no. For First Page Ads, there is a chance.
– Is MegaPush legit? Yes, it is. Some people have indeed received traffic.
– Is MegaPush safe? Based on our assessments, no. The lack of refunds and the unavailability of reliable support are two of the biggest red flags.
You can do your due diligence and research this network by searching for reviews and reading well-known forums such as affLift and affiliateFix to confirm the information above. To be forewarned is to be forearmed, after all.